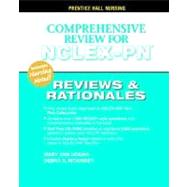 Summary
From the author of Prentice Hall's Nursing Reviews and Rationales Series comes a comprehensive review for the NCLEX-PN(R).Completely current reflecting the April 2007 NCLEX-PN(R) test plan, this review book features a comprehensive outline review, 1570 questions and a 265-question practice test. A FREE CD-ROM provides an additional 3880 questions for review. Throughout answers are complete with rationales and testing strategies to help students determine how to answer questions, even if they aren't sure of the correct answer. In this competitive market, this new NCLEX-PN(R) review book will stand out because of these features: -The quantity and quality of our review questions, over 5450 total -Organization according to the April 2007 NCLEX-PN(R) Test Plan -The multi-media support that accompanies this review book. -Inclusion of alternate test items such as prioritization, dosage calcualation, enhanced image questions and more in the book and on the CD-ROM -FREE Prentice Hall NursingNotes Cards Additional features include: -Over 1540 NCLEX-PN(R)-style questions in the book -Rationales and testing strategies for all answers -Nearly all questions are a high level of difficulty, i.e analysis and application -Free CD-ROM offering an additional 3880 practice questions -Memory Test Aid boxes -Test Your NCLEX(R) I.Q. assessment boxes -Review tips for ESL students -Section for foreign nurses to help prepare them for the NCLEX-PN(R)
Author Biography
Mary Ann Hogan, MSN, RN has been a nurse educator for 25 years, currently as a Clinical Associate Professor at the University of Massachusetts, Amherst. She has taught in diploma, associate degree, and baccalaureate nursing programs. A former item writer for the CAT NCLEX-RN®, Ms. Hogan has been teaching review courses for the last 15 years. She also has contributed to a number of publications in the areas of adult health, pharmacology, and fundamentals of nursing. She is a member of the American Nurses Association and Sigma Theta Tau, the International Honor Society for Nursing.
Debra S. McKinney RN, MSN, MBA/HCM has been a nurse for 30 years specializing in pediatric and neonatal nursing. She is currently the Nursing Department Chair at TESST College in Alexandria, Virginia. She wrote the nursing curriculum and developed the program for practical nurses at TESST College. She has contributed to several publications in the areas of anatomy, physiology, and pediatrics. She is a member of the National League for Nurses, the American Association of Critical Care Nurses, and Sigma Theta Tau, the International Honor Society for Nursing.
Table of Contents
Preface
p. vi
Acknowledgments
p. xi
About the Authors
p. xii
Contributors
p. xii
Reviewers
p. xiii
Preparing for the NCLEX-PNreg; (LPN/LVN) Exam
p. 1
The NCLEX-PNreg; Licensing Exam
p. 1
Test Preparation and Test-Taking Strategies
p. 11
The NCLEX-PNreg; Examination through the Candidatesrsquo; Eyes
p. 20
Safe Effective Care Environment: Coordinated Care
p. 24
Legal and Ethical Nursing Practice
p. 24
Leadership and Management
p. 33
Safe Effective Care Environment: Safety and Infection Control
p. 47
Injury Prevention, Disaster Planning, and Protecting Client Safety
p. 47
Preventing and Controlling Infection
p. 60
Health Promotion and Maintenance
p. 71
Reproduction, Family Planning, and Infertility
p. 71
Uncomplicated Antenatal Data Collection and Care
p. 93
Uncomplicated Labor and Delivery Care
p. 114
Uncomplicated Postpartum Data Collection and Care
p. 128
Uncomplicated Newborn Care
p. 141
Lifespan Growth and Development
p. 157
Providing Immunizations
p. 174
Data Collection
p. 191
Promoting Healthy Lifestyle Choices
p. 221
Age-Related Care of Older Adults
p. 233
Psychosocial Integrity
p. 249
Therapeutic Communication and Environment
p. 249
Cultural Awareness
p. 264
Coping with Stressors
p. 275
Mental Health Disorders
p. 228
Dependency and Addiction
p. 329
Crisis Intervention and Suicide
p. 344
End of Life Care
p. 358
Phy
Table of Contents provided by Publisher. All Rights Reserved.