Note: Supplemental materials are not guaranteed with Rental or Used book purchases.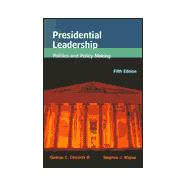 Presidential Leadership: Politics and Policy Making
ISBN13:
9780312167394
by
EDWARDS/WAYNE
Summary
PRESIDENTIAL LEADERSHIP: POLITICS AND POLICY MAKING is the most comprehensive and best-selling text in presidential studies available today. Using two models of leadership, Edwards and Wayne examine all facets of the presidential office in careful detail, using a perfect combination of analytical prose and illustrative examples.
Table of Contents
Prologue
xvii
Preface
xxiii

| | |
| --- | --- |
| | Presidential Leadership: An Introduction |

1
(21)
2
(4)

| | |
| --- | --- |
| | The Creation of the Institution |

2
(2)
4
(2)

| | |
| --- | --- |
| | The Evolution of the Presidency |

6
(5)
6
(2)
8
(2)
10
(1)

| | |
| --- | --- |
| | Problems of Contemporary Leadership |

11
(3)

| | |
| --- | --- |
| | Orientation and Organization of This Book |

14
(6)

| | |
| --- | --- |
| | Thinking about Leadership: Two Perspectives |

15
(2)
17
(2)
19
(1)
20
(1)
21
(1)
22
(32)

| | |
| --- | --- |
| | The Evolution of the System |

23
(3)

| | |
| --- | --- |
| | Changes in the Political Arena |

26
(12)
26
(2)
28
(5)
33
(5)

| | |
| --- | --- |
| | The Quest for the Nomination |

38
(5)

| | |
| --- | --- |
| | Hot-Button Issue: Public Indifference |

39
(4)
43
(6)

| | |
| --- | --- |
| | The Clinton Presidency: Contrasting Strategies in 1992 and 1996 |

44
(1)
45
(2)
47
(1)

| | |
| --- | --- |
| | Characteristics of the Nominees |

47
(2)
49
(1)
50
(1)
51
(1)
51
(1)
52
(2)

| | |
| --- | --- |
| | The Presidential Election |

54
(41)

| | |
| --- | --- |
| | The Strategic Environment |

55
(16)
55
(4)
59
(7)
66
(1)
67
(1)

| | |
| --- | --- |
| | Hot-Button Issue: Campaign Finance Reform |

68
(3)

| | |
| --- | --- |
| | The Presidential Campaign |

71
(12)
72
(2)
74
(1)

| | |
| --- | --- |
| | Projecting a Partisan Appeal |

75
(1)

| | |
| --- | --- |
| | Building a Winning Coalition |

76
(1)

| | |
| --- | --- |
| | The Clinton Presidency: Running for Reelection |

77
(1)
78
(5)

| | |
| --- | --- |
| | The Meaning of the Election |

83
(8)
83
(1)
84
(2)
86
(3)

| | |
| --- | --- |
| | Converting the Electoral Coalition for Governance |

89
(2)
91
(1)
91
(1)
92
(1)
92
(1)
93
(2)

| | |
| --- | --- |
| | The President and the Public |

95
(49)

| | |
| --- | --- |
| | Understanding Public Opinion |

96
(5)
96
(1)
97
(2)

| | |
| --- | --- |
| | Presidential Election Results |

99
(1)
99
(1)

| | |
| --- | --- |
| | Acting Contrary to Public Opinion |

100
(1)

| | |
| --- | --- |
| | Public Expectations of the President |

101
(7)
102
(3)

| | |
| --- | --- |
| | Contradictory Expectations |

105
(3)

| | |
| --- | --- |
| | Public Approval of the President |

108
(12)
108
(1)
109
(2)

| | |
| --- | --- |
| | The Persistence of Approval |

111
(1)
112
(1)
113
(2)
115
(1)

| | |
| --- | --- |
| | Hot-Button Issue: Why Is Bill Clinton So Popular (When No One Seems to Like Him)? |

115
(1)
116
(3)
119
(1)
120
(17)

| | |
| --- | --- |
| | Direct Opinion Leadership |

120
(4)

| | |
| --- | --- |
| | The Clinton Presidency: Bill Clinton and the Public Presidency |

124
(2)
126
(4)
130
(3)
133
(4)
137
(1)
138
(1)
138
(1)
138
(1)
139
(5)

| | |
| --- | --- |
| | The President and the Media |

144
(40)

| | |
| --- | --- |
| | The Evolution of Media Coverage |

144
(3)

| | |
| --- | --- |
| | The Clinton Presidency: The President Assesses the Press |

146
(1)

| | |
| --- | --- |
| | Relations between the President and the Press |

147
(12)

| | |
| --- | --- |
| | The White House Press Corps |

147
(1)

| | |
| --- | --- |
| | The Presidential Press Operation |

148
(2)

| | |
| --- | --- |
| | The Presidential Press Conference |

150
(3)
153
(4)
157
(2)

| | |
| --- | --- |
| | Press Coverage of the President |

159
(12)
159
(3)
162
(5)
167
(4)
171
(6)
172
(1)

| | |
| --- | --- |
| | Setting the Public's Agenda |

172
(1)

| | |
| --- | --- |
| | Evaluations of the President |

173
(1)

| | |
| --- | --- |
| | Limiting the President's Options |

174
(1)

| | |
| --- | --- |
| | Hot-Button Issue: The Rush to Judgment |

174
(1)

| | |
| --- | --- |
| | Undermining the President |

175
(2)
177
(1)
177
(1)
178
(1)
179
(1)
179
(1)
180
(4)
184
(34)

| | |
| --- | --- |
| | Organizing Executive Advice |

185
(9)

| | |
| --- | --- |
| | The Evolution of the Cabinet |

185
(3)

| | |
| --- | --- |
| | The Development of Cabinet Councils |

188
(1)

| | |
| --- | --- |
| | The Creation of a Presidential Bureaucracy |

188
(2)

| | |
| --- | --- |
| | Consequences of Structural Change |

190
(4)

| | |
| --- | --- |
| | Providing a Presidential Staffing System |

194
(13)
194
(1)

| | |
| --- | --- |
| | The Personalized White House, 1939 to 1960 |

195
(1)

| | |
| --- | --- |
| | The Institutionalized White House, 1960 to the Present |

196
(4)

| | |
| --- | --- |
| | The Clinton Presidency: Staffing Trials and Tribulations |

200
(4)

| | |
| --- | --- |
| | Trends in White House Staffing |

204
(1)

| | |
| --- | --- |
| | Hot-Button Issue: The Privacy of Internal Communications |

205
(1)

| | |
| --- | --- |
| | Evaluating the Staffing System: Spokes of the Wheel versus Central Management |

206
(1)

| | |
| --- | --- |
| | The Growth of the Vice Presidency |

207
(4)
211
(2)
213
(1)
214
(1)
215
(1)
215
(1)
216
(2)

| | |
| --- | --- |
| | Presidential Decision Making |

218
(32)
219
(1)
220
(1)

| | |
| --- | --- |
| | Organization and Style of Decision Making |

221
(8)
221
(2)

| | |
| --- | --- |
| | The Clinton Presidency: Getting a New Chief of Staff |

223
(1)
224
(2)
226
(2)
228
(1)

| | |
| --- | --- |
| | Relationships with Advisers |

229
(7)

| | |
| --- | --- |
| | Disagreeing with the President |

229
(2)
231
(2)
233
(1)
233
(1)
234
(1)
234
(1)

| | |
| --- | --- |
| | Hot-Button Issue: What Difference Does the Decision-Making Process Make? |

235
(1)

| | |
| --- | --- |
| | Bureaucratic Politics and Decision Making |

236
(10)

| | |
| --- | --- |
| | Organizational Parochialism |

236
(2)

| | |
| --- | --- |
| | Maintaining the Organization |

238
(2)

| | |
| --- | --- |
| | Organizational and Personal Influence |

240
(2)
242
(4)
246
(1)
246
(1)
247
(1)
247
(1)
248
(2)

| | |
| --- | --- |
| | The Psychological Presidency |

250
(33)

| | |
| --- | --- |
| | Qualifications for Office |

251
(1)

| | |
| --- | --- |
| | Social and Political Background |

252
(1)

| | |
| --- | --- |
| | Physical Attributes and General Health |

253
(4)

| | |
| --- | --- |
| | Psychological Orientation |

257
(10)
257
(5)

| | |
| --- | --- |
| | Hot-Button Issue: How Important Is Character? |

262
(2)

| | |
| --- | --- |
| | The Clinton Presidency: The Impact of Personality Traits on Performance in Office |

264
(3)
267
(6)
268
(1)
269
(4)
273
(2)

| | |
| --- | --- |
| | White House Staff Relationships |

275
(2)
277
(1)
278
(1)
279
(1)
279
(1)
280
(3)

| | |
| --- | --- |
| | The President and the Executive Branch |

283
(40)
285
(1)

| | |
| --- | --- |
| | Lack of Attention to Implementation |

285
(2)

| | |
| --- | --- |
| | Communication of Presidential Decisions |

287
(7)
287
(1)

| | |
| --- | --- |
| | The Clinton Presidency: The National Performance Review |

288
(3)
291
(2)
293
(1)
294
(7)
294
(1)
295
(3)
298
(2)

| | |
| --- | --- |
| | Hot-Button Issue: The Use of Executive Orders to Bypass Congress |

300
(1)
300
(1)
301
(8)
303
(5)
308
(1)

| | |
| --- | --- |
| | The Bureaucratic Structure |

309
(5)

| | |
| --- | --- |
| | Standard Operating Procedures |

309
(2)
311
(3)
314
(4)
318
(1)
319
(1)
319
(1)
320
(1)
321
(2)

| | |
| --- | --- |
| | The President and Congress |

323
(46)

| | |
| --- | --- |
| | Formal Legislative Powers |

323
(2)

| | |
| --- | --- |
| | Sources of Conflict between the Executive and Legislative Branches |

325
(3)
325
(1)
326
(2)

| | |
| --- | --- |
| | Information and Expertise |

328
(1)
328
(13)

| | |
| --- | --- |
| | Party Support of the President |

329
(3)
332
(9)
341
(3)
341
(2)
343
(1)

| | |
| --- | --- |
| | Presidential Legislative Skills |

344
(15)
344
(3)
347
(1)
348
(2)
350
(1)
351
(1)
352
(2)
354
(1)
355
(1)
356
(1)

| | |
| --- | --- |
| | The Clinton Presidency: Bill Clinton Tries to Define Himself |

357
(1)
358
(1)

| | |
| --- | --- |
| | The Impact of Legislative Skills |

358
(1)
359
(4)

| | |
| --- | --- |
| | Hot-Button Issue: The Line-Item Veto |

361
(2)
363
(2)
365
(1)
366
(1)
366
(1)
367
(2)

| | |
| --- | --- |
| | The President and the Judiciary |

369
(31)
370
(11)

| | |
| --- | --- |
| | Selection of Lower-Court Judges |

370
(2)

| | |
| --- | --- |
| | Backgrounds of Lower-Court Judges |

372
(3)

| | |
| --- | --- |
| | Selection of Supreme Court Justices |

375
(4)

| | |
| --- | --- |
| | Characteristics of Justices |

379
(2)

| | |
| --- | --- |
| | President-Supreme Court Relations |

381
(7)
382
(1)

| | |
| --- | --- |
| | The Clinton Presidency: Clinton Decides Not to Pack the Courts |

383
(2)
385
(2)

| | |
| --- | --- |
| | Enforcing Court Decisions |

387
(1)
387
(1)
388
(6)
389
(1)

| | |
| --- | --- |
| | Hot-Button Issue: Is the President Immune from Private Lawsuits? |

390
(2)

| | |
| --- | --- |
| | Deference to the President |

392
(2)
394
(1)
395
(1)
396
(1)
396
(1)
397
(1)
397
(3)
400
(33)

| | |
| --- | --- |
| | The Development of a Policy Role |

401
(4)

| | |
| --- | --- |
| | Institutionalizing Presidential Initiatives |

402
(1)

| | |
| --- | --- |
| | Changing Policy Environment |

403
(2)

| | |
| --- | --- |
| | The Office of Management and Budget and the Executive Branch |

405
(6)

| | |
| --- | --- |
| | Exercising Central Clearance |

406
(1)

| | |
| --- | --- |
| | Coordinating Executive Advice |

407
(2)

| | |
| --- | --- |
| | Reviewing Agency Regulations |

409
(1)

| | |
| --- | --- |
| | Presenting an Annual Program |

410
(1)

| | |
| --- | --- |
| | The Domestic Policy Office and the White House |

411
(3)
413
(1)
414
(1)

| | |
| --- | --- |
| | Strategies for Policy Making |

414
(15)

| | |
| --- | --- |
| | Accommodating External Forces |

415
(2)

| | |
| --- | --- |
| | The Clinton Presidency: The Health Care Fiasco |

417
(3)
420
(5)

| | |
| --- | --- |
| | Hot-Button Issue: The President's Tobacco Plan Goes Up in Smoke |

425
(4)
429
(1)
430
(1)
430
(1)
430
(1)
431
(2)

| | |
| --- | --- |
| | Budgetary and Economic Policy Making |

433
(40)
434
(11)

| | |
| --- | --- |
| | The Battle of the Budget: President versus Congress |

439
(6)
445
(8)
445
(1)

| | |
| --- | --- |
| | Hot-Button Issue: What Should Be Done with the Budget Surplus? |

446
(1)

| | |
| --- | --- |
| | The Office of Management and Budget |

447
(3)

| | |
| --- | --- |
| | The Executive Departments and Agencies |

450
(1)
451
(2)

| | |
| --- | --- |
| | Presidential Leadership and the Budget |

453
(2)

| | |
| --- | --- |
| | Domestic Economic Policy Making |

455
(2)

| | |
| --- | --- |
| | Foreign Economic Policy Making |

457
(2)
459
(4)

| | |
| --- | --- |
| | The Department of the Treasury |

459
(1)

| | |
| --- | --- |
| | The Federal Reserve Board |

460
(1)

| | |
| --- | --- |
| | The Council of Economic Advisers |

460
(2)

| | |
| --- | --- |
| | The Office of Management and Budget |

462
(1)

| | |
| --- | --- |
| | International Economic Advisers |

462
(1)

| | |
| --- | --- |
| | The Coordination of Economic Advice |

463
(2)

| | |
| --- | --- |
| | The Politics of Economic Policy Making |

465
(4)

| | |
| --- | --- |
| | The Clinton Presidency: Economic Decision Making in 1993 |

466
(3)
469
(1)
470
(1)
470
(1)
471
(1)
472
(1)

| | |
| --- | --- |
| | Foreign and Defense Policy Making |

473
(30)

| | |
| --- | --- |
| | Constitutional and Statutory Authority |

474
(11)
474
(1)
475
(9)

| | |
| --- | --- |
| | The Clinton Presidency: Dispatching U.S. Forces to Haiti |

484
(1)

| | |
| --- | --- |
| | The Expansion of a Policy-Making Role |

485
(8)

| | |
| --- | --- |
| | Incentives for Presidential Leadership |

485
(3)

| | |
| --- | --- |
| | Policy Goals and Presidential Success: The Two Presidencies Thesis |

488
(3)

| | |
| --- | --- |
| | Hot-Button Issue: Fast Track Derailed |

491
(2)

| | |
| --- | --- |
| | The Development of an Advisory System |

493
(4)

| | |
| --- | --- |
| | The Executive Departments |

493
(2)

| | |
| --- | --- |
| | The National Security Council |

495
(1)

| | |
| --- | --- |
| | The Special Assistant for National Security Affairs |

496
(1)

| | |
| --- | --- |
| | Assessing the Advisory System |

497
(1)
498
(1)
499
(1)
500
(1)
501
(1)
502
(1)
Appendix A Studying the Presidency
503
(14)
Appendix B Nonelectoral Succession, Removal, and Tenure
517
(4)
Appendix C Provisions of the Constitution of the United States That Relate to the Presidency
521
(8)
Appendix D The Politics of Impeachment: Arguments for and against the Impeachment of William Jefferson Clinton
529
(4)
Index
533