Note: Supplemental materials are not guaranteed with Rental or Used book purchases.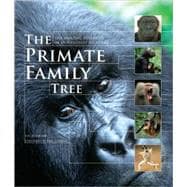 The Primate Family Tree
ISBN13:
9781554073788
by
Redmond, Ian
Questions About This Book?
What version or edition is this?
This is the edition with a publication date of 10/10/2008.
What is included with this book?
The Used copy of this book is not guaranteed to include any supplemental materials. Typically, only the book itself is included.
Summary
Apes, monkeys, lemurs -- and other family members.The Primate Family Tree is a beautiful and comprehensive resource on the subject of our animal relatives. Readers will find an abundance of up-to-date facts, review the latest research and conservation efforts, and discover the remarkable characteristics that all primates -- including humans -- share.The book is structured according to the four main branches of the primate family tree and contains expert information on the natural history, characteristics and behavior of over 250 species, along with maps showing the ranges of the species. Some of the topics covered are: Definition of a primate Darwin's big idea, anthropological theories, DNA The structure of the primate family tree Distribution of species, including lorises and lemurs Diet, habitat, life cycles, social structure, communication Primate emotions Primates as "gardeners of the forest" Issues involving conservation, bush meat, civil war, habitat loss Primate tourism: Does it help or hurt?With its authoritative text, color photographs taken in the field, range maps and classification diagrams, The Primate Family Tree is a comprehensive reference on a subject that is vitally important to all humans.
Table of Contents
Foreword
What is a Primate?
Primate Characteristics
Global Primate Distribution
Diet and Habitat
Gardeners of the Forest
Primate Cultures
Social Structures
Communication
Darwin's Big Idea
Living with the Relatives
Friend or Foe?
Primate Tourism
Primate Conservation
In the Field
Prosimians
Introduction: Prosimians
Lorises and the Potto
Bushbabies
Introducing Lemurs
Dwarf and Mouse Lemurs
Sportive Lemurs
True Lemurs, Including Bamboo Lemurs
The Indrid family
Aye-aye
Tarsiers
New World Monkeys
Introduction: New World Monkeys
Marmosets and Tamarins
Night Monkeys
Titi Monkeys
Capuchins and Squirrel Monkeys
Sakis and Uakaris
Howler Monkeys
Spider Monkeys, Muriquis and Woolly Monkeys
Old World Monkeys
Introduction: Old World Monkeys
Macaques
Baboons
Drill and Mandrill
Mangabeys
Patas Monkey and Swamp Monkey
Vervet and Talapoin Monkeys
Guenons
Black-and-white Colobus
Red Colobus and Olive Colobus
Langurs
Odd-nosed Colobines
Proboscis Monkey
APES
Introduction: Apes
Gibbons and Siamang
Brachiation
Orangutans
Gorillas
Chimpanzee and Bonobo
The Cultured Ape
Humans
Where to Watch Primates
Further Resources
Glossary
Index and Acknowledgments
Table of Contents provided by Publisher. All Rights Reserved.
Excerpts
ForewordAt first sight, a 4.2-ounce Pygmy Marmoset, a 550-pound gorilla, a bushbaby and a human seem to have little in common -- yet all four are primates. We are a motley clan indeed, we fellow primates, including in our ranks the huge, red-haired orangutan of Sumatra and Borneo, the Japanese Macaque, which roams snow-covered mountains in Japan, the Hamadryas Baboon of the Ethiopian deserts, the Red Uakari of the Amazon jungle, the Ring-tailed Lemur of Madagascar -- and so many more. Humans are most closely related to the great apes, especially the Chimpanzee and Bonobo. We are, in fact, the seventh great ape, although we seldom think of ourselves in this way.CHANGING ATTITUDES When, in 1960, I began observing the Chimpanzees of the Gombe Stream Game Reserve (today a national pork) on the eastern shores of Lake Tanganyika, there had been very few detailed studies of primates in the Wild. My descriptions of their complex social behavior, of tool-making and tool-use that required intelligence and of emotions that seemed similar to our own were largely dismissed as anthropomorphic by western science. Even the use of names rather than numbers to identify the Chimpanzees being studied was frowned upon by many European ethologists of the time. Gradually, though, this rigid attitude began to change, as field studies of animals with complex brains increasingly provided evidence of similarly complex behavior. Now, nearly half a century later, we acknowledge that many behaviors -- intellectual, social and emotional -- that were once believed to be unique to ourselves are shown by other animals too. Thousands of studies of primates, including humans, have revealed fascinating information about the extent of our relatedness and the evolutionary pathway that has led to the diverse array of primates on our planet today -- and this book explores every branch of this family tree of ours.THE ENDANGERED PRIMATE WORLD Tragically, even as our knowledge of and respect for other primates has grown, so their numbers have shrunk. While reading this book, you will become aware time and again of how much the future of so many of our primate relatives is threatened by human actions. I hope that its beautifully produced pages will not only fascinate readers but also help them to realize just how endangered So many primates and their habitats are today. They need our help if they are to survive beyond this century; to this end a list of organizations working for primate conservation is included at the end of the book -- I encourage you to get involved in any way that you can.For many of us, the problems of species living far away seem to have little bearing on our lives. Yet the more I travel, raising awareness of the plight of Chimpanzees and other primates, the more I realize the extent to which so many seemingly disparate issues are interconnected. One obvious example is the destruction of the world's rainforests, which are disappearing at a terrifying rate. Yet even though only about 50 percent of the world's original forests remain, forest ecosystems store more than double the total amount of carbon in the atmosphere today. Thus, unless we can halt the destruction of rainforests, our own future -- as well as that of the primates and all the other species in the forest -- will be ever more acutely in jeopardy as a result of climate change.MAKING A DIFFERENCE Many people feel helpless in the face of global problems, not realizing that they can help -- yet every one of us can make a difference, however small. As consumers and voters we have enough power to affect business practices and even government regulations. For example, palm oil is found in 10 percent of supermarket products, ranging from everyday foods to cosmetics (on which it