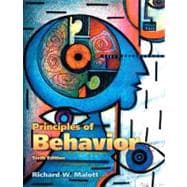 Questions About This Book?
What version or edition is this?
This is the 6th edition with a publication date of 6/14/2007.
What is included with this book?
The New copy of this book will include any supplemental materials advertised. Please check the title of the book to determine if it should include any CDs, lab manuals, study guides, etc.
Summary
This book offers a solid introduction to the principles of behavior using a clear, interesting, entertaining style with many case studies, and everyday examples. It maintains a high level of intellectual rigor, addressing fundamental concepts at the beginning of each chapter with more advanced topics left for one of the two enrichment sections within each chapter.Chapter topics cover the reinforcer, reinforcement, escape, punishment, penalty, extinction and recovery, differential reinforcement and punishment, shaping, unlearned reinforcers and aversive conditions, special establishing operations, learned reinforcers and aversive conditions, discrimination, imitation, avoidance, punishment by prevention, ratio schedules, time-dependent schedules, concurrent contingencies, stimulus-response chains and rate contingencies, respondent conditioning, analogs to reinforcement, a theory of rule-governed behavior, pay for performance, moral and legal control, maintenance, transfer, and research methods.For psychologists, clinical psychologists, and social workers who do not specialize in behavioral analysis; as well as for supervisors and managers.
Table of Contents
Basic behavioral contingencies
The reinforcer (positive reinforcer)
p. 1
Reinforcement (positive reinforcement)
p. 13
Escape (negative reinforcement)
p. 32
Punishment (positive punishment)
p. 57
Penalty (negative punishment)
p. 82
Extinction (following reinforcement) and recovery (following punishment)
p. 102
Differential reinforcement and differential punishment
p. 124
Shaping
p. 144
Motivation
Unlearned reinforcers and aversive stimuli
p. 159
Special motivating operations
p. 169
Learned reinforcers and learned aversive stimuli
p. 178
Stimulus control
Discrimination
p. 201
Complex stimulus control
p. 221
Imitation
p. 241
Complex behavioral contingencies
Avoidance
p. 254
Punishment by prevention (differential reinforcement of other behavior - DRO)
p. 269
Ratio schedules
p. 276
Time-dependent interval schedules
p. 286
Concurrent contingencies
p. 300
Behavioral chains and differential reinforcement of low rate
p. 321
Respondent conditioning
Respondent conditioning
p. 341
Complex human behavior
Rule-governed behavior : concepts
p. 361
Rule-governed behavior : applications
p. 377
Rule-governed behavior : theory
p. 393
Pay for performance
p. 411
Sexuality (now on DickMalott.com)
p. 422
Moral and legal control (now on DickMalott.com)
p. 423
Stability across time and space
Maintenance
p. 424
Transfer
p. 431
Research methods
Research methods
p. 445
Jobs and grad school
Jobs and grad school (now on DickMalott.com)
p. 465
Table of Contents provided by Blackwell. All Rights Reserved.