Note: Supplemental materials are not guaranteed with Rental or Used book purchases.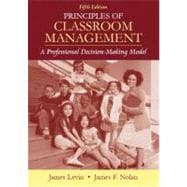 Questions About This Book?
Why should I rent this book?
Renting is easy, fast, and cheap! Renting from eCampus.com can save you hundreds of dollars compared to the cost of new or used books each semester. At the end of the semester, simply ship the book back to us with a free UPS shipping label! No need to worry about selling it back.
How do rental returns work?
Returning books is as easy as possible. As your rental due date approaches, we will email you several courtesy reminders. When you are ready to return, you can print a free UPS shipping label from our website at any time. Then, just return the book to your UPS driver or any staffed UPS location. You can even use the same box we shipped it in!
What version or edition is this?
This is the 5th edition with a publication date of 1/1/2010.
What is included with this book?
The Used copy of this book is not guaranteed to include any supplemental materials. Typically, only the book itself is included.
The Rental copy of this book is not guaranteed to include any supplemental materials. You may receive a brand new copy, but typically, only the book itself.
Summary
Written for classroom management and general methods courses, the Fourth Edition of Principles of Classroom Management provides a theoretically-based and practical system for helping teachers prevent disruptive behavior, influence appropriate behavior and continue to provide a positive learning environment for their students. This concise text presents an array of decision-making options that guide teachers in thinking about how to approach particular classroom management situations and choose from a range of options designed to prevent, cope with, and solve a variety of problems. A variety of theoretical perspectives, each fleshed out with cases taken from actual classrooms, gives students many choices in how to handle issues that may arise in their own classrooms.
Table of Contents
Preface
xiii
ITERATIVE CASE STUDY ANALYSES
1
(2)

| | |
| --- | --- |
| | Iterative Case Study Analysis: First Analysis |

2
(1)
SECTION ONE Foundations
3
(18)

| | |
| --- | --- |
| | Principles of Classroom Management |

3
(1)

| | |
| --- | --- |
| | Prereading Questions for Reflection and Journaling |

3
(1)
3
(1)

| | |
| --- | --- |
| | Defining the Process of Teaching |

4
(5)

| | |
| --- | --- |
| | CASE 1.1 Getting Students to Respond |

7
(1)

| | |
| --- | --- |
| | CASE 1.2 "Why Study? We Don't Get Enough Time for the Test Anyway!" |

8
(1)

| | |
| --- | --- |
| | Principles of Classroom Management |

9
(6)

| | |
| --- | --- |
| | Professional Decision-Making Hierarchy |

15
(3)

| | |
| --- | --- |
| | CASE 1.3 The Vice-Principal Wants to See Whom? |

16
(2)
18
(1)
18
(1)
19
(2)

| | |
| --- | --- |
| | 2 Nature of the Discipline Problem |

21
(21)

| | |
| --- | --- |
| | Principles of Classroom Management |

21
(1)

| | |
| --- | --- |
| | Prereading Questions for Reflection and Journaling |

21
(1)
21
(1)

| | |
| --- | --- |
| | Defining a Discipline Problem |

22
(5)

| | |
| --- | --- |
| | CASE 2.1 Can a Teacher Be a Discipline Problem? |

27
(1)

| | |
| --- | --- |
| | Problem Student Behavior Outside the Definition |

27
(1)
28
(4)

| | |
| --- | --- |
| | CASE 2.2 Solving a Motivational Problem |

28
(4)

| | |
| --- | --- |
| | The Effect of Classroom Discipline Problems on Teaching and Learning |

32
(4)

| | |
| --- | --- |
| | CASE 2.3 Discipline: A Costly Waste of Time |

32
(1)

| | |
| --- | --- |
| | CASE 2.4 The Ripple Effect |

33
(3)
36
(1)
37
(3)
40
(2)

| | |
| --- | --- |
| | 3 Understanding Why Children Misbehave |

42
(39)

| | |
| --- | --- |
| | Principles of Classroom Management |

42
(1)

| | |
| --- | --- |
| | Prereading Questions for Reflection and Journaling |

42
(1)
43
(1)
43
(9)

| | |
| --- | --- |
| | The Knowledge Explosion and the Erosion of Respect for Authority |

44
(2)

| | |
| --- | --- |
| | The Knowledge Explosion, Teacher and Student Feelings of |

| | |
| --- | --- |
| | Frustration, and the Relevancy of Schooling |

46
(1)

| | |
| --- | --- |
| | CASE 3.1 "This Is the Greatest Thing That Has Happened to Me in Twenty Years of Teaching" |

46
(1)
47
(1)

| | |
| --- | --- |
| | CASE 3.2 Who Really Cares? |

47
(3)

| | |
| --- | --- |
| | Television and Alternative Role Models |

50
(1)
51
(1)

| | |
| --- | --- |
| | Failure to Meet Children's Basic Needs |

52
(8)
52
(1)

| | |
| --- | --- |
| | CASE 3.3 Hanging on the Corner |

52
(1)

| | |
| --- | --- |
| | CASE 3.4 Marital Conflict |

54
(1)
55
(1)
55
(1)

| | |
| --- | --- |
| | CASE 3.5 Forgetting to Sit Down |

56
(1)

| | |
| --- | --- |
| | Safety and Security Needs |

57
(1)

| | |
| --- | --- |
| | CASE 3.6 There Must Be a Better Way |

57
(1)
58
(1)

| | |
| --- | --- |
| | CASE 3.8 Afraid of Going to School |

58
(1)

| | |
| --- | --- |
| | Belonging and Affection Needs |

59
(1)

| | |
| --- | --- |
| | CASE 3.9 Turning Off Students |

60
(1)

| | |
| --- | --- |
| | Children's Pursuit of Social Recognition and Self-Esteem |

60
(7)
60
(1)

| | |
| --- | --- |
| | CASE 3.10 "I'm Going to Be Sorry When Fifth Grade Is Over" |

60
(1)

| | |
| --- | --- |
| | CASE 3.11 Seeking Faulty Goals |

62
(1)
63
(1)
64
(1)

| | |
| --- | --- |
| | CASE 3.12 "Get Out of My Face" |

65
(2)

| | |
| --- | --- |
| | Stages of Cognitive and Moral Development |

67
(5)
67
(1)
68
(1)

| | |
| --- | --- |
| | Behavior: The Interaction of Cognitive and Moral Development |

69
(3)
72
(1)

| | |
| --- | --- |
| | CASE 3.13 Not Being Able to Teach |

73
(1)
73
(1)
74
(5)
79
(2)

| | |
| --- | --- |
| | 4 Philosophical Approaches to Classroom Management |

81
(27)

| | |
| --- | --- |
| | Principles of Classroom Management |

81
(1)

| | |
| --- | --- |
| | Prereading Questions for Reflection and Journaling |

81
(1)
82
(1)

| | |
| --- | --- |
| | CASE 4.1 The Tricks-of-the-Trade Approach |

83
(1)
84
(6)
85
(1)

| | |
| --- | --- |
| | CASE 4.2 The Involved Teacher |

85
(1)
86
(1)

| | |
| --- | --- |
| | CASE 4.3 Her Reputation Precedes Her |

86
(1)
87
(1)

| | |
| --- | --- |
| | CASE 4.4 "School IS Your Job" |

87
(1)
88
(1)
88
(2)

| | |
| --- | --- |
| | Theories of Classroom Management |

90
(11)

| | |
| --- | --- |
| | Student-Directed Management |

92
(1)

| | |
| --- | --- |
| | CASE 4.6 Handling Disruptive David |

93
(4)
97
(2)

| | |
| --- | --- |
| | Teacher-Directed Management |

99
(2)
101
(2)
103
(1)

| | |
| --- | --- |
| | Management Models on the Web |

104
(1)
104
(4)

| | |
| --- | --- |
| | Iterative Case Study Analysis: Second Analysis |

108
(1)
SECTION TWO Prevention

| | |
| --- | --- |
| | 5 The Professional Teacher |

109
(33)

| | |
| --- | --- |
| | Principle of Classroom Management |

109
(1)

| | |
| --- | --- |
| | Prereading Questions for Reflection and Journaling |

110
(1)
110
(1)

| | |
| --- | --- |
| | The Basics of Effective Teaching |

111
(13)
112
(2)

| | |
| --- | --- |
| | Student Motivation: Teacher Variables |

114
(1)

| | |
| --- | --- |
| | CASE 5.1 The Popcorn Popper |

115
(1)

| | |
| --- | --- |
| | CASE 5.2 Talking between Classes |

116
(1)

| | |
| --- | --- |
| | CASE 5.3 Nonconstructive Feedback |

118
(1)
119
(1)
120
(2)
122
(1)
122
(1)
123
(1)
124
(14)

| | |
| --- | --- |
| | Teaching for Understanding |

125
(1)
126
(2)

| | |
| --- | --- |
| | Emphasis on Thinking and Problem-Solving Skills |

128
(1)

| | |
| --- | --- |
| | Creating Communities of Learners |

129
(1)

| | |
| --- | --- |
| | Teaching toward Multiple Intelligences |

130
(1)

| | |
| --- | --- |
| | CASE 5.4 Cooperative Learning in Biology |

131
(2)

| | |
| --- | --- |
| | Differentiating Instruction |

133
(2)

| | |
| --- | --- |
| | Student Motivation: Student Cognition |

135
(1)

| | |
| --- | --- |
| | CASE 5.5 Three Years of History Rolled into One |

137
(1)
138
(1)
139
(2)
141
(1)

| | |
| --- | --- |
| | 6 Structuring the Environment |

142
(28)

| | |
| --- | --- |
| | Principles of Classroom Management |

143
(1)

| | |
| --- | --- |
| | Prereading Questions for Reflection and Journaling |

143
(1)
143
(1)

| | |
| --- | --- |
| | Designing the Physical Classroom Environment |

144
(2)
144
(1)
144
(1)
144
(1)

| | |
| --- | --- |
| | Bulletin Boards and Display Areas |

145
(1)

| | |
| --- | --- |
| | CASE 6.1 Fourteen to Ten, Music Wins |

146
(1)

| | |
| --- | --- |
| | Establishing Classroom Guidelines |

146
(1)

| | |
| --- | --- |
| | CASE 6.2 Having Your Name Placed on the Board Isn't Always Bad |

146
(1)
147
(1)
148
(1)
148
(1)

| | |
| --- | --- |
| | Determining Necessary Rules |

148
(1)
149
(1)
154
(1)
155
(1)

| | |
| --- | --- |
| | CASE 6.3 "I Don't Know if I Can Remember" |

155
(1)

| | |
| --- | --- |
| | CASE 6.4 "I'm Not Promising Anything" |

156
(1)

| | |
| --- | --- |
| | CASE 6.5 Calling Out Correct Answers |

156
(1)
157
(1)

| | |
| --- | --- |
| | CASE 6.6 The Smiley Face Self-Analysis |

157
(3)

| | |
| --- | --- |
| | The Cultural Embeddedness of Rules and Guidelines |

160
(3)

| | |
| --- | --- |
| | Creating Group Norms to Structure Appropriate Behavior |

163
(2)
165
(1)
166
(2)
168
(2)

| | |
| --- | --- |
| | Iterative Case Study Analysis: Third Analysis |

170
(1)
SECTION THREE Interventions for Common Behavior Problems

| | |
| --- | --- |
| | 7 Coping with Common Behavior Problems: |

171
(1)

| | |
| --- | --- |
| | Principles of Classroom Management |

172
(1)

| | |
| --- | --- |
| | Prereading Questions for Reflection and Journaling |

172
(1)
172
(1)

| | |
| --- | --- |
| | Prerequisites to Management |

173
(1)
174
(1)

| | |
| --- | --- |
| | Proactive Intervention Skills |

174
(1)

| | |
| --- | --- |
| | CASE 7.1 "...3, 2, 1, Blast Off" |

175
(2)

| | |
| --- | --- |
| | Remedial Intervention Skills |

177
(6)
179
(1)
179
(1)
180
(1)
180
(1)

| | |
| --- | --- |
| | Effectiveness of Nonverbal Intervention Skills |

181
(1)

| | |
| --- | --- |
| | CASE 7.2 Notes versus Math |

182
(1)

| | |
| --- | --- |
| | CASE 7.3 Let Your Fingers Do the Walking |

183
(1)
183
(1)
184
(1)
184
(2)

| | |
| --- | --- |
| | 8 Coping with Common Behavior Problems: Verbal Interventions and Use of Logical Consequences |

186
(19)

| | |
| --- | --- |
| | Principles of Classroom Management |

187
(1)

| | |
| --- | --- |
| | Prereading Questions for Reflection and Journaling |

187
(1)
187
(1)

| | |
| --- | --- |
| | CASE 8.1 Blowing His Stack |

187
(1)

| | |
| --- | --- |
| | Classroom Verbal Intervention |

188
(1)

| | |
| --- | --- |
| | CASE 8.2 Jimmy, the Little Sneak |

189
(3)

| | |
| --- | --- |
| | Adjacent (Peer) Reinforcement |

192
(1)

| | |
| --- | --- |
| | Calling on the Student/Name-Dropping |

192
(1)
193
(1)

| | |
| --- | --- |
| | Questioning Awareness of Effect |

193
(1)
194
(1)
195
(1)
195
(1)
195
(1)
195
(1)
196
(1)
196
(1)
197
(1)

| | |
| --- | --- |
| | Comply or Face the Logical Consequences: "You Have a Choice" |

197
(2)

| | |
| --- | --- |
| | When "You Have a Choice" Doesn't Work |

199
(1)
200
(2)
202
(1)
203
(1)
204
(1)
SECTION FOUR Interventions for Chronic Behavior Problems

| | |
| --- | --- |
| | 9 Classroom Interventions for Chronic Behavior Problems |

205
(31)

| | |
| --- | --- |
| | Principles of Classroom Management |

206
(1)

| | |
| --- | --- |
| | Prereading Questions for Reflection and Journaling |

206
(1)
206
(1)

| | |
| --- | --- |
| | CASE 9.1 "1 Just Dropped My Book" |

207
(2)

| | |
| --- | --- |
| | Long-Term Problem-Solving Strategies |

209
(9)
209
(1)
211
(1)

| | |
| --- | --- |
| | CASE 9.3 Relating to Cindy |

212
(1)

| | |
| --- | --- |
| | Breaking the Cycle of Discouragement |

213
(5)

| | |
| --- | --- |
| | Talking to Solve Problems |

218
(3)
218
(1)
219
(1)

| | |
| --- | --- |
| | Asking Authentic Questions |

220
(1)

| | |
| --- | --- |
| | Specific Short-Term Problem-Solving Strategies |

221
(12)
222
(2)
224
(5)
229
(4)
233
(1)
234
(1)
234
(2)

| | |
| --- | --- |
| | 10 Seeking Outside Assistance |

236
(16)

| | |
| --- | --- |
| | Principles of Classroom Management |

237
(1)

| | |
| --- | --- |
| | Prereading Questions for Reflection and Journaling |

237
(1)
237
(1)

| | |
| --- | --- |
| | The Nature of Persisting Misbehavior |

238
(2)

| | |
| --- | --- |
| | Failure in the Classroom Environment |

239
(1)

| | |
| --- | --- |
| | Failure Outside the Classroom Environment |

239
(1)

| | |
| --- | --- |
| | Failure as a Result of Primary Mode of Conduct |

240
(1)

| | |
| --- | --- |
| | When Outside Assistance Is Needed |

240
(1)
241
(2)

| | |
| --- | --- |
| | The Role of the Counselor |

241
(1)

| | |
| --- | --- |
| | The Role of the Administrator |

242
(1)

| | |
| --- | --- |
| | The Role of the School Psychologist |

242
(1)
242
(1)
243
(5)

| | |
| --- | --- |
| | When Parents Should Be Contacted |

243
(1)

| | |
| --- | --- |
| | The Importance of Working with Parents |

244
(1)

| | |
| --- | --- |
| | CASE 10.1 In Order to Drive, You Must Speak Spanish |

244
(1)
245
(1)

| | |
| --- | --- |
| | Conducting Parent Conferences |

246
(1)

| | |
| --- | --- |
| | CASE 10.2 "Won't Be Much Help" |

247
(1)

| | |
| --- | --- |
| | Symptoms of Serious Problems |

248
(1)

| | |
| --- | --- |
| | Legal Aspects of Seeking Outside Assistance |

249
(1)
250
(1)
250
(1)
251
(1)

| | |
| --- | --- |
| | Iterative Case Study Analysis: Fourth Analysis |

252
(1)
APPENDIX A: The Discipline Problem Analysis Inventory (DPAI)
253
(7)

| | |
| --- | --- |
| | Part I: Have I Done All I Can to Prevent Misbehavior? |

253
(3)
253
(1)

| | |
| --- | --- |
| | Chapter 2: Nature of the Discipline Problem |

253
(1)

| | |
| --- | --- |
| | Chapter 3: Understanding Why Children Misbehave |

254
(1)

| | |
| --- | --- |
| | Chapter 4: Philosophical Approaches to Classroom Management |

254
(1)

| | |
| --- | --- |
| | Chapter 5: The Professional Teacher |

254
(1)

| | |
| --- | --- |
| | Chapter 6: Structuring the Environment |

255
(1)

| | |
| --- | --- |
| | Part II: Am I Effectively Resolving Misbehavior? |

256
(4)

| | |
| --- | --- |
| | Chapter 7: Coping with Common Behavior Problems: Nonverbal Interventions |

256
(1)

| | |
| --- | --- |
| | Chapter 8: Coping with Common Behavior Problems: Verbal Interventions and Use of Logical Consequences |

257
(1)

| | |
| --- | --- |
| | Chapter 9: Classroom Interventions for Chronic Behavior Problems |

257
(1)

| | |
| --- | --- |
| | Chapter 10: Seeking Outside Assistance |

258
(2)
APPENDIX B: General Guidelines for Working with Special Needs Students
260
(3)
APPENDIX C: Decisions and Tasks for Beginning the School Year
263
(2)
Index
265