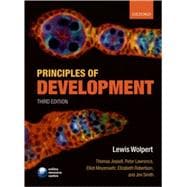 Principles of Development
by
Wolpert, L.
Oxford University Press(uk)
Questions About This Book?
What version or edition is this?
This is the 3rd edition with a publication date of 9/30/2007.
What is included with this book?
The Used copy of this book is not guaranteed to include any supplemental materials. Typically, only the book itself is included.
Summary
The process of biological development is an amazing feat oftightly-regulated cellular growth and patterning, powerful enough to result inthe emergence of a highly-complex living organism from just a single fertilizedegg. But how does biological development occur? How can a single fertilized egggive rise to the limbs, organs, and other tissues that comprise a livingorganism?Principles of Development reveals the universal principles which govern theprocess of development. Written by one of the most influential developmentalbiologists of our time, Lewis Wolpert, it focuses on those systems that bestilluminate common principles, demystifying the complex yet intricate processesthrough which biological development occurs.With co-authors whose expertise span the discipline, Principles of Developmentcombines a careful exposition of the subject with insights from some of theworld's pioneering developmental biology researchers, taking the student fromthe fundamentals through to latest discoveries in the field.Assuming no prior knowledge of the subject, and delivered in the lucid, engagingstyle for which Wolpert is renowned, Principles of Development is an invaluableresource for all students encountering this fascinating subject for the firsttime, and for the duration of their studies.Online resource centre:Lecturer resources:Illustrations from the book available to download, to facilitate lecturepreparation.PowerPoint course outlines, to facilitate lecture preparation.Student resources:Multiple choice questions for students to check their understanding.Concept questions for students to explore their understanding of the keyprinciples.Study Guide for each chapter, containing chpater overview, study tip and keywords.Web links to further information resources (including web-based exercises) toencourage independent learning.
Table of Contents
History and Basic Concepts
Development of the Drosophila Body Plan
Patterning the Vertebrate Body Plan I: Axes and Germ Layers
Patterning the Vertebrate Body Plan II: The Mesoderm and Early Nervous System
Development of Nematodes, Sea Urchins, Ascidians, and Slime Molds
Plant Development
Morphogenesis: Change in Form in the Early Embryo
Cell Differentiation
Organogenesis
Development of the Nervous System
Germ Cells and Sex
Regeneration
Growth and Post-Embryonic Development
Evolution and Development
Glossary
Table of Contents provided by Publisher. All Rights Reserved.