Note: Supplemental materials are not guaranteed with Rental or Used book purchases.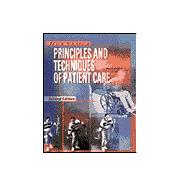 Principles and Techniques of Patient Care
ISBN13:
9780721675244
by
Pierson, Frank M.
Elsevier Science Health Science div
Related Products
Summary
Updated and expanded, the 2nd Edition of this text clearly presents modern concepts, equipment, techniques and practical details for the skills required to help patients with the use of assistive devices. Presents information on how to properly evaluate a person's vital signs, treat a person who requires special equipment and care, and much more. The author includes clear cut "how-to" instructions, helpful rationales, and physiologic principles that explain why techniques are used.
Table of Contents
| | |
| --- | --- |
| | Chapter 1 Introduction to Patient Care Activities |

1
(18)
2
(1)

| | |
| --- | --- |
| | Interprofessional Collaboration |

3
(1)
3
(1)
4
(1)

| | |
| --- | --- |
| | Principles of Documentation |

5
(2)

| | |
| --- | --- |
| | Principles of Treatment Planning |

7
(1)

| | |
| --- | --- |
| | Principles of Patient Evaluation |

8
(3)
11
(2)
13
(2)

| | |
| --- | --- |
| | Communicating With a Person With a Disability |

15
(2)
17
(1)
18
(1)
19
(12)
20
(1)

| | |
| --- | --- |
| | Principles and Concepts of Proper Body Mechanics |

20
(3)
23
(3)

| | |
| --- | --- |
| | Pushing, Pulling, Reaching, and Carrying |

26
(1)
27
(3)
30
(1)

| | |
| --- | --- |
| | Chapter 3 Positioning and Draping |

31
(12)
32
(1)
32
(1)
33
(7)
40
(1)
41
(2)

| | |
| --- | --- |
| | Chapter 4 Vital Signs and Body Composition Assessments |

43
(26)
44
(1)
45
(2)
47
(6)
53
(5)

| | |
| --- | --- |
| | Respiration (Pulmonary Ventilation) |

58
(3)

| | |
| --- | --- |
| | Body Composition Assessments |

61
(7)
68
(1)

| | |
| --- | --- |
| | Chapter 5 Basic Exercise-Passive and Active |

69
(36)
70
(1)

| | |
| --- | --- |
| | Types of Exercise for Range of Motion |

71
(2)

| | |
| --- | --- |
| | Preparation for Application of Passive and Active Range of Motion |

73
(1)

| | |
| --- | --- |
| | Application of Passive Exercise |

73
(25)
98
(5)
103
(2)

| | |
| --- | --- |
| | Chapter 6 Transfer Activities |

105
(42)
106
(1)

| | |
| --- | --- |
| | Organization of Patient Transfers |

106
(1)
106
(1)
107
(1)
107
(1)
108
(2)

| | |
| --- | --- |
| | Mobility Activities for a Bed or Mat |

110
(7)

| | |
| --- | --- |
| | Standing, Sitting, Lifting Transfers |

117
(16)
133
(6)
139
(3)

| | |
| --- | --- |
| | Transfer From the Wheelchair to the Floor and Return |

142
(4)
146
(1)

| | |
| --- | --- |
| | Chapter 7 Wheelchair Features and Activities |

147
(40)
148
(1)

| | |
| --- | --- |
| | Standard Wheelchair Measurements |

149
(1)
150
(1)

| | |
| --- | --- |
| | Methods to Evaluate the Fit |

150
(1)

| | |
| --- | --- |
| | Potential Adverse Effects of Improper Fit |

152
(2)

| | |
| --- | --- |
| | Patient and Family Education |

154
(1)

| | |
| --- | --- |
| | Wheelchair Components and Features |

154
(11)
165
(21)

| | |
| --- | --- |
| | General Care and Maintenance |

186
(1)
186
(1)

| | |
| --- | --- |
| | Chapter 8 Ambulation Aids, Patterns, and Activities |

187
(64)
188
(1)

| | |
| --- | --- |
| | Organization of Ambulation Activities |

189
(2)
191
(3)
194
(3)
197
(2)
199
(1)
200
(2)
202
(6)

| | |
| --- | --- |
| | Preambulation Functional Activities |

208
(9)

| | |
| --- | --- |
| | Safety Considerations and Precautions |

217
(14)

| | |
| --- | --- |
| | Ambulation Functional Activities |

231
(18)
249
(2)

| | |
| --- | --- |
| | Chapter 9 Special Equipment and Patient Care Environments |

251
(22)
253
(1)

| | |
| --- | --- |
| | Orientation to the Special Intensive Care Unit |

253
(1)
254
(5)

| | |
| --- | --- |
| | Life Support and Monitoring Equipment |

259
(13)
272
(1)

| | |
| --- | --- |
| | Chapter 10 Approaches to Infection Control and Wound Care |

273
(44)
274
(1)
275
(1)
276
(1)
277
(4)

| | |
| --- | --- |
| | Application of Protective Garments |

281
(8)

| | |
| --- | --- |
| | Removal of Contaminated Protective Garments |

289
(1)
289
(4)
293
(8)

| | |
| --- | --- |
| | Graduated Compression Garments |

301
(8)

| | |
| --- | --- |
| | Control of Disease in the Health Care Environment |

309
(7)
316
(1)

| | |
| --- | --- |
| | Chapter 11 Incidents and Emergencies |

317
(22)
318
(1)
319
(3)
322
(15)
337
(2)

| | |
| --- | --- |
| | Chapter 12 Americans With Disabilities Act: A Review |

339
(12)
340
(1)
340
(1)

| | |
| --- | --- |
| | General Aspects of the ADA |

341
(2)

| | |
| --- | --- |
| | Compliance and Implementation of Regulations |

343
(3)
346
(5)
INDEX
351