Note: Supplemental materials are not guaranteed with Rental or Used book purchases.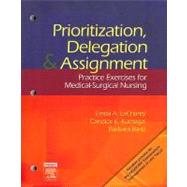 Prioritization, Delegation, and Assignment : Practice Exercises for Medical-Surgical Nursing
ISBN13:
9780323044073
by
LaCharity, Kumagai & Bartz
Related Products
Summary
This practice-oriented, case-based workbook is designed to help you transition from learning about managing conditions to actually managing patient care in the clinical setting. It provides valuable practice in deciding what to do first (prioritization), what tasks can be given to others (delegation), and which patients can safely be assigned to others (assignment). Book jacket.
Table of Contents
1
(12)

| | |
| --- | --- |
| | Guidelines for Prioritization, Delegation, and Assignment Decisions |

3
(10)

| | |
| --- | --- |
| | PART 2 Prioritization, Delegation, and Assignment in Common Health Problems |

13
(82)
15
(4)
19
(4)

| | |
| --- | --- |
| | Fluid, Electrolyte, and Acid-Base Problems |

23
(4)
27
(4)
31
(6)
37
(6)
43
(6)
49
(6)

| | |
| --- | --- |
| | Visual and Auditory Problems |

55
(4)
59
(4)

| | |
| --- | --- |
| | Gastrointestinal and Nutritional Problems |

63
(6)
69
(4)
73
(4)

| | |
| --- | --- |
| | Renal and Urinary Problems |

77
(6)
83
(6)

| | |
| --- | --- |
| | Medical-Surgical Emergencies |

89
(6)

| | |
| --- | --- |
| | PART 3 Prioritization, Delegation, and Assignment in Complex Health Scenarios |

95
(78)

| | |
| --- | --- |
| | Case Study 1 Chest Pressure, Indigestion, Nausea, and Vomiting |

97
(4)

| | |
| --- | --- |
| | Case Study 2 Dyspnea and Shortness of Breath |

101
(2)

| | |
| --- | --- |
| | Case Study 3 A Nursing Team Leader Caring for Multiple Clients |

103
(4)

| | |
| --- | --- |
| | Case Study 4 Shortness of Breath, Edema, and Decreased Urine Output |

107
(4)

| | |
| --- | --- |
| | Case Study 5 Abdominal Pain, Polyuria, Vomiting, and Thirst |

111
(4)
115
(6)

| | |
| --- | --- |
| | Case Study 7 Spinal Cord Injury |

121
(4)

| | |
| --- | --- |
| | Case Study 8 Multiple Patients with Adrenal Gland Disorders |

125
(4)

| | |
| --- | --- |
| | Case Study 9 Multiple Clients with Gastrointestinal Problems |

129
(6)

| | |
| --- | --- |
| | Case Study 10 Multiple Patients with Pain |

135
(4)

| | |
| --- | --- |
| | Case Study 11 Multiple Clients with Cancer |

139
(4)

| | |
| --- | --- |
| | Case Study 12 Gastrointestinal Bleeding |

143
(4)

| | |
| --- | --- |
| | Case Study 13 Head and Leg Trauma and Shock |

147
(6)

| | |
| --- | --- |
| | Case Study 14 Hypotension, Lethargy, Nausea, and Abdominal Pain |

153
(6)

| | |
| --- | --- |
| | Case Study 15 Mitral Valve Disease and Shortness of Breath |

159
(4)

| | |
| --- | --- |
| | Case Study 16 Multiple Patients with Peripheral Vascular Disease |

163
(4)

| | |
| --- | --- |
| | Case Study 17 Respiratory Difficulty After Surgery |

167
(6)
Answer Key
173