Note: Supplemental materials are not guaranteed with Rental or Used book purchases.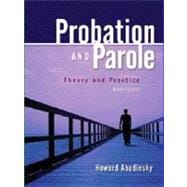 Probation and Parole : Theory and Practice
ISBN13:
9780131188945
by
Abadinsky, Howard
Questions About This Book?
What version or edition is this?
This is the 9th edition with a publication date of 1/21/2005.
What is included with this book?
The Used copy of this book is not guaranteed to include any supplemental materials. Typically, only the book itself is included.
Summary
Probation and Parole: Theory and Practice, Ninth Editiontakes a look inside the real world of probation and parole. Featuring a front-linepractitioner'sinsights based on the author's extensive experience as a senior New York State parole officer, this book exposes readers to the complex, "real" world of probation and parole.Comprehensive in approach, this book provides athoroughunderstanding of the field of probation and parole covering these topics: history and administration, sentencing and the pre-sentence investigation, juvenile court, probation, institutions, and aftercare, prisons and community-based corrections, indeterminate and determinate sentences, the theory and practice of rehabilitation, parole supervision and special problems and programs.For future or practicing probation and parole officers.
Table of Contents
Preface
xv
Acknowledgments
xvii
About the Author
xix

| | |
| --- | --- |
| | Probation and Parole in Criminal Justice |

1
(19)

| | |
| --- | --- |
| | The Reality of Criminal Justice |

1
(2)

| | |
| --- | --- |
| | American Criminal Justice |

3
(2)

| | |
| --- | --- |
| | What Is a Crime? Who Is a Criminal? |

5
(2)
6
(1)
7
(1)
8
(2)
10
(1)
11
(1)

| | |
| --- | --- |
| | The American System of Criminal Justice |

12
(4)
12
(1)

| | |
| --- | --- |
| | Pretrial Court Appearances |

13
(1)
13
(1)
14
(1)
15
(1)
16
(1)

| | |
| --- | --- |
| | Probation and Parole: Why Bother? |

16
(4)

| | |
| --- | --- |
| | Juvenile Court and Juvenile Justice |

20
(41)

| | |
| --- | --- |
| | The History of the Juvenile Court |

20
(1)

| | |
| --- | --- |
| | Houses of Refuge and Orphan Asylums |

21
(1)
22
(1)

| | |
| --- | --- |
| | The Juvenile Court Emerges |

22
(3)

| | |
| --- | --- |
| | Procedures in the Juvenile Court |

25
(26)
26
(5)
31
(4)
35
(1)
36
(1)
36
(15)
51
(2)
53
(1)

| | |
| --- | --- |
| | Juveniles in Criminal Court |

54
(3)
57
(1)
57
(4)

| | |
| --- | --- |
| | Juvenile Probation, Institutions, and Aftercare |

61
(30)

| | |
| --- | --- |
| | Juvenile Dispositions and Their Administration |

61
(1)
62
(7)
69
(1)
70
(1)

| | |
| --- | --- |
| | Residential Treatment Center |

71
(4)
75
(3)
78
(4)
82
(6)

| | |
| --- | --- |
| | Administration of Juvenile Services |

88
(1)
89
(2)

| | |
| --- | --- |
| | Probation and the Courts: History and Administration |

91
(32)

| | |
| --- | --- |
| | Court Systems: Federal and State |

91
(1)
91
(1)
92
(2)
94
(2)
96
(2)

| | |
| --- | --- |
| | Early Probation and John Augustus |

96
(1)
97
(1)

| | |
| --- | --- |
| | Probation at the Turn of the Twentieth Century |

97
(1)

| | |
| --- | --- |
| | Administration of Probation |

98
(5)
103
(2)
105
(4)
109
(2)
111
(7)

| | |
| --- | --- |
| | Preliminary/Probable Cause Hearing |

114
(1)
115
(2)
117
(1)
118
(5)
118
(1)

| | |
| --- | --- |
| | Probation Violation and the Three Theories of Probation |

119
(4)

| | |
| --- | --- |
| | Sentencing and the Presentence Investigation (PSI) |

123
(51)
123
(1)
123
(4)
127
(1)

| | |
| --- | --- |
| | Gathering Information for the PSI |

128
(2)
128
(1)

| | |
| --- | --- |
| | Review of Records and Reports |

129
(1)

| | |
| --- | --- |
| | Short- and Long-Form PSI Reports |

130
(5)

| | |
| --- | --- |
| | Sentencing Guidelines, Mandatory Sentences, and the Classical PSI |

135
(29)

| | |
| --- | --- |
| | Plea Bargaining and the Pre-Plea Investigation |

164
(2)

| | |
| --- | --- |
| | Confidentiality of the PSI Report |

166
(1)

| | |
| --- | --- |
| | Criticism of the PSI Report |

167
(7)

| | |
| --- | --- |
| | American Prisons and Community-Based Corrections |

174
(31)
174
(2)

| | |
| --- | --- |
| | Origins of the American System of Prisons |

176
(1)

| | |
| --- | --- |
| | Pennsylvania: Walnut Street and Other Early Prisons |

177
(3)

| | |
| --- | --- |
| | Pennsylvania After Walnut Street |

179
(1)
180
(4)
181
(3)
184
(1)
185
(5)

| | |
| --- | --- |
| | Correctional Institutions: Divisions, Rebellions, and Riots |

185
(3)
188
(2)

| | |
| --- | --- |
| | Just Deserts: Contemporary Correctional Institutions |

190
(6)
192
(1)

| | |
| --- | --- |
| | Drug-abusing and Mentally Ill Inmates |

193
(1)
194
(2)
196
(1)

| | |
| --- | --- |
| | Community-Based Corrections |

197
(3)
200
(5)

| | |
| --- | --- |
| | Parole and the Indeterminate Sentence |

205
(17)

| | |
| --- | --- |
| | Transportation to America |

205
(1)

| | |
| --- | --- |
| | Maconochie and Norfolk Island |

206
(1)

| | |
| --- | --- |
| | Crofton and the Irish System |

206
(1)

| | |
| --- | --- |
| | Developments in the United States |

207
(1)
207
(1)

| | |
| --- | --- |
| | Indeterminate Sentence and Parole |

208
(1)

| | |
| --- | --- |
| | Positivism Reemerges as the Medical Model |

209
(4)

| | |
| --- | --- |
| | Indeterminate and Determinate Sentencing |

213
(3)

| | |
| --- | --- |
| | Determinate Sentencing, Prosecutorial Discretion, and Disparate Justice |

216
(2)
218
(4)

| | |
| --- | --- |
| | Parole Administration and Services |

222
(54)

| | |
| --- | --- |
| | Administration of Parole Services |

222
(1)
223
(1)
224
(10)
226
(6)
232
(2)
234
(1)
234
(1)

| | |
| --- | --- |
| | Parole Services--Institutional |

235
(6)
241
(4)
245
(1)
245
(5)

| | |
| --- | --- |
| | Violation of Parole/Conditional Release |

250
(12)
254
(3)
257
(4)
261
(1)

| | |
| --- | --- |
| | Parole Services: Executive Clemency |

262
(5)
263
(1)
263
(1)
263
(4)

| | |
| --- | --- |
| | Legal Decisions Affecting Parole |

267
(9)

| | |
| --- | --- |
| | Parole Release and Parole Hearings |

267
(2)

| | |
| --- | --- |
| | Parole Violation and the Three Theories of Parole |

269
(2)
271
(5)

| | |
| --- | --- |
| | PART 3 Rehabilitation and Supervision in Probation and Parole |

| | |
| --- | --- |
| | Rehabilitation: Theory and Practice |

276
(29)
276
(1)
277
(4)

| | |
| --- | --- |
| | Stages of Psychological Development |

277
(2)
279
(1)
280
(1)
281
(5)
282
(1)
283
(1)
284
(2)

| | |
| --- | --- |
| | Learning Theory/Behavior Modification |

286
(5)
291
(2)
293
(2)
295
(10)
295
(1)
296
(1)
297
(1)
298
(1)

| | |
| --- | --- |
| | Differential/Limited Opportunity |

299
(1)
300
(1)
301
(1)
301
(1)
302
(3)

| | |
| --- | --- |
| | Probation and Parole Officers |

305
(21)

| | |
| --- | --- |
| | The Tasks of Probation/Parole Officers |

305
(1)

| | |
| --- | --- |
| | Probation/Parole Officer Roles and Agency Models |

306
(2)

| | |
| --- | --- |
| | The Probation/Parole Officer as an Agent of Rehabilitation |

308
(1)

| | |
| --- | --- |
| | The Probation/Parole Officer as Broker or Advocate |

309
(1)

| | |
| --- | --- |
| | The Probation/Parole Officer as Law Enforcement Agent |

309
(9)

| | |
| --- | --- |
| | Should Probation/Parole Officers Make Arrests and Carry Firearms? |

313
(4)

| | |
| --- | --- |
| | Probation and Parole Officers: The Powers of Search and Seizure |

317
(1)

| | |
| --- | --- |
| | Selecting Probation and Parole Officers |

318
(1)
319
(1)
320
(4)

| | |
| --- | --- |
| | Probation/Parole Officer Legal Liability |

324
(2)

| | |
| --- | --- |
| | Probation and Parole Supervision |

326
(34)

| | |
| --- | --- |
| | Classification in Probation and Parole |

326
(5)
326
(5)

| | |
| --- | --- |
| | Probation/Parole Supervision |

331
(15)
332
(1)
333
(5)
338
(3)
341
(5)
346
(7)
349
(4)

| | |
| --- | --- |
| | Restorative and Community Justice |

353
(7)
353
(3)

| | |
| --- | --- |
| | Community Justice/``Broken Windows'' |

356
(4)

| | |
| --- | --- |
| | Special Problems and Programs in Probation and Parole |

360
(42)

| | |
| --- | --- |
| | Substance-Abusing Clients |

360
(9)
361
(1)
362
(1)
363
(2)

| | |
| --- | --- |
| | Chemical Dependency Programs |

365
(1)

| | |
| --- | --- |
| | Alcoholics and Narcotics Anonymous |

365
(2)
367
(2)
369
(2)

| | |
| --- | --- |
| | Federal HIV/AIDS Specialists |

370
(1)

| | |
| --- | --- |
| | New York State Division of Parole AIDS Caseloads |

370
(1)
371
(9)

| | |
| --- | --- |
| | Texas Sex Offender Caseload |

374
(1)

| | |
| --- | --- |
| | Hunt County Sex Offender Unit |

374
(2)

| | |
| --- | --- |
| | Maricopa County Sex Offender Program |

376
(1)

| | |
| --- | --- |
| | Jefferson County Juvenile Sex Offender Unit |

376
(1)

| | |
| --- | --- |
| | New Haven Sex Offender Intensive Supervision Unit |

377
(2)

| | |
| --- | --- |
| | Orange County Probation Department Adult Sex Offender Unit |

379
(1)
380
(1)
380
(1)

| | |
| --- | --- |
| | Offenders Who Are Mentally Retarded |

381
(1)

| | |
| --- | --- |
| | Cuyahoga County (Cleveland), Ohio, Mentally Retarded Offender Unit |

381
(1)

| | |
| --- | --- |
| | Erie County Special Probation Services |

381
(1)
382
(1)

| | |
| --- | --- |
| | Restitution and Community Service |

383
(3)
384
(2)
386
(3)
387
(2)
389
(1)
390
(3)

| | |
| --- | --- |
| | Massachusetts Halfway Houses, Inc. |

392
(1)
392
(1)
393
(1)

| | |
| --- | --- |
| | Interstate Adult and Juvenile Compacts |

393
(9)
402
(31)

| | |
| --- | --- |
| | Intensive Probation/Parole Supervision |

404
(5)

| | |
| --- | --- |
| | Florida Community Control |

404
(1)

| | |
| --- | --- |
| | Georgia Intensive Probation Supervision |

405
(1)

| | |
| --- | --- |
| | Cook County (Chicago, Illinois) Juvenile Intensive Probation Supervision |

405
(1)
406
(1)

| | |
| --- | --- |
| | Somerset County (Pennsylvania) Day Report Intensive Probation Program |

406
(1)

| | |
| --- | --- |
| | Lucas County (Toledo, Ohio) Juvenile Intensive Probation Supervision |

407
(1)

| | |
| --- | --- |
| | Dauphin County (Pennsylvania) Intensive Juvenile Probation |

407
(1)

| | |
| --- | --- |
| | Texas Intensive Supervision Program |

407
(2)

| | |
| --- | --- |
| | Intensive Supervision: Research Findings |

409
(9)
409
(1)
410
(1)
411
(1)
411
(1)
412
(1)
412
(1)
413
(1)
413
(1)
414
(1)
415
(3)
418
(5)
422
(1)
423
(1)

| | |
| --- | --- |
| | Shock Incarceration/Boot Camp |

423
(8)
427
(4)
431
(2)

| | |
| --- | --- |
| | Probation and Parole in the Twenty-First Century |

433
(10)

| | |
| --- | --- |
| | Probation and Parole: Success or Failure? |

433
(3)
436
(1)

| | |
| --- | --- |
| | Goals of Probation and Parole |

437
(3)

| | |
| --- | --- |
| | Where Have We Been, Where Are We Now, and Where Are We Going? |

440
(3)
Glossary
443
(9)
References
452
(37)
Name Index
489
(4)
Subject Index
493