Note: Supplemental materials are not guaranteed with Rental or Used book purchases.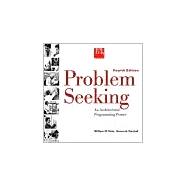 Summary
The classic programming guide for architects and clients-fully updated and revisedArchitectural programming is a team effort that requires close cooperation between architects and their clients. Problem Seeking, Fourth Edition lays out a five-step procedure that teams can follow when programming any building or series of buildings, from a small house to a hospital complex. This simple yet comprehensive process encompasses the entire range of factors that influence the design of buildings.This new edition of the only programming guide appropriate for both architect and client features new ways of thinking about programming, new strategies for effective group action, and new settings in which to explore programming concepts. Supplemented with more than 120 helpful illustrations and diagrams, this indispensable resource provides updated technical information and faster, easier access to explanations, examples, and tools, including: Updated building costs and their relationship to interior fit-up costs A primer on discounted cash flow analysis and net present value analysis Project statement examples organized by project phase and building type Useful techniques for data management, functional relationship analysis, and more
Author Biography
WILLIAM M. PEÑA, FAIA, retired partner of Caudill Rowlett Scott, is often referred to as the "father" of architectural programming, having spent more than 50 years developing, refining, and explaining the programming process.
Table of Contents
Preface
Part One An Architectural Programming Primer
12
(2)
14
(2)

| | |
| --- | --- |
| | Programmers and Designers |

16
(2)
18
(2)
20
(2)
22
(2)
24
(2)
26
(2)
28
(2)
30
(2)
32
(2)
34
(4)
38
(2)
40
(2)
42
(2)

| | |
| --- | --- |
| | Processing and Discarding |

44
(2)
46
(2)
48
(2)
50
(8)
58
(2)
60
(2)
62
(1)
63
(1)
64
(2)
66
(2)
68
(2)

| | |
| --- | --- |
| | Collect and Analyze Facts |

70
(2)

| | |
| --- | --- |
| | Uncover and Test Concepts |

72
(16)
88
(2)
90
(2)
92
(2)
94
(123)
Part Two The Appendix
98
(2)
100
(52)
100
(3)
103
(1)
104
(4)
108
(1)
108
(2)
110
(24)
134
(18)
152
(8)
152
(2)

| | |
| --- | --- |
| | Collect and Analyze Facts |

154
(2)

| | |
| --- | --- |
| | Uncover and Test Concepts |

156
(2)
158
(1)
159
(1)
160
(16)

| | |
| --- | --- |
| | Typical Programming Activities |

160
(8)

| | |
| --- | --- |
| | Four Degrees of Sophistication |

168
(4)
172
(2)

| | |
| --- | --- |
| | How to Simplify Design Problems |

174
(2)
176
(41)
176
(2)
178
(4)

| | |
| --- | --- |
| | Functional Relationship Analysis |

182
(2)

| | |
| --- | --- |
| | Interviews and Worksessions |

184
(7)

| | |
| --- | --- |
| | Preparation of Brown Sheets |

191
(3)

| | |
| --- | --- |
| | The Analysis Card Technique |

194
(10)
204
(3)

| | |
| --- | --- |
| | Outline for Programming Reports |

207
(1)
208
(4)
212
(5)
Selected Bibliography
217
(1)
Index
218
(6)
Authors
224