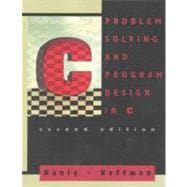 Summary
This volume provides an excellent introduction to programming, using the powerful but complicated C language. The reader learns the language through implementing the proven Koffman five-step problem solving process.
Table of Contents
Overview of Computers and Programming
p. 1
Overview of C
p. 27
Top-Down Design with Functions
p. 89
Selection Structures: if and switch Statements
p. 139
Repetition and Loop Statements
p. 203
Modular Programming
p. 269
Simple Data Types
p. 315
Arrays
p. 355
Strings
p. 417
Recursion
p. 481
Structure and Union Types
p. 531
Text and Binary File Processing
p. 585
Programming in the Large
p. 621
Dynamic Data Structures
p. 663
App.: A Character Sets
p. AP1
App.: B ANSI C Standard Libraries
p. AP3
App.: C Operators
p. AP21
App.: D Pointer Arithmetic
p. AP27
App.: E ANSI C Reserved Words
p. AP29
Answers
p. A1
Index
p. I1
Table of Contents provided by Blackwell. All Rights Reserved.