Note: Supplemental materials are not guaranteed with Rental or Used book purchases.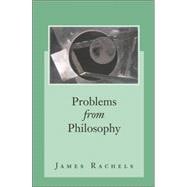 Problems From Philosophy
ISBN13:
9780072474237
by
Rachels, James
McGraw-Hill Humanities/Social Sciences/Languages
Summary
"This book is an introduction to some of the main problems of philosophy--God, mind, freedom, knowledge, and ethics. The chapters may be read independently of one another. But when read in order, they tell a more or less continuous story. We begin with some reflections about the legacy of Socrates and then go on to the existence of God, which is perhaps the most basic philosophical question of all because our answer to it influences how we will answer all the others. This leads naturally to a discussion of death and the soul, and then to more modern ideas about the nature of persons. The later chapters are about whether it is possible for us to have objective knowledge in either science or ethics." James Rachels, from the Preface "Problems from Philosophy" and "The Truth About the World: Basic Readings in Philosophy" are at once James Rachels' newest contributions to philosophy and his last. In these two books, Rachels found a culminating expression for his love of philosophy.
Table of Contents
Preface
The Legacy of Socrates
Why Was Socrates Condemned?
Why Did Socrates Believe He Had to Die?
God and the Origin of the Universe
Is It Reasonable to Believe in God?
The Argument from Design
Evolution and Intelligent Design
The First Cause Argument
The Idea that God Is a Necessary Being
The Problem of Evil
Why Do Good People Suffer?
God and Evil
Free Will and Moral Character
Do We Survive Death?
The Idea of an Immortal Soul
Is There Any Credible Evidence of an Afterlife?
Hume's Argument Against Miracles
The Problem of Personal Identity
The Problem
Bodily Continuity
Memory
The Bundle Theory
Body and Mind
Descartes and Elizabeth
Materialist Theories of the Mind
Doubts About Materialist Theories
Could a Machine Think?
Brains and Computers
An Argument that Machines Could Think
The Turing Test
Why the Turing Test Fails
The Case Against Free Will
Is Anyone Responsible for What They Do?
Determinism
Psychology
Genes and Behavior
The Debate Over Free Will
The Determinist Approach
The Libertarian Response
The Compatibilist Response
Ethics and Free Will
Our Knowledge of the World Around Us
The Brain in the Vat
Descartes' Problem
Three Other Attempts to Solve the Problem
Vision and the Brain
The Natural Theory
Ethics and Objectivity
Thrasymachus's Challenge
Is Ethics Just a Matter of Social Conventions?
Ethics and Science
The Importance of Human Interests
Why Should We Be Moral?
The Ring of Gyges
Ethics and Religion
The Social Contract
Morality and Benevolence
The Meaning of Life
The Problem of the Point of View
Happiness
Death
Religion and the Indifferent Universe
The Meaning of Particular Lives
Appendix: How to Evaluate Arguments Suggestions for Further Reading Notes on Sources
Table of Contents provided by Publisher. All Rights Reserved.