Note: Supplemental materials are not guaranteed with Rental or Used book purchases.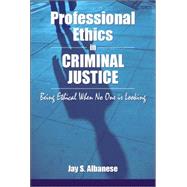 Professional Ethics in Criminal Justice : Being Ethical When No One Is Looking
ISBN13:
9780205359202
by
Albanese, Jay S.
Related Products
Summary
A well balanced survey of ethics presented through applications to the criminal justice system. The text introduces the reader to ethical decision making in the first chapter and then moves through each of the three ethical perspectives utilized. The text then moves to the social context where ethics and the law are compared before dealing with the three components of the criminal justice systempolice, courts, and corrections. The penultimate chapter questions whether unethical behavior should have liabilities attached to it, and the final chapter looks to the future development of ethics in everyday life.
Table of Contents
Preface
xiii
Acknowledgments
xvii
About the Author
xix

| | |
| --- | --- |
| | 1 Recognizing Ethical Decisions: Ethics and Critical Thinking |

1
(10)

| | |
| --- | --- |
| | What Are Ethics and What Is Ethical? |

2
(1)

| | |
| --- | --- |
| | To What Types of Things or Beings Should We Limit the Discussion of Ethics? |

2
(1)

| | |
| --- | --- |
| | What Is the Difference between Morals and Ethics? |

3
(1)
3
(1)

| | |
| --- | --- |
| | Why Is Critical Thinking Fundamental to Ethics? |

4
(1)

| | |
| --- | --- |
| | ETHICS CHECKUP: Too Much Nintendo |

5
(1)
5
(1)

| | |
| --- | --- |
| | What Is Moral Relativism? |

6
(1)

| | |
| --- | --- |
| | How Can We Choose What to Believe and How to Act Ethically? |

7
(1)

| | |
| --- | --- |
| | Critical Thinking Exercises |

8
(3)

| | |
| --- | --- |
| | 1.1 Teenagers and Drug Sniffing Dogs |

9
(1)

| | |
| --- | --- |
| | 1.2 Sentenced to the Newspaper |

9
(1)
10
(1)

| | |
| --- | --- |
| | 2 Virtue Ethics: Seeking the Good |

11
(15)

| | |
| --- | --- |
| | The Roles of Socrates and Plato |

12
(1)

| | |
| --- | --- |
| | Nicomachean Ethics of Aristotle |

13
(1)
13
(1)
14
(1)
15
(1)

| | |
| --- | --- |
| | ETHICS CHECKUP: ATM Trouble |

16
(1)
16
(1)
17
(2)

| | |
| --- | --- |
| | The Habit of Moral Virtue |

19
(2)

| | |
| --- | --- |
| | Evaluating Ethical Dilemmas |

21
(1)

| | |
| --- | --- |
| | Critical Thinking Exercises |

22
(4)

| | |
| --- | --- |
| | 2.1 A Parole Fugitive at Princeton |

23
(1)

| | |
| --- | --- |
| | 2.2 Good Performance, but Forged Transcripts |

23
(1)

| | |
| --- | --- |
| | 2.3 Presidential Exit Ethics |

23
(3)

| | |
| --- | --- |
| | 3 Formalism: Carrying Out Obligation and Duty |

26
(10)
27
(1)

| | |
| --- | --- |
| | The Categorical Imperative |

28
(1)
29
(2)

| | |
| --- | --- |
| | ETHICS CHECKUP: Punishment for Lying |

30
(1)
31
(1)

| | |
| --- | --- |
| | Comparing Formalism and Virtue Ethics |

31
(2)

| | |
| --- | --- |
| | Critical Thinking Exercises |

33
(3)

| | |
| --- | --- |
| | 3.1 Lying to the Sick and Dying |

33
(1)

| | |
| --- | --- |
| | 3.2 Lies of Public Officials |

34
(1)

| | |
| --- | --- |
| | 3.3 Is a Good Deed Required? |

34
(2)

| | |
| --- | --- |
| | 4 Utilitarianism: Measuring Consequences |

36
(11)
37
(1)

| | |
| --- | --- |
| | Pain, Pleasure, and Happiness |

38
(1)

| | |
| --- | --- |
| | Motivation versus Consequences |

39
(1)

| | |
| --- | --- |
| | ETHICS CHECKUP: Martha Stewart an Example? |

40
(1)

| | |
| --- | --- |
| | Criticisms of Utilitarianism |

40
(1)

| | |
| --- | --- |
| | Summarizing Ethical Theories |

41
(2)

| | |
| --- | --- |
| | Critical Thinking Exercises |

43
(4)

| | |
| --- | --- |
| | 4.1 A Flexible Expense Account |

43
(1)
44
(1)
44
(3)

| | |
| --- | --- |
| | 5 Crime and Law: Which Behaviors Ought to Be Crimes? |

47
(21)

| | |
| --- | --- |
| | The Outer Limits of Morality |

48
(1)

| | |
| --- | --- |
| | Choosing What to Criminalize |

49
(3)

| | |
| --- | --- |
| | Violating Law on Moral Grounds |

52
(1)

| | |
| --- | --- |
| | ETHICS CHECKUP: Beeper Ban |

52
(1)
53
(1)

| | |
| --- | --- |
| | An Ethical Explanation of Crime |

54
(7)
61
(2)

| | |
| --- | --- |
| | Critical Thinking Exercises |

63
(5)

| | |
| --- | --- |
| | 5.1 A Boat Ride with Some Close Friends |

64
(1)
65
(1)

| | |
| --- | --- |
| | 5.3 Prostitution: Simply a Business? |

65
(3)

| | |
| --- | --- |
| | 6 Police: How Should the Law Be Enforced? |

68
(24)

| | |
| --- | --- |
| | The Scope of Police Decisions |

69
(1)

| | |
| --- | --- |
| | Investigation and Surveillance |

69
(2)

| | |
| --- | --- |
| | Curtailing Liberty: Stop and Frisk |

71
(3)

| | |
| --- | --- |
| | Placing in Custody: Arrest and Search |

74
(3)
77
(5)

| | |
| --- | --- |
| | ETHICS CHECKUP: Dirty Harry |

81
(1)

| | |
| --- | --- |
| | Questioning: Interrogation of Suspects |

82
(2)
84
(1)
85
(2)

| | |
| --- | --- |
| | Critical Thinking Exercises |

87
(5)
87
(1)
88
(1)

| | |
| --- | --- |
| | 6.3 The Informants among Us |

89
(3)

| | |
| --- | --- |
| | 7 Courts: How Ought a Case Be Adjudicated? |

92
(16)
94
(1)
95
(1)
96
(2)
98
(2)

| | |
| --- | --- |
| | ETHICS CHECKUP: Justice versus Mercy |

99
(1)

| | |
| --- | --- |
| | Deciding Cases without Trial |

100
(1)
101
(2)

| | |
| --- | --- |
| | Critical Thinking Exercises |

103
(5)
104
(1)

| | |
| --- | --- |
| | 7.2 Attorney Confidentiality of a Client's Criminal Plans? |

104
(1)
105
(3)

| | |
| --- | --- |
| | 8 Punishment and Corrections: What Should Be Done with Offenders? |

108
(15)
109
(1)

| | |
| --- | --- |
| | The Problems of Sentencing |

110
(2)

| | |
| --- | --- |
| | ETHICS CHECKUP: Punishment by Electric Shock |

111
(1)
112
(1)
113
(1)
114
(2)

| | |
| --- | --- |
| | Life Imprisonment More Severe Than Death? |

116
(3)

| | |
| --- | --- |
| | Critical Thinking Exercises |

119
(4)

| | |
| --- | --- |
| | 8.1 Ethics of Sniping and Negotiating |

119
(1)

| | |
| --- | --- |
| | 8.2 Ethics and Mandatory Minimums |

120
(1)

| | |
| --- | --- |
| | 8.3 Lawyer-Assisted Suicide |

120
(3)

| | |
| --- | --- |
| | 9 Liability: What Should Be the Consequence of Unethical Conduct? |

123
(16)

| | |
| --- | --- |
| | Civil Remedies for Ethical Misconduct |

124
(2)
126
(3)

| | |
| --- | --- |
| | ETHICS CHECKUP: Employee E-Mail Surveillance |

129
(1)
129
(3)
132
(2)

| | |
| --- | --- |
| | Critical Thinking Exercises |

134
(6)

| | |
| --- | --- |
| | 9.1 The Scarlet Driver's License |

135
(1)

| | |
| --- | --- |
| | 9.2 Paying for Legislative Results? |

135
(1)

| | |
| --- | --- |
| | 9.3 Would You Do It for $1 Million? |

136
(3)
10 The Future: Will We Be More or Less Ethical?
139
(11)

| | |
| --- | --- |
| | Recognizing Ethical Decisions When They Arise |

140
(1)
141
(2)

| | |
| --- | --- |
| | Finding Defining Moments in Life |

143
(1)

| | |
| --- | --- |
| | ETHICS CHECKUP: A Bathrobe Bonus |

144
(1)

| | |
| --- | --- |
| | Being Ethical When No One Is Looking |

144
(2)

| | |
| --- | --- |
| | Critical Thinking Exercises |

146
(4)

| | |
| --- | --- |
| | 10.1 Both Sides of Genetic Testing |

146
(1)

| | |
| --- | --- |
| | 10.2 Transplant or Prosecute? |

147
(1)
147
Major Criminal Justice Codes of Conduct

| | |
| --- | --- |
| | Appendix A International Association of Chiefs of Police (IACP) Law Enforcement Code of Ethics |

150
(1)

| | |
| --- | --- |
| | Appendix B Federal Bureau of Investigation (FBI) Core Values |

151
(1)

| | |
| --- | --- |
| | Appendix C Judicial Conference of the United States Code of Conduct |

152
(2)

| | |
| --- | --- |
| | Appendix D American Correctional Association Code of Ethics |

154
(2)

| | |
| --- | --- |
| | Appendix E United Nations Code of Conduct for Law Enforcement Officials |

156
(5)

| | |
| --- | --- |
| | Appendix F International Association of Chiefs of Police (IACP) Ad Hoc Committee on Police Image and Ethics Recommendations |

161
(7)
Index
168