Note: Supplemental materials are not guaranteed with Rental or Used book purchases.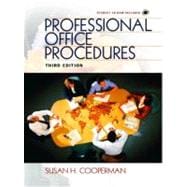 Related Products
Summary
Survive in today's fast-changing, computerized business world! Stay current with office technology and practices, including the latest in telecommunication. Through real-life experiences and exercises about office functions, this book offers sensible and valuable guidance for efficient, productive office workers. bull; bull;Use the Internet for all kinds of business research. bull;Create effective E-mail, voice mail, and satellite communications. bull;Maintain a "green" office environment. bull;Choose employee benefits, including pension plans and stock options. bull;Understand the impact of diversity and outsourcing.
Table of Contents
1. The Successful Employee.
2. Document Preparation.
3. Communications.
4. Processing the Mail.
5. Computers in the Office.
6. Management of Records: Filing.
7. Meetings and Conferences.
8. Travel.
9. Terminology of Business and E-Commerce.
10. The Office.
11. Seeking Employment.
12. Continuing to Grow in Your Profession.
13. Tips of the Trade.
Appendix: Review of Grammar, Punctuation, and Spelling.
Index.

Excerpts
Professional Office Procedureswill assist, inform, and train people for office careers. Office workers are no longer confined to working in rooms located in a traditional office building but perform office work from private homes, from client locations, or while traveling around the country. Manymobile office workersmay rely on a notebook computer, handheld computer, and cell phone to conduct their business from a car or hotel room. Regardless of the size of the organization, type of business, or the location of the workplace, all employees from entry level to management need to be proficient in office procedures so they can effectively function in today's workplace.The information contained in this book will be useful to students entering the world of business for the first time as well as those workers currently employed in offices. This material will also be useful to individuals returning to work after a period of time at home attending to family responsibilities and to persons who have made a career change. To survive in the current employment market, workers must have the skills to perform a wide variety of job functions. Office employees will find many practical procedures in this book to enhance their skills and assist their career advancement.The purpose of the text is to train people to think, work under stressful and difficult situations, and perform office duties in a professional manner. The focus of the book is to prepare students for therealisticproblems and situations they will encounter in a modern office. Instead of reading about a topic, students are directed to practice the skills and discuss the professional office procedures presented in this book. Each chapter contains a series of activities which allows the student to implement the material covered. For example, when discussing business travel, the individual is given projects which require their contacting airlines for schedules and prices; and when planning a meeting, the student must contact local hotels and inquire about accommodations and prices.In addition,Professional Office Proceduresdiscusses such important topics as seeking employment, working with a supervisor, office security, making presentations, and telecommunications. THE THIRD EDITIONThis third edition ofProfessional Office Procedureshas been updated to reflect the technology-driven innovations in today's office environment. In addition to completely revising the sections on computers and telecommunications, this third edition integrates computers, the Internet, and other office technologies into every aspect of the basic office procedures that are essential to success in the business world. Each chapter contains information, exercises, and activities which direct the student to use the Internet for information and research. The text includes many sample Web sites to assist the student in these activities. In addition, the emergence of electronic commerce (e-commerce) is emphasized.Special emphasis was given to the development ofpositive human relations skills.Being able to work as a cooperative member of a team, getting along well with co-workers and managers, and dealing with difficult clients are all vital to a successful office career. Each chapter contains a section on developing human relations skills and includes a section where students are encouraged toanalyze problem situationsthat occur in the workplace and develop their own solutions. The problems are typical situations that occur in an office and often do not have right or wrong answers.Since the objective of most workers is to advance from an entry-level position to a position of greater responsibility, the development ofdecision-making skillsis stressed throughout the book. The sections on management and supervisory skills have been expanded to enable students to continue to grow in their profession. FEATURE