Note: Supplemental materials are not guaranteed with Rental or Used book purchases.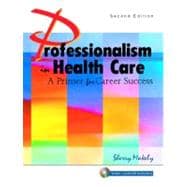 Professionalism in Health Care : A Primer for Career Success
ISBN13:
9780131145092
by
Makely, Sherry
Questions About This Book?
What version or edition is this?
This is the 2nd edition with a publication date of 1/1/2005.
What is included with this book?
The Used copy of this book is not guaranteed to include any supplemental materials. Typically, only the book itself is included.
Summary
A core text or self-study guide for a course in Professionalism for students preparing for careers in health care (whether as allied health professionals, nurses, or clerical or support staff), as well as for new and current health care workers who could benefit from additional professionalism training. Unique in approach, this handbook/workbook is the first text to cover all of the pertinent information that any worker, in any position, in any type of health care organization needs to know to present a professional image and to be successful in his/her job. It focuses on the "soft skills" (rather than on the hands-on technical skills) that are needed to perform in a professional, ethical, legal, and competent manner, regardless of one's job function/position-e.g., communicating appropriately, working well on teams, respecting and valuing differences, and interacting effectively with co-workers, patients, visitors, and guests.
Table of Contents
Preface
vii
Introduction
xiii
Chapter One Making a Commitment to Your Job
1
(20)

| | |
| --- | --- |
| | The Jobs that Require Professionalism |

2
(1)

| | |
| --- | --- |
| | The Big Picture and Where You Fit In |

3
(2)
5
(3)
8
(1)
9
(4)

| | |
| --- | --- |
| | Representing Your Employer |

13
(1)
14
(7)
Chapter Two Personal Traits of the Health Care Professional
21
(14)

| | |
| --- | --- |
| | Character and Who You Are As a Person |

22
(1)
23
(1)

| | |
| --- | --- |
| | Judgment and Decision Making |

24
(1)
25
(1)
25
(2)
27
(2)
29
(6)
Chapter Three Working with Others
35
(26)

| | |
| --- | --- |
| | Interpersonal Relationships with Coworkers |

36
(3)
39
(1)
40
(1)
41
(2)
43
(1)
44
(1)

| | |
| --- | --- |
| | Communication Skills and Conflict Resolution |

45
(5)
50
(4)
54
(7)
Chapter Four Personal Skills and the Health Care Professional
61
(24)
62
(5)

| | |
| --- | --- |
| | Personal Management Skills |

67
(11)
78
(7)
Chapter Five Career Planning and Employment
85
(22)
87
(1)

| | |
| --- | --- |
| | Assessing Occupational Preferences and Your Skills |

88
(1)

| | |
| --- | --- |
| | Exploring Employment Opportunities |

89
(1)
90
(1)

| | |
| --- | --- |
| | Balancing Priorities and Career Advancement |

91
(1)
91
(1)
92
(1)
93
(1)

| | |
| --- | --- |
| | Pre-Employment Assessments |

94
(1)

| | |
| --- | --- |
| | Preparing for an Interview |

95
(1)

| | |
| --- | --- |
| | Participating in an Interview |

96
(3)
99
(8)
Chapter Six The Practicum Experience
107
(18)

| | |
| --- | --- |
| | The Purpose of a Practicum |

108
(1)

| | |
| --- | --- |
| | The Benefits of a Practicum Experience |

108
(2)

| | |
| --- | --- |
| | Preparing for Your Practicum |

110
(1)
111
(5)

| | |
| --- | --- |
| | Ensuring Success on Your Practicum |

116
(2)
118
(1)
119
(1)
120
(5)
In Summary
125
(2)
Glossary
127
(4)
Index
131
Excerpts
Who This Book Is for and Why It's Important Professionalism in Health Care: A Primer for Career Successis designed for students enrolled in nursing and allied health educational programs. The information presented applies to health careers and employment in all types, sizes, and locations of settings including hospitals, clinics, outpatient facilities, occupational health centers, dental practices, rehabilitation centers, physician practices, surgery centers, home care agencies, mental health facilities, pharmacies, community health centers, nursing homes, transitional and long-term care facilities, satellite imaging and laboratory facilities, public health organizations, urgent care centers, and insurance and billing companies. This book provides information that is essential to the success of today's health care workers. Hands-on technical skills remain a high priority, but good character, a strong work ethic, and personal and professional traits and behaviors are becoming more important than ever before. Statistics indicate a growing concern with theft, fraud, and behavioral problems in the workplace. Poor attendance, interpersonal conflicts, disregard for quality, and disrespect for authority all too often lead to employees being fired from their jobs. With a growing emphasis on customer service, cultural diversity, and corporate compliance, health care employers increasingly seek workers with strong "soft skills"--people who communicate appropriately; work well on teams; respect and value differences; use limited resources efficiently; and interact effectively with coworkers, patients, and guests. Regardless of job title or discipline, every health care student and worker must understand the importance of professionalism and the need to perform in a professional, ethical, legal, and competent manner. Developing and strengthening professional traits and behaviors has become a major challenge for both health care educators and employers. Professionalism in Health Care: A Primer for Career Successhelps meet that challenge. It describes professional standards that apply to all health care workers--the "common ground" that everyone shares in providing the highest quality of health care and service excellence for patients visitors, and guests. What This Book Covers Professionalism in Health Care: A Primer for Career Successdiscusses the following: Which jobs require professionalism Definitions and key elements of professionalism Why professionalism is important to patients, employers, and health care workers Making a commitment to your job (the "big picture" and where your role fits in, work ethic, attendance, accountability, attitude, quality of work, compliance, representing your employer) Who you are as a person and what you contribute in the workplace (character, values, reputation, integrity, judgment, trustworthiness, honesty, ethics, morals) Working with others (relationships, teamwork, diversity, respect, manners, communication skills, conflict resolution, customer service) Personal skills and how they impact success on the job (personal image and appearance, personal habits and grammar, professionalism after hours; managing time, personal finances, and stress; problem-solving and critical-thinking skills; managing change) Personal and professional growth and advancement (career planning, personal assessments, basic skills, exploring employment opportunities, resumes, interviewing) The practicum experience (what to expect during the practicum, internship, externship, or clinical experience and how to ensure success) Professionalism in Health Care: A Primer for Career Successincludes a free CD-ROM in the back of each copy and an Instructor's Guide that qualified adoptors may request. In addition to chapter readings, the textb