Note: Supplemental materials are not guaranteed with Rental or Used book purchases.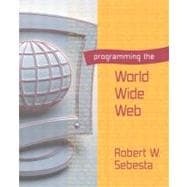 Questions About This Book?
What version or edition is this?
This is the 1st edition with a publication date of 1/1/2002.
What is included with this book?
The New copy of this book will include any supplemental materials advertised. Please check the title of the book to determine if it should include any CDs, lab manuals, study guides, etc.
The Used copy of this book is not guaranteed to include any supplemental materials. Typically, only the book itself is included.
Summary
"Programming the World Wide Web "provides a comprehensive introduction to the programming tools and skills required for building and maintaining server sites on the Web. This book is intended for readers who have experience programming with an object-oriented language.
Author Biography
Robert W. Sebesta is an associate professor of computer science at the University of Colorado at Colorado Springs.
Table of Contents
1
(24)

| | |
| --- | --- |
| | A Brief Introduction to the Internet |

2
(3)
5
(1)
6
(1)
7
(1)

| | |
| --- | --- |
| | Uniform Resource Locators |

8
(2)

| | |
| --- | --- |
| | Multipurpose Internet Mail Extensions |

10
(2)

| | |
| --- | --- |
| | The Hypertext Transfer Protocol |

12
(3)

| | |
| --- | --- |
| | The Web Programmer's Toolbox |

15
(5)
20
(1)
21
(2)
23
(2)
25
(38)

| | |
| --- | --- |
| | Origins and Evolution of HTML |

26
(1)
27
(2)

| | |
| --- | --- |
| | Standard HTML Document Structure |

29
(1)
30
(6)
36
(3)
39
(4)
43
(4)
47
(6)
53
(5)
58
(2)
60
(1)
61
(2)
63
(22)
64
(1)
65
(1)

| | |
| --- | --- |
| | Style Specification Formats |

66
(1)
67
(1)

| | |
| --- | --- |
| | Properties and Property Values |

68
(11)
79
(2)

| | |
| --- | --- |
| | The <span> and <div> Tags |

81
(1)
82
(1)
83
(1)
84
(1)
85
(46)
86
(1)

| | |
| --- | --- |
| | Scalars and Their Operations |

86
(7)

| | |
| --- | --- |
| | Assignment Statements and Simple Input and Output |

93
(3)
96
(5)
101
(5)
106
(1)
107
(1)
108
(5)

| | |
| --- | --- |
| | The pack and unpack Functions |

113
(1)

| | |
| --- | --- |
| | Pattern Matching Using Regular Expressions |

114
(7)
121
(2)
123
(2)
125
(2)
127
(2)
129
(2)

| | |
| --- | --- |
| | Using Perl for CGI Programming |

131
(54)

| | |
| --- | --- |
| | The Common Gateway Interface |

132
(1)
133
(3)
136
(11)
147
(3)

| | |
| --- | --- |
| | Decoding the Query String |

150
(3)

| | |
| --- | --- |
| | An Example of Form Processing |

153
(4)
157
(9)
166
(12)
178
(1)
178
(2)
180
(1)
181
(4)
185
(52)
186
(3)

| | |
| --- | --- |
| | Object Orientation and JavaScript |

189
(1)

| | |
| --- | --- |
| | General Syntactic Characteristics |

190
(2)

| | |
| --- | --- |
| | Primitives, Operations, and Expressions |

192
(9)
201
(2)
203
(6)

| | |
| --- | --- |
| | Object Creation and Modification |

209
(2)
211
(5)
216
(6)
222
(2)
224
(2)
226
(2)
228
(2)
230
(1)
231
(2)
233
(4)

| | |
| --- | --- |
| | JavaScript and HTML Documents |

237
(28)

| | |
| --- | --- |
| | The JavaScript Execution Environment |

238
(1)

| | |
| --- | --- |
| | The Document Object Model |

239
(2)

| | |
| --- | --- |
| | Introduction to Events and Event Handling |

241
(1)

| | |
| --- | --- |
| | Events, Attributes, and Tags |

242
(5)

| | |
| --- | --- |
| | Using the load and unload Events |

247
(1)

| | |
| --- | --- |
| | Event Handlers for Button Events |

248
(5)
253
(7)
260
(1)
261
(1)
262
(1)
263
(1)
264
(1)

| | |
| --- | --- |
| | Dynamic Documents with JavaScript |

265
(28)

| | |
| --- | --- |
| | Browser Support for Dynamic Documents |

266
(3)
269
(6)
275
(3)
278
(2)
280
(3)
283
(3)
286
(4)
290
(1)
291
(1)
291
(2)
293
(40)
294
(2)

| | |
| --- | --- |
| | The Primary Applet Activities |

296
(1)
297
(2)
299
(1)
300
(3)
303
(4)
307
(1)
307
(12)
319
(6)

| | |
| --- | --- |
| | Using Threads to Implement Animation |

325
(3)
328
(2)
330
(1)
331
(2)
333
(34)
334
(2)
336
(3)
339
(1)
340
(11)
351
(2)

| | |
| --- | --- |
| | Displaying Raw XML Documents |

353
(2)

| | |
| --- | --- |
| | Displaying XML Documents with CSS |

355
(1)

| | |
| --- | --- |
| | XML Transformations and Style Sheets |

356
(6)
362
(2)
364
(1)
365
(2)

| | |
| --- | --- |
| | Introduction to Web Servers and Servlets |

367
(44)
368
(1)

| | |
| --- | --- |
| | General Server Characteristics |

369
(2)
371
(5)
376
(1)
377
(4)
381
(7)

| | |
| --- | --- |
| | Storing Information on Clients |

388
(18)
406
(1)
407
(2)
409
(2)

| | |
| --- | --- |
| | Database Access with Java |

411
(30)
412
(2)

| | |
| --- | --- |
| | An Introduction to the Structured Query Language |

414
(7)

| | |
| --- | --- |
| | Architectures for Database Access |

421
(2)
423
(2)
425
(5)

| | |
| --- | --- |
| | An Example JDBC Application |

430
(3)
433
(3)
436
(1)
437
(2)
439
(1)
440
(1)
A A Brief Introduction to Java
441
(20)
441
(3)

| | |
| --- | --- |
| | Data Types and Structures |

444
(3)

| | |
| --- | --- |
| | Classes, Objects, and Methods |

447
(5)
452
(1)
453
(6)
459
(2)
Index
461