Note: Supplemental materials are not guaranteed with Rental or Used book purchases.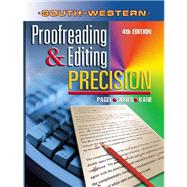 Questions About This Book?
What version or edition is this?
This is the 4th edition with a publication date of 7/6/2000.
What is included with this book?
The New copy of this book will include any supplemental materials advertised. Please check the title of the book to determine if it should include any CDs, lab manuals, study guides, etc.
Summary
This activity-oriented text is designed to sharpen proofreading and editing skills.It provides a thorough review of the rules governing language arts. Computerized exercises found on the data disk are integrated throughout to give the user additional practice in editing and formatting documents just as they would in everyday life. Also included is the Template CD-ROM which provides realistic, hands-on experience in loading, proofreading, editing and formatting stored files. On-screen proofreading is another skill that must be learned and practiced because it is an activity that is performed by anyone who composes communication on computer. Document files on the template are identified in the student edition with a CD-ROM icon. System requirements: Word 6.0, Word97, WordPerfect 6.1 and Works 3.0 for Windows 95 or Windows NT. Word 6.0 and Works 3.0 for Macintosh.
Table of Contents
1
(8)

| | |
| --- | --- |
| | Importance of Profreading |

2
(1)
3
(1)

| | |
| --- | --- |
| | What Kinds of Errors Are Most Common? |

4
(2)

| | |
| --- | --- |
| | Where Can a Proofreader Get Help? |

6
(1)
6
(2)
8
(1)
9
(16)
10
(1)
10
(2)
12
(1)
13
(1)
14
(2)
16
(1)
17
(2)

| | |
| --- | --- |
| | Proofreading Applications |

19
(4)

| | |
| --- | --- |
| | Computerized Proofreading Applications |

23
(2)
25
(13)

| | |
| --- | --- |
| | The Nature of Word Division |

26
(1)

| | |
| --- | --- |
| | Guidelines for Word Division |

26
(8)

| | |
| --- | --- |
| | Proofreading Applications |

34
(3)

| | |
| --- | --- |
| | Computerized Proofreading Applications |

37
(1)
Cumulative Review Applications No. 1
38
(51)
43
(14)
44
(7)

| | |
| --- | --- |
| | Proofreading Applications |

51
(3)

| | |
| --- | --- |
| | Computerized Proofreading Applications |

54
(3)

| | |
| --- | --- |
| | Abbreviation Errors and Rough Drafts |

57
(16)
58
(5)
63
(4)

| | |
| --- | --- |
| | Proofreading Applications |

67
(3)

| | |
| --- | --- |
| | Computerized Proofreading Applications |

70
(3)
73
(16)

| | |
| --- | --- |
| | Numbers Expressed as Words |

74
(2)

| | |
| --- | --- |
| | Numbers Expressed as Figures |

76
(2)
78
(3)

| | |
| --- | --- |
| | Proofreading Applications |

81
(6)

| | |
| --- | --- |
| | Computerized Proofreading Applications |

87
(2)
Cumulative Review Applications No. 2
89
(56)

| | |
| --- | --- |
| | Sentence Construction Errors, Part 1 |

93
(18)
94
(2)
96
(1)

| | |
| --- | --- |
| | Singular and Plural Nouns |

97
(1)
98
(1)
99
(1)
100
(1)
101
(4)

| | |
| --- | --- |
| | Proofreading Applications |

105
(5)

| | |
| --- | --- |
| | Computerized Proofreading Applications |

110
(1)

| | |
| --- | --- |
| | Sentence Construction Errors, Part 2 |

111
(16)

| | |
| --- | --- |
| | Pronoun and Antecedent Agreement |

112
(3)
115
(7)

| | |
| --- | --- |
| | Proofreading Applications |

122
(4)

| | |
| --- | --- |
| | Computerized Proofreading Applications |

126
(1)

| | |
| --- | --- |
| | Sentence Construction Errors, Part 3 |

127
(18)
128
(1)

| | |
| --- | --- |
| | Parallel Structure in Sentences |

129
(2)

| | |
| --- | --- |
| | Dangling and Misplaced Modifiers |

131
(1)
132
(7)

| | |
| --- | --- |
| | Proofreading Applications |

139
(5)

| | |
| --- | --- |
| | Computerized Proofreading Applications |

144
(1)
Cumulative Review Applications No. 3
145
(34)
147
(16)

| | |
| --- | --- |
| | The Importance of Punctuation Marks |

148
(1)
148
(6)
154
(5)

| | |
| --- | --- |
| | Proofreading Applications |

159
(3)

| | |
| --- | --- |
| | Computerized Proofreading Applications |

162
(1)
163
(16)

| | |
| --- | --- |
| | The Period, the Question Mark, and the Exclamation Mark |

165
(1)
166
(2)
168
(1)
169
(3)
172
(1)
172
(3)

| | |
| --- | --- |
| | Proofreading Applications |

175
(3)

| | |
| --- | --- |
| | Computerized Proofreading Applications |

178
(1)
Cumulative Review Applications No. 4
179
(64)

| | |
| --- | --- |
| | Format Errors: Letters and Memos |

183
(22)
184
(1)
185
(11)
196
(5)

| | |
| --- | --- |
| | Proofreading Applications |

201
(3)

| | |
| --- | --- |
| | Computerized Proofreading Applications |

204
(1)

| | |
| --- | --- |
| | Format Errors: Reports and Job Search Documents |

205
(18)
206
(3)
209
(7)

| | |
| --- | --- |
| | Proofreading Applications |

216
(4)

| | |
| --- | --- |
| | Computerized Proofreading Applications |

220
(3)

| | |
| --- | --- |
| | Editing for Content, Clarity, and Conciseness |

223
(20)
224
(1)
224
(4)
228
(4)
232
(5)

| | |
| --- | --- |
| | Proofreading Applications |

237
(5)

| | |
| --- | --- |
| | Computerized Proofreading Applications |

242
(1)
Cumulative Review Applications No. 5
243
(18)

| | |
| --- | --- |
| | Proofreading and Editing on Computer |

247
(14)
248
(1)
248
(2)

| | |
| --- | --- |
| | Information Processing Tools |

250
(7)
257

| | |
| --- | --- |
| | Computerized Proofreading Applications |

253
(8)
Computerized Minisimulation: The Editor Online
261
(14)

| | |
| --- | --- |
| | Alternate Instructions for Computerized Proofreading Applications |

273
(2)
APPENDIX
275
(4)
275
(2)

| | |
| --- | --- |
| | Frequently Misspelled Words |

277
(1)

| | |
| --- | --- |
| | Commonly Misspelled U.S. Cities |

277
(1)

| | |
| --- | --- |
| | Spellings and Two-Letter Abbreviations of States and U.S. Territories |

278
(1)

| | |
| --- | --- |
| | Letter Placement Guide and Report Formats |

278
(1)
Index
279
(2)
Proofreader Marks
281