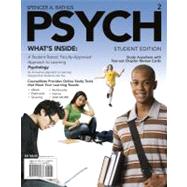 PSYCH (with Review Cards and Psychology CourseMate with eBook Printed Access Card)
by
Rathus, Spencer A.
Related Products
Summary
Created through a "student-tested, faculty-approved" review process with over 150 students and faculty, PSYCH 2 is an engaging and accessible solution to accommodate the diverse lifestyles of today's learners.
Table of Contents
What Is Psychology?
Biology and Psychology
The Voyage Through the Life Span
Sensation and Perception
Consciousness
Learning
Memory: Remembrance of Things Past--and Future
Thinking, Language, and Intelligence
Motivation and Emotion
Stress, Health, and Adjustment
Personality: Theory and Measurement
Psychological Disorders
Methods of Therapy
Social Psychology
Statistics
Table of Contents provided by Publisher. All Rights Reserved.