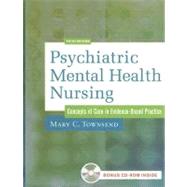 Psychiatric Mental Health Nursing: Concepts Of Care in Evidence-Based Practice
by
Townsend, Mary C.
Questions About This Book?
What version or edition is this?
This is the edition with a publication date of 12/14/2005.
What is included with this book?
The Used copy of this book is not guaranteed to include any supplemental materials. Typically, only the book itself is included.
Summary
In its full-color, fifth edition, Mary Townsend's Psychiatric Mental Health Nursing: Concepts of Care in Evidence-Based Practice is still the most clearly written text on the subject. The stress/adaptation model remains the conceptual framework for the delivery of nursing care, providing a foundation of psychiatric mental health nursing knowledge to the student. New to this edition is an increased coverage of the biological causes of disease. Selected DSM-IV-TR disorders, such as schizophrenia, anxiety, and mood disorders, will include graphic brain illustrations and boxed information on psychobiological aspects of the disorder and its treatment, including the reasons specific medications can cause certain side effects.
Table of Contents
| | |
| --- | --- |
| | UNIT ONE Basic Concepts in Psychiatric / Mental Health Nursing |

| | |
| --- | --- |
| | The Concept of Stress Adaptation |

3
(10)

| | |
| --- | --- |
| | Stress as a Biological Response |

4
(2)

| | |
| --- | --- |
| | Stress as an Environmental Event |

6
(1)

| | |
| --- | --- |
| | Stress as a Transaction Between the Individual and the Environment |

6
(2)
6
(1)

| | |
| --- | --- |
| | Individual's Perception of the Event |

6
(1)
7
(1)
8
(1)

| | |
| --- | --- |
| | Adaptive Coping Strategies |

8
(1)
9
(2)
11
(1)
12
(1)
12
(1)

| | |
| --- | --- |
| | Mental Health/Mental Illness: Historical and Theoretical Concepts |

13
(20)

| | |
| --- | --- |
| | Historical Overview of Psychiatirc Care |

14
(1)
15
(1)
16
(1)

| | |
| --- | --- |
| | Psychological Adaptation to Stress |

17
(7)
17
(2)

| | |
| --- | --- |
| | Behavioral Adaptation Responses to Anxiety |

19
(4)
23
(1)
23
(1)
23
(1)
23
(1)

| | |
| --- | --- |
| | Maladaptive Grief Responses |

24
(1)

| | |
| --- | --- |
| | Mental Health/Mental Illness Continuum |

24
(1)

| | |
| --- | --- |
| | The DSM-IV-TR Multiaxial Evaluation System |

24
(1)
25
(2)
27
(2)
29
(1)
29
(4)

| | |
| --- | --- |
| | UNIT TWO Foundations for Psychiatric/Mental Health Nursing |

| | |
| --- | --- |
| | Theoretical Models of Personality Development |

33
(17)
34
(2)

| | |
| --- | --- |
| | Structure of the Personality |

34
(1)
34
(1)

| | |
| --- | --- |
| | Dynamics of the Personality |

35
(1)

| | |
| --- | --- |
| | Freud's Stages of Personality Development |

35
(1)

| | |
| --- | --- |
| | Relevance of Psychoanalytic Theory to Nursing Practice |

36
(1)
36
(2)

| | |
| --- | --- |
| | Sullivan's Stages of Personality Development |

37
(1)

| | |
| --- | --- |
| | Relevance of Interpersonal Theory to Nursing Practice |

37
(1)

| | |
| --- | --- |
| | Theory of Psychosocial Development |

38
(2)

| | |
| --- | --- |
| | Erikson's Stages of Personality Development |

38
(2)

| | |
| --- | --- |
| | Relevance of Psychosocial Development Theory to Nursing Practice |

40
(1)

| | |
| --- | --- |
| | Theory of Object Relations |

40
(2)

| | |
| --- | --- |
| | Phase I: The Autistic Phase (Birth to 1 Month) |

41
(1)

| | |
| --- | --- |
| | Phase II: The Symbiotic Phase (1 to 5 Months) |

41
(1)

| | |
| --- | --- |
| | Phase III: Separation-Individuation (5 to 36 Months) |

41
(1)

| | |
| --- | --- |
| | Cognitive Development Theory |

42
(1)

| | |
| --- | --- |
| | Stage 1: Sensorimotor (Birth to 2 Years) |

42
(1)

| | |
| --- | --- |
| | Stage 2: Preoperational (2 to 6 Years) |

42
(1)

| | |
| --- | --- |
| | Stage 3: Concrete Operations (6 to 12 Years) |

42
(1)

| | |
| --- | --- |
| | Stage 4: Formal Operations (12 to 15+ Years) |

43
(1)

| | |
| --- | --- |
| | Relevance of Cognitive Development Theory to Nursing Practice |

43
(1)

| | |
| --- | --- |
| | Theory of Moral Development |

43
(1)

| | |
| --- | --- |
| | Level I: Preconventional Level (Prominent from Ages 4 to 10 Years) |

43
(1)

| | |
| --- | --- |
| | Level II: Conventional Level (Prominent from Ages 10 to 13 Years and into Adulthood) |

44
(1)

| | |
| --- | --- |
| | Level III: Postconventional Level (Can Occur from Adolescence Onward) |

44
(1)

| | |
| --- | --- |
| | Relevance of Moral Development Theory to Nursing Practice |

44
(1)

| | |
| --- | --- |
| | A Nursing Model---Hildegard E. Peplau |

44
(3)

| | |
| --- | --- |
| | Peplau's Stages of Personality Development |

45
(2)

| | |
| --- | --- |
| | Relevance of Peplau's Model to Nursing Practice |

47
(1)
47
(1)
48
(1)
49
(1)
49
(1)

| | |
| --- | --- |
| | Concepts of Psychobiology |

50
(25)

| | |
| --- | --- |
| | The Nervous System: An Anatomical Review |

51
(11)
51
(4)
55
(3)
58
(1)
58
(4)
62
(6)
63
(3)
66
(1)
67
(1)
68
(3)
71
(1)
71
(1)
71
(1)
72
(1)
73
(1)
74
(1)

| | |
| --- | --- |
| | Ethical and Legal Issues in Psychiatric/Mental Health Nursing |

75
(14)
76
(4)
76
(1)
77
(1)
77
(1)

| | |
| --- | --- |
| | A Model for Making Ethical Decisions |

78
(1)

| | |
| --- | --- |
| | Ethical Issues in Psychiatric/Mental Health Nursing |

79
(1)
80
(6)
80
(1)
81
(1)

| | |
| --- | --- |
| | Classifications Within Statutory and Common Law |

81
(1)

| | |
| --- | --- |
| | Legal Issues in Psychiatric/Mental Health Nursing |

82
(1)
83
(2)
85
(1)
86
(1)
87
(1)
88
(1)

| | |
| --- | --- |
| | Cultural Concepts Relevant to Psychiatric/Mental Health Nursing |

89
(18)
89
(1)
90
(1)
90
(1)
90
(1)
90
(1)
90
(1)
91
(1)
91
(1)

| | |
| --- | --- |
| | Application of the Nursing Process |

91
(8)

| | |
| --- | --- |
| | Background Assessment Data |

91
(5)
96
(1)

| | |
| --- | --- |
| | Diagnosis/Outcome Identification |

96
(1)
96
(3)
99
(1)
99
(2)
101
(1)
102
(1)
103
(4)

| | |
| --- | --- |
| | UNIT THREE Therapeutic Approaches in Psychiatric Nursing Care |

107
(11)

| | |
| --- | --- |
| | Role of the Psychiatric Nurse |

108
(1)

| | |
| --- | --- |
| | Dynamics of a Therapeutic Nurse-Client Relationship |

108
(3)
109
(1)
109
(1)
110
(1)

| | |
| --- | --- |
| | Conditions Essential to Development of a Therapeutic Relationship |

111
(2)
111
(1)
111
(1)
112
(1)
112
(1)
113
(1)

| | |
| --- | --- |
| | Phases of a Therapeutic Nurse-Client Relationship |

113
(2)
114
(1)

| | |
| --- | --- |
| | The Orientation (Introductory) Phase |

114
(1)
114
(1)
115
(1)
115
(1)
116
(1)
116
(1)
117
(1)

| | |
| --- | --- |
| | Therapeutic Communication |

118
(13)
119
(1)

| | |
| --- | --- |
| | The Impact of Preexisting Conditions |

119
(2)

| | |
| --- | --- |
| | Values, Attitudes, and Beliefs |

119
(1)
120
(1)
120
(1)
120
(1)

| | |
| --- | --- |
| | Age or Developmental Level |

120
(1)

| | |
| --- | --- |
| | Environment in Which the Transaction Takes Place |

120
(1)
121
(2)

| | |
| --- | --- |
| | Physical Appearance and Dress |

121
(1)

| | |
| --- | --- |
| | Body Movement and Posture |

121
(1)
121
(1)
122
(1)
122
(1)

| | |
| --- | --- |
| | Vocal Cues, or Paralanguage |

122
(1)

| | |
| --- | --- |
| | Therapeutic Communication Techniques |

123
(1)

| | |
| --- | --- |
| | Nontherapeutic Communication Techniques |

124
(1)
124
(2)
126
(1)
126
(2)
128
(1)
129
(1)
130
(1)
130
(1)

| | |
| --- | --- |
| | The Nursing Process in Psychiatric/Mental Health Nursing |

131
(20)
132
(8)
132
(1)
132
(8)
140
(2)
142
(2)

| | |
| --- | --- |
| | Critical Pathways of Care |

143
(1)

| | |
| --- | --- |
| | Applying the Nursing Process in the Psychiatric Setting |

144
(1)
145
(1)

| | |
| --- | --- |
| | Documentation of the Nursing Process |

145
(4)

| | |
| --- | --- |
| | Problem-Oriented Recording |

147
(1)
147
(1)
148
(1)
149
(1)
150
(1)
150
(1)
151
(11)
152
(1)
152
(1)
152
(1)
152
(1)

| | |
| --- | --- |
| | Supportive/Therapeutic Groups |

152
(1)
153
(1)

| | |
| --- | --- |
| | Physical Conditions That Influence Group Dynamics |

153
(1)
153
(1)
153
(1)
153
(1)
153
(1)

| | |
| --- | --- |
| | Phases of Group Development |

154
(1)

| | |
| --- | --- |
| | Phase I. Initial or Orientation Phase |

154
(1)

| | |
| --- | --- |
| | Phase II. Middle or Working Phase |

154
(1)

| | |
| --- | --- |
| | Phase III. Final or Termination Phase |

155
(1)
155
(1)
155
(1)
155
(1)
155
(1)
156
(1)
156
(1)

| | |
| --- | --- |
| | The Role of the Nurse in Group Therapy |

156
(1)
157
(2)
159
(2)
161
(1)
161
(1)

| | |
| --- | --- |
| | Intervention with Families |

162
(22)

| | |
| --- | --- |
| | Stages of Family Development |

163
(2)

| | |
| --- | --- |
| | Stage I. The Single Young Adult |

164
(1)

| | |
| --- | --- |
| | Stage II. The Newly Married Couple |

164
(1)

| | |
| --- | --- |
| | Stage III. The Family with Young Children |

164
(1)

| | |
| --- | --- |
| | Stage IV. The Family with Adolescents |

164
(1)

| | |
| --- | --- |
| | Stage V. The Family Launching Grown Children |

164
(1)

| | |
| --- | --- |
| | Stage VI. The Family in Later Life |

165
(1)
165
(1)
165
(1)
165
(1)
165
(1)
166
(5)
167
(1)

| | |
| --- | --- |
| | Self-Concept Reinforcement |

168
(1)

| | |
| --- | --- |
| | Family Members' Expectations |

168
(1)
169
(1)

| | |
| --- | --- |
| | Family Interactional Patterns |

170
(1)
170
(1)

| | |
| --- | --- |
| | Therapeutic Modalities with Families |

171
(6)
171
(2)
173
(1)
174
(2)

| | |
| --- | --- |
| | The Evolution of Family Therapy |

176
(1)
177
(4)
177
(3)
180
(1)
180
(1)
180
(1)
181
(1)
181
(1)
182
(1)
183
(1)
183
(1)

| | |
| --- | --- |
| | Milieu Therapy---The Therapeutic Community |

184
(9)
184
(1)

| | |
| --- | --- |
| | Current Status of the Therapeutic Community |

185
(1)
185
(1)

| | |
| --- | --- |
| | Conditions That Promote a Therapeutic Community |

185
(2)

| | |
| --- | --- |
| | The Program of Therapeutic Community |

187
(1)
188
(1)
189
(2)
191
(1)
192
(1)
192
(1)
193
(14)

| | |
| --- | --- |
| | Characteristics of a Crisis |

193
(1)

| | |
| --- | --- |
| | Phases in the Development of a Crisis |

194
(1)
195
(2)

| | |
| --- | --- |
| | Class 1: Dispositional Crises |

195
(1)

| | |
| --- | --- |
| | Class 2: Crises of Anticipated Life Transitions |

196
(1)

| | |
| --- | --- |
| | Class 3: Crises Resulting from Traumatic Stress |

196
(1)

| | |
| --- | --- |
| | Class 4: Maturational/Developmental Crises |

196
(1)

| | |
| --- | --- |
| | Class 5: Crises Reflecting Psychopathology |

196
(1)

| | |
| --- | --- |
| | Class 6: Psychiatric Emergencies |

197
(1)
197
(1)

| | |
| --- | --- |
| | Phases of Crisis Intervention: The Role of the Nurse |

197
(2)
198
(1)

| | |
| --- | --- |
| | Phase 2. Planning of Therapeutic Intervention |

198
(1)
198
(1)

| | |
| --- | --- |
| | Phase 4. Evaluation of Crisis Resolution and Anticipatory Planning |

198
(1)
199
(1)

| | |
| --- | --- |
| | Application of the Nursing Process |

199
(5)

| | |
| --- | --- |
| | Background Assessment Data |

199
(1)

| | |
| --- | --- |
| | Nursing Diagnoses/Outcome Identification |

199
(1)
199
(1)
199
(5)
204
(1)
205
(1)
206
(1)
206
(1)
207
(10)
207
(1)

| | |
| --- | --- |
| | Physiological, Cognitive, and Behavioral Manifestations of Relaxation |

208
(2)

| | |
| --- | --- |
| | Methods of Achieving Relaxation |

210
(3)
210
(1)
210
(1)

| | |
| --- | --- |
| | Modified (or Passive) Progressive Relaxation |

211
(1)
212
(1)
212
(1)
212
(1)
213
(1)

| | |
| --- | --- |
| | The Role of the Nurse in Relaxation Therapy |

213
(1)
213
(1)
214
(1)

| | |
| --- | --- |
| | Outcome Identification/Implementation |

214
(1)
214
(1)
214
(2)
216
(1)
216
(1)
217
(11)
218
(1)
218
(1)
218
(2)
218
(1)
219
(1)
219
(1)

| | |
| --- | --- |
| | Passive-Aggressive Behavior |

219
(1)

| | |
| --- | --- |
| | Behavioral Components of Assertive Behavior |

220
(1)

| | |
| --- | --- |
| | Techniques that Promote Assertive Behavior |

221
(1)

| | |
| --- | --- |
| | Thought-Stopping Techniques Method |

222
(1)
222
(3)
222
(1)
223
(1)

| | |
| --- | --- |
| | Outcome Identification/Implementation |

223
(2)
225
(1)
225
(1)
226
(1)
227
(1)
228
(12)

| | |
| --- | --- |
| | Components of Self-Concept |

229
(1)

| | |
| --- | --- |
| | Physical Self or Body Image |

229
(1)
229
(1)
229
(1)

| | |
| --- | --- |
| | The Development of Self-Esteem |

229
(2)

| | |
| --- | --- |
| | Developmental Progression of the Self-Esteem Through the Life Span |

230
(1)

| | |
| --- | --- |
| | The Manifestations of Low Self-Esteem |

231
(2)
231
(1)
231
(1)
232
(1)

| | |
| --- | --- |
| | Symptoms of Low Self-Esteem |

232
(1)
233
(1)
233
(1)
234
(1)
234
(3)
234
(1)

| | |
| --- | --- |
| | Diagnosis/Outcome Identification |

234
(1)
235
(1)
235
(1)
235
(2)
237
(1)
238
(1)
239
(1)
239
(1)

| | |
| --- | --- |
| | Anger/Aggression Management |

240
(10)

| | |
| --- | --- |
| | Anger and Aggression, Defined |

241
(1)

| | |
| --- | --- |
| | Predisposing Factors to Anger and Aggression |

242
(1)
242
(1)
242
(1)

| | |
| --- | --- |
| | Neurophysiological Disorders |

242
(1)
242
(1)
242
(1)
242
(1)
243
(3)
243
(1)

| | |
| --- | --- |
| | Diagnosis/Outcome Identification |

244
(1)
244
(2)
246
(1)
246
(2)
248
(1)
249
(1)
250
(15)
250
(1)
251
(1)
251
(2)
251
(1)
251
(1)
252
(1)
252
(1)
252
(1)
253
(1)
253
(1)

| | |
| --- | --- |
| | Predisposing Factors: Theories of Suicide |

253
(1)
253
(1)
254
(1)
254
(1)

| | |
| --- | --- |
| | Application of the Nursing Process with the Suicidal Client |

254
(7)
254
(2)

| | |
| --- | --- |
| | Diagnosis/Outcome Identification |

256
(1)
256
(4)
260
(1)
261
(1)
262
(1)
263
(1)
264
(1)
265
(9)
266
(1)
266
(1)

| | |
| --- | --- |
| | Techniques for Modifying Client Behavior |

267
(2)
267
(1)
267
(1)
268
(1)
268
(1)
268
(1)
268
(1)
268
(1)
268
(1)
268
(1)
269
(1)

| | |
| --- | --- |
| | Systematic Desensitization |

269
(1)
269
(1)

| | |
| --- | --- |
| | Role of the Nurse in Behavior Therapy |

269
(2)
271
(1)
272
(1)
273
(1)
273
(1)
274
(11)
275
(1)

| | |
| --- | --- |
| | Indications for Cognitive Therapy |

275
(1)

| | |
| --- | --- |
| | Goals and Principles of Cognitive Therapy |

275
(1)
276
(2)
276
(1)
277
(1)

| | |
| --- | --- |
| | Techniques of Cognitive Therapy |

278
(1)

| | |
| --- | --- |
| | Didactic (Educational) Aspects |

278
(1)
278
(1)
279
(1)

| | |
| --- | --- |
| | Role of the Nurse in Cognitive Therapy |

279
(3)
282
(1)
283
(1)
284
(1)
284
(1)
285
(29)
286
(1)

| | |
| --- | --- |
| | How Do Psychotropics Work? |

286
(1)

| | |
| --- | --- |
| | Applying the Nursing Process in Psychopharmacological Therapy |

287
(23)
287
(4)
291
(5)
296
(5)
301
(5)
306
(2)

| | |
| --- | --- |
| | Agents for Attention-Deficit/Hyperactivity Disorder (ADHD) |

308
(2)
310
(2)
312
(1)
313
(1)

| | |
| --- | --- |
| | Electroconvulsive Therapy |

314
(8)

| | |
| --- | --- |
| | Electroconvulsive Therapy, Defined |

315
(1)
315
(1)
316
(1)
316
(1)
316
(1)
316
(1)
316
(1)
316
(1)
316
(1)
316
(1)

| | |
| --- | --- |
| | Risks Associated with Electroconvulsive Therapy |

317
(1)
317
(1)
317
(1)
317
(1)

| | |
| --- | --- |
| | The Role of the Nurse in Electroconvulsive Therapy |

317
(2)
317
(1)

| | |
| --- | --- |
| | Diagnosis/Outcome Identification |

317
(1)
317
(2)
319
(1)
319
(1)
320
(1)
321
(1)
322
(15)

| | |
| --- | --- |
| | Commonalities and Contrasts |

324
(1)

| | |
| --- | --- |
| | Types of Complementary Therapies |

324
(10)
324
(1)

| | |
| --- | --- |
| | Acupressure and Acupuncture |

325
(2)
327
(4)
331
(1)

| | |
| --- | --- |
| | Therapeutic Touch and Massage |

332
(1)
333
(1)
333
(1)
334
(1)
335
(1)
335
(2)
337
(18)
338
(1)

| | |
| --- | --- |
| | Theories of Teaching and Learning |

339
(1)
339
(1)
339
(1)
339
(1)
340
(1)
340
(1)
340
(1)
340
(1)

| | |
| --- | --- |
| | Age and Developmental Considerations |

340
(2)
340
(1)

| | |
| --- | --- |
| | Teaching Children and Adolescents |

341
(1)
341
(1)

| | |
| --- | --- |
| | The Nursing Process in Client Education |

342
(5)
342
(2)
344
(1)
344
(1)
344
(2)
346
(1)

| | |
| --- | --- |
| | Documentation of Client Education |

347
(1)
348
(1)
349
(1)
350
(1)
351
(4)

| | |
| --- | --- |
| | UNIT FOUR NURSING CARE OF CLIENTS WITH ALTERATIONS IN PSYCHOSOCIAL ADAPTATION |

| | |
| --- | --- |
| | Disorders Usually First Diagnosed in Infancy, Childhood, or Adolescence |

355
(32)
356
(3)
356
(1)

| | |
| --- | --- |
| | Application of the Nursing Process |

357
(2)
359
(4)
359
(1)

| | |
| --- | --- |
| | Application of the Nursing Process |

360
(3)

| | |
| --- | --- |
| | Attention-Deficit/Hyperactivity Disorder |

363
(5)
363
(1)

| | |
| --- | --- |
| | Application of the Nursing Process |

364
(3)

| | |
| --- | --- |
| | Psychopharmacological Intervention |

367
(1)
368
(4)
368
(1)

| | |
| --- | --- |
| | Application of the Nursing Process |

369
(3)

| | |
| --- | --- |
| | Oppositional Defiant Disorder |

372
(3)
372
(1)

| | |
| --- | --- |
| | Application of the Nursing Process |

372
(3)
375
(3)
375
(1)

| | |
| --- | --- |
| | Application of the Nursing Process |

375
(3)

| | |
| --- | --- |
| | Separation Anxiety Disorder |

378
(3)
378
(1)

| | |
| --- | --- |
| | Application of the Nursing Process |

378
(3)

| | |
| --- | --- |
| | General Therapeutic Approaches |

381
(1)
381
(1)
381
(1)
381
(1)
382
(1)
382
(2)
384
(1)
385
(2)

| | |
| --- | --- |
| | Delirium, Dementia, and Amnestic Disorders |

387
(23)
388
(1)
388
(1)
389
(6)
390
(5)
395
(1)
395
(1)

| | |
| --- | --- |
| | Application of the Nursing Process |

396
(6)
396
(4)

| | |
| --- | --- |
| | Diagnosis/Outcome Identification |

400
(1)
400
(2)
402
(1)

| | |
| --- | --- |
| | Medical Treatment Modalities |

402
(3)
402
(1)
402
(3)
405
(1)
406
(2)
408
(2)

| | |
| --- | --- |
| | Substance-related Disorders |

410
(43)
411
(1)
411
(1)

| | |
| --- | --- |
| | DSM-IV-TR Criteria for Substance Abuse |

411
(1)
411
(1)

| | |
| --- | --- |
| | DSM-IV-TR Criteria for Substance Dependence |

412
(1)

| | |
| --- | --- |
| | Substance-Induced Disorders |

412
(1)
412
(1)

| | |
| --- | --- |
| | DSM-IV-TR Criteria for Substance Intoxication |

412
(1)
412
(1)

| | |
| --- | --- |
| | DSM-IV-TR Criteria for Substance Withdrawal |

413
(1)

| | |
| --- | --- |
| | Classes of Psychoactive Substances |

413
(1)
413
(1)
413
(1)
413
(1)
414
(1)

| | |
| --- | --- |
| | The Dynamics of Substance-Related Disorders |

414
(20)

| | |
| --- | --- |
| | Alcohol Abuse and Dependence |

414
(3)
417
(1)
417
(1)

| | |
| --- | --- |
| | Sedative, Hypnotic, or Anxiolytic Abuse and Dependence |

418
(2)

| | |
| --- | --- |
| | Sedative, Hypnotic, or Anxiolytic Intoxication |

420
(1)

| | |
| --- | --- |
| | Sedative, Hypnotic, or Anxiolytic Withdrawal |

420
(1)

| | |
| --- | --- |
| | CNS Stimulant Abuse and Dependence |

420
(3)

| | |
| --- | --- |
| | CNS Stimulant Intoxication |

423
(1)
423
(1)

| | |
| --- | --- |
| | Inhalant Abuse and Dependence |

423
(1)

| | |
| --- | --- |
| | Opioid Abuse and Dependence |

424
(2)

| | |
| --- | --- |
| | Hallucinogen Abuse and Dependence |

426
(2)

| | |
| --- | --- |
| | Cannabis Abuse and Dependence |

428
(6)

| | |
| --- | --- |
| | Application of the Nursing Process |

434
(7)
434
(2)

| | |
| --- | --- |
| | Diagnosis/Outcome Identification |

436
(1)
436
(3)
439
(2)
441
(1)
442
(2)
443
(1)
443
(1)

| | |
| --- | --- |
| | Treatment Modalities for Substance-Related Disorders |

444
(4)
444
(1)
445
(1)
446
(1)
446
(1)

| | |
| --- | --- |
| | Psychopharmacology for Substance Intoxication and Substance Withdrawal |

447
(1)
448
(1)
449
(2)
451
(1)
452
(1)

| | |
| --- | --- |
| | Schizophrenia and Other Psychotic Disorders |

453
(30)
454
(1)

| | |
| --- | --- |
| | Phase I: The Schizoid Personality |

454
(1)

| | |
| --- | --- |
| | Phase II: The Prodromal Phase |

454
(1)
455
(1)
455
(1)
455
(1)
455
(5)
455
(3)
458
(1)
458
(1)
458
(2)

| | |
| --- | --- |
| | Types of Schizophrenia and Other Psychotic Disorders |

460
(2)

| | |
| --- | --- |
| | Disorganized Schizophrenia |

460
(1)
460
(1)
460
(1)

| | |
| --- | --- |
| | Undifferentiated Schizophrenia |

460
(1)
460
(1)
460
(1)
461
(1)

| | |
| --- | --- |
| | Schizophreniform Disorder |

461
(1)
461
(1)

| | |
| --- | --- |
| | Shared Psychotic Disorder |

461
(1)

| | |
| --- | --- |
| | Psychotic Disorder Due to a General Medical Condition |

462
(1)

| | |
| --- | --- |
| | Substance-Induced Psychotic Disorder |

462
(1)

| | |
| --- | --- |
| | Application of the Nursing Process |

462
(11)

| | |
| --- | --- |
| | Background Assessment Data |

462
(3)

| | |
| --- | --- |
| | Diagnosis/Outcome Identification |

465
(1)
466
(5)
471
(2)

| | |
| --- | --- |
| | Treatment Modalities for Schizophrenia and Other Psychotic Disorders |

473
(4)
473
(1)
474
(1)
475
(2)
477
(2)
479
(2)
481
(2)
483
(40)
484
(1)
484
(1)
484
(1)
485
(1)
485
(1)
485
(1)
485
(1)
485
(1)
485
(3)
485
(1)
486
(2)
488
(1)
488
(8)
488
(4)

| | |
| --- | --- |
| | Developmental Implications |

492
(4)

| | |
| --- | --- |
| | Application of the Nursing Process to Depressive Disorders |

496
(6)

| | |
| --- | --- |
| | Background Assessment Data |

496
(1)

| | |
| --- | --- |
| | Diagnosis/Outcome Identification |

497
(1)
498
(2)
500
(1)

| | |
| --- | --- |
| | Evaluation of Care for the Depressed Client |

500
(2)
502
(5)
502
(2)

| | |
| --- | --- |
| | Developmental Implications |

504
(3)

| | |
| --- | --- |
| | Application of the Nursing Process to Bipolar Disorder (Mania) |

507
(5)

| | |
| --- | --- |
| | Background Assessment Data |

507
(1)
507
(1)
507
(1)

| | |
| --- | --- |
| | Stage III: Delirious Mania |

508
(1)

| | |
| --- | --- |
| | Diagnosis/Outcome Identification |

508
(1)
508
(1)
508
(2)

| | |
| --- | --- |
| | Evaluation of Care for the Manic Client |

510
(2)

| | |
| --- | --- |
| | Treatment Modalities for Mood Disorders |

512
(6)
512
(3)
515
(3)
518
(1)
519
(2)
521
(1)
522
(1)
523
(37)
524
(1)

| | |
| --- | --- |
| | Epidemiological Statistics |

524
(1)
524
(2)

| | |
| --- | --- |
| | Application of the Nursing Process |

526
(18)
526
(1)

| | |
| --- | --- |
| | Generalized Anxiety Disorder |

526
(4)
530
(9)

| | |
| --- | --- |
| | Obsessive-Compulsive Disorder |

539
(5)

| | |
| --- | --- |
| | Posttraumatic Stress Disorder |

544
(8)

| | |
| --- | --- |
| | Background Assessment Data |

544
(6)

| | |
| --- | --- |
| | Anxiety Disorder Due to a General Medical Condition |

550
(1)

| | |
| --- | --- |
| | Substance-Induced Anxiety Disorder |

550
(2)
552
(4)
552
(1)
552
(1)
553
(1)
554
(2)
556
(1)
557
(2)
559
(1)
559
(1)

| | |
| --- | --- |
| | Somatoform and Sleep Disorders |

560
(36)
561
(1)
561
(1)

| | |
| --- | --- |
| | Epidemiological Statistics |

561
(1)

| | |
| --- | --- |
| | Application of the Nursing Process to Somatoform Disorders |

562
(21)
562
(2)
564
(8)
572
(5)
577
(3)
580
(3)
583
(1)

| | |
| --- | --- |
| | Application of the Nursing Process to Sleep Disorders |

584
(5)
589
(2)
589
(1)
590
(1)
591
(3)
594
(1)
595
(1)
596
(27)
597
(1)

| | |
| --- | --- |
| | Epidemiological Statistics |

597
(1)

| | |
| --- | --- |
| | Application of the Nursing Process |

597
(19)
597
(4)
601
(5)

| | |
| --- | --- |
| | Dissociative Identity Disorder |

606
(7)

| | |
| --- | --- |
| | Depersonalization Disorder |

613
(3)
616
(2)
616
(2)
618
(1)

| | |
| --- | --- |
| | Dissociative Identity Disorder |

618
(1)

| | |
| --- | --- |
| | Depersonalization Disorder |

618
(1)
618
(2)
620
(2)
622
(1)
622
(1)

| | |
| --- | --- |
| | Sexual and Gender Identity Disorders |

623
(30)

| | |
| --- | --- |
| | Development of Human Sexuality |

624
(2)
624
(1)
624
(1)
625
(1)
626
(16)
626
(4)
630
(4)

| | |
| --- | --- |
| | Application of the Nursing Process to Sexual Disorders |

634
(8)
642
(3)

| | |
| --- | --- |
| | Application of the Nursing Process to Gender Identity Disorders |

642
(3)

| | |
| --- | --- |
| | Variations in Sexual Orientation |

645
(3)
645
(1)
646
(1)
647
(1)

| | |
| --- | --- |
| | Sexually Transmitted Diseases |

648
(1)
648
(2)
650
(2)
652
(1)
652
(1)
653
(20)
654
(1)

| | |
| --- | --- |
| | Application of the Nursing Process |

654
(12)

| | |
| --- | --- |
| | Background Assessment Data (Symptomatology) |

654
(4)

| | |
| --- | --- |
| | Diagnosis/Outcome Identification |

658
(1)
659
(7)
666
(1)
666
(2)
666
(1)
667
(1)
667
(1)
667
(1)
668
(1)
669
(2)
671
(2)

| | |
| --- | --- |
| | Adjustment and Impulse Control Disorders |

673
(20)

| | |
| --- | --- |
| | Historical and Epidemiological Factors |

674
(1)

| | |
| --- | --- |
| | Application of the Nursing Process |

674
(11)
674
(6)

| | |
| --- | --- |
| | Impulse Control Disorders |

680
(1)

| | |
| --- | --- |
| | Intermittent Explosive Disorder |

680
(1)
681
(1)
682
(1)
683
(1)
683
(2)
685
(4)
685
(2)
687
(1)
687
(1)
688
(1)
688
(1)
688
(1)

| | |
| --- | --- |
| | Impulse Control Disorders |

688
(1)
688
(1)
688
(1)
689
(1)
689
(1)
689
(2)
691
(1)
692
(1)
692
(1)

| | |
| --- | --- |
| | Psychological Factors Affecting Medical Conditions |

693
(22)
694
(1)

| | |
| --- | --- |
| | Application of the Nursing Process |

695
(11)

| | |
| --- | --- |
| | Background Assessment Data: Types of Psychophysiological Disorders |

695
(11)
706
(4)
706
(1)
707
(1)
707
(1)
707
(1)
708
(1)
709
(1)
710
(1)
710
(2)
712
(2)
714
(1)
714
(1)
715
(32)
717
(1)

| | |
| --- | --- |
| | Types of Personality Disorders |

717
(8)

| | |
| --- | --- |
| | Paranoid Personality Disorder |

717
(1)

| | |
| --- | --- |
| | Schizoid Personality Disorder |

718
(1)

| | |
| --- | --- |
| | Schizotypal Personality Disorder |

719
(1)

| | |
| --- | --- |
| | Antisocial Personality Disorder |

720
(1)

| | |
| --- | --- |
| | Borderline Personality Disorder |

720
(1)

| | |
| --- | --- |
| | Histrionic Personality Disorder |

720
(1)

| | |
| --- | --- |
| | Narcissistic Personality Disorder |

721
(1)

| | |
| --- | --- |
| | Avoidant Personality Disorder |

722
(1)

| | |
| --- | --- |
| | Dependent Personality Disorder |

723
(1)

| | |
| --- | --- |
| | Obsessive-Compulsive Personality Disorder |

724
(1)

| | |
| --- | --- |
| | Passive-Aggressive Personality Disorder |

724
(1)

| | |
| --- | --- |
| | Application of the Nursing Process |

725
(11)

| | |
| --- | --- |
| | Borderline Personality Disorder |

725
(3)

| | |
| --- | --- |
| | Antisocial Personality Disorder |

728
(8)
736
(2)
738
(2)
740
(3)
743
(1)
743
(4)

| | |
| --- | --- |
| | UNIT FIVE PSYCHIATRIC/MENTAL HEALTH NURSING OF SPECIAL POPULATIONS |

747
(27)
748
(1)

| | |
| --- | --- |
| | Epidemiological Statistics |

748
(1)
748
(1)
748
(1)
749
(1)
749
(1)
749
(1)
749
(1)
749
(3)
749
(1)
750
(2)
752
(6)

| | |
| --- | --- |
| | Biological Aspects of Aging |

752
(2)

| | |
| --- | --- |
| | Psychological Aspects of Aging |

754
(1)

| | |
| --- | --- |
| | Sociocultural Aspects of Aging |

755
(1)
756
(2)

| | |
| --- | --- |
| | Special Concerns of the Elderly |

758
(4)
758
(1)
759
(1)
760
(1)
761
(1)

| | |
| --- | --- |
| | Application of the Nursing Process |

762
(6)
762
(1)

| | |
| --- | --- |
| | Diagnosis/Outcome Identification |

763
(1)
764
(4)
768
(2)
770
(2)
772
(1)
773
(1)

| | |
| --- | --- |
| | The Individual with HIV Disease |

774
(24)

| | |
| --- | --- |
| | Pathophysiology Incurred by Infection with the HIV |

775
(1)

| | |
| --- | --- |
| | The Normal Immune Response |

775
(1)

| | |
| --- | --- |
| | The Immune Response to HIV |

775
(1)
776
(1)

| | |
| --- | --- |
| | Epidemiological Statistics |

776
(1)
777
(1)
777
(1)
778
(1)
778
(1)

| | |
| --- | --- |
| | Other Possible Modes of Transmission |

778
(1)

| | |
| --- | --- |
| | Application of the Nursing Process |

778
(11)

| | |
| --- | --- |
| | Background Assessment Data |

778
(5)

| | |
| --- | --- |
| | Diagnosis/Outcome Identification |

783
(1)
784
(4)
788
(1)
788
(1)
789
(4)
789
(1)

| | |
| --- | --- |
| | Universal Isolation Precautions |

790
(2)
792
(1)

| | |
| --- | --- |
| | Incorporating HIV Prevention in the Medical Care of Persons Living with HIV |

792
(1)
793
(1)
794
(2)
796
(2)

| | |
| --- | --- |
| | Problems Related to Abuse or Neglect |

798
(19)
799
(1)
799
(2)
799
(2)
801
(1)
801
(1)

| | |
| --- | --- |
| | Application of the Nursing Process |

801
(7)

| | |
| --- | --- |
| | Background Assessment Data |

801
(7)

| | |
| --- | --- |
| | Diagnosis/Outcome Identification |

808
(1)
808
(1)
808
(1)
808
(4)
808
(3)

| | |
| --- | --- |
| | The Safe House or Shelter |

811
(1)
811
(1)
812
(1)
813
(2)
815
(1)
816
(1)

| | |
| --- | --- |
| | Men's and Women's Health Issues |

817
(18)
818
(4)
818
(2)
820
(2)
822
(7)
822
(4)
826
(3)
829
(2)
831
(2)
833
(2)

| | |
| --- | --- |
| | Community Mental Health Nursing |

835
(27)

| | |
| --- | --- |
| | The Changing Focus of Care |

836
(1)
837
(1)
838
(1)

| | |
| --- | --- |
| | The Psychiatric/Mental Health Registered Nurse |

838
(1)

| | |
| --- | --- |
| | The Psychiatric/Mental Health Advanced Practice Registered Nurse |

839
(1)
839
(1)
840
(17)
840
(5)
845
(2)
847
(10)

| | |
| --- | --- |
| | Rural Mental Health Nursing |

857
(1)
857
(2)
859
(2)
861
(1)
861
(1)

| | |
| --- | --- |
| | Psychiatric Home Nursing Care |

862
(14)
863
(1)

| | |
| --- | --- |
| | General Information Related to Psychiatric Home Nursing Care |

863
(2)
863
(1)
864
(1)

| | |
| --- | --- |
| | Advantages and Disadvantages of Home Care |

864
(1)

| | |
| --- | --- |
| | Cultural and Boundary Issues |

865
(1)
865
(1)

| | |
| --- | --- |
| | Application of the Nursing Process |

865
(2)
867
(4)
867
(3)
870
(1)
871
(2)
873
(2)
875
(1)
876
(17)

| | |
| --- | --- |
| | What Is Forensic Nursing? |

876
(1)
877
(1)

| | |
| --- | --- |
| | The Context of Forensic Nursing Practice |

877
(1)

| | |
| --- | --- |
| | Forensic Nursing Specialties |

877
(2)

| | |
| --- | --- |
| | Clinical Forensic Nursing Specialty |

877
(1)

| | |
| --- | --- |
| | The Sexual Assault Nurse Examiner (SANE) |

878
(1)

| | |
| --- | --- |
| | Forensic Psychiatric Nursing Specialty |

878
(1)

| | |
| --- | --- |
| | Correctional/Institutional Nursing Specialty |

878
(1)

| | |
| --- | --- |
| | Nurses in General Practice |

878
(1)

| | |
| --- | --- |
| | Application of the Nursing Process in Clinical Forensic Nursing in Trauma Care |

879
(4)
879
(1)
880
(1)
881
(2)
883
(1)

| | |
| --- | --- |
| | Application of the Nursing Process in Forensic Psychiatric Nursing in Correctional Facilities |

883
(5)
883
(2)
885
(1)
885
(3)
888
(1)
888
(2)
890
(1)
891
(1)
892
(1)
893
(18)

| | |
| --- | --- |
| | Theoretical Perspectives on Loss and Bereavement |

894
(3)
894
(3)

| | |
| --- | --- |
| | Length of the Grief Process |

897
(1)
897
(1)

| | |
| --- | --- |
| | Maladaptive Responses to Loss |

898
(1)

| | |
| --- | --- |
| | Delayed or Inhibited Grief |

898
(1)

| | |
| --- | --- |
| | Distorted (Exaggerated) Grief Response |

898
(1)

| | |
| --- | --- |
| | Chronic or Prolonged Grieving |

898
(1)

| | |
| --- | --- |
| | Normal versus Maladaptive Grieving |

898
(1)

| | |
| --- | --- |
| | Application of the Nursing Process |

899
(5)

| | |
| --- | --- |
| | Background Assessment Data: Concepts of Death-Developmental Issues |

899
(1)

| | |
| --- | --- |
| | Background Assessment Data: Concepts of Death-Cultural Issues |

900
(2)

| | |
| --- | --- |
| | Nursing Diagnosis/Outcome Identification |

902
(1)
902
(2)
904
(1)
904
(3)
904
(2)
906
(1)
907
(1)
908
(2)
910
(1)
910
(1)
Appendix A Answers to Chapter Review Questions
911
(5)
Appendix B Mental Status Assessment
916
(2)
Appendix C DSM-IV-TR Classification: Axes I and II Categories and Codes
918
(8)
Appendix D Nanda Nursing Diagnosis: Taxonomy II
926
(4)
Appendix E Assigning Nursing Diagnoses to Client Behaviors
930
(2)
Appendix F Glossary
932
(15)
Index
947