Note: Supplemental materials are not guaranteed with Rental or Used book purchases.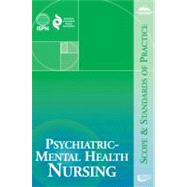 Summary
Psychiatric-mental health nursing promotes mental health through the assessment, diagnosis, and treatment of human responses to mental health problems and psychiatric disorders. A core mental health profession, it is a specialty that employs a purposeful use of self as its art along with a wide range of nursing, psychosocial, and neurobiological theories and research evidence as its science. Its areas of focus emerge based on current and anticipated societal needs, including disparities in mental health and its care and treatment among the diverse populations.
Table of Contents
Acknowledgments
p. iii
Preface
p. vii
Psychiatric-Mental Health Nursing: Scope of Practice
p. 1
Introduction
p. 1
History and Evolution of the Specialty
p. 2
Origins of the Advanced Practice Psychiatric-Mental Health Nursing Role
p. 3
Current Issues and Trends
p. 5
Prevalence of Mental Disorders Across the Lifespan
p. 6
Disparities among Diverse Populations
p. 7
Psychiatric-Mental Health Nursing Leadership in Transforming the Mental Health System
p. 8
Prevention
p. 11
The Evolving Role of National Data Systems to Improve Quality
p. 11
Evidence-Based Practice and Lifelong Learning
p. 12
Safety for Patients and for PMH Nurses
p. 13
Definition of Psychiatric-Mental Health Nursing
p. 13
Phenomena of Concern for Psychiatric-Mental Health Nurses
p. 15
Levels of Psychiatric-Mental Health Nursing Practice
p. 16
Psychiatric-Mental Health Registered Nurse (RN-PMH)
p. 16
Psychiatric-Mental Health Advanced Practice Registered Nurse (APRN-PMH)
p. 19
Psychotherapy
p. 20
Psychopharmacological Interventions
p. 21
Case Management
p. 21
Program Development and Management
p. 21
Consultation and Liaison
p. 22
Clinical Supervision
p. 22
Ethical Issues in Psychiatric-Mental Health Nursing
p. 23
Specialized Areas of Practice
p. 23
Psychiatric-Mental Health Nursing Clinical Practice Settings
p. 23
Crisis Intervention and Psychiatric Emergency Services
p. 24
Acute Inpatient Care
p. 24
Intermediate and Long-Term Care
p. 24
Partial Hospitalization and Intensive Outpatient Treatment
p. 24
Residential Services
p. 25
Community-Based Care
p. 25
Assertive Community Treatment (ACT)
p. 25
Primary Care
p. 25
Integrative Programs
p. 26
Telehealth
p. 26
Self-Employment
p. 27
Forensic Mental Health
p. 27
Disaster Mental Health
p. 28
Standards of Practice
p. 29
Assessment
p. 29
Diagnosis
p. 31
Outcomes Identification
p. 32
Planning
p. 33
Implementation
p. 35
Coordination of Care
p. 36
Health Teaching and Health Promotion
p. 37
Milieu Therapy
p. 39
Pharmacological, Biological, and Integrative Therapies
p. 40
Prescriptive Authority and Treatment
p. 41
Psychotherapy
p. 42
Consultation
p. 43
Evaluation
p. 44
Standards of Professional Performance
p. 45
Quality of Practice
p. 45
Education
p. 47
Professional Practice Evaluation
p. 48
Collegiality
p. 49
Collaboration
p. 50
Ethics
p. 51
Research
p. 52
Resource Utilization
p. 53
Leadership
p. 54
References
p. 57
Glossary
p. 65
Scope and Standards of Psychiatric-Mental Health Nursing Practice (2000)
p. 69
Index
p. 139
Table of Contents provided by Ingram. All Rights Reserved.