Note: Supplemental materials are not guaranteed with Rental or Used book purchases.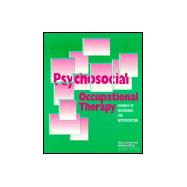 Table of Contents
Dedication
p. v
Acknowledgments
p. ix
About the Authors
p. xi
Introduction
p. xiii
Evolution of Psychosocial Practice--Specialty and Core Occupational Therapy Contexts
p. 1
Person-Activity/Occupation-Environment/Context--Occupational Therapy Practice Variables
p. 23
Bases for Best Occupational Therapy Practice
p. 53
Psychodynamic Frame of Reference--Person Perspective and Meaning
p. 69
Behavioral Frame of Reference--Objective Perspective
p. 121
Cognitive-Behavioral Frame of Reference--Thought and Knowledge Influence Performance
p. 161
Model of Human Occupation--Systems Perspective of Occupational Performance
p. 209
Cognitive Disability Frame of Reference--Acknowledging Limitations
p. 243
Dynamic Interactional Model to Cognitive Rehabilitation--Developing Strategies for Multiple Contexts
p. 267
Sensory Motor Model--Physiological Basis for Improved Function
p. 301
Suicidal Behavior--Critical Information for Clinical Reasoning
p. 323
American Occupational Therapy Association Psychosocial Core of Occupational Therapy
p. 345
Uniform Terminology for Occupational Therapy--Third Edition
p. 348
Life Developmental Tasks
p. 356
Key Elements of Person-Environment Models
p. 358
Occupational Therapy Code of Ethics
p. 361
Occupational Therapy Process--The Guide to Occupational Therapy Practice: Quick Reference
p. 364
Mood Disorders--Occupational Therapy Practice Guidelines: Quick Reference
p. 366
Styles of Defense
p. 372
Person Drawings
p. 374
Intensive Outpatient Program Example--Application of Cognitive-Behavior Frame of Reference
p. 383
Task Check List
p. 384
Sample Cognitive-Behavior Group Descriptions
p. 385
Processing Strategies and Behaviors--Dynamic Interactional Model
p. 390
Developmental Groups
p. 393
Group Assessment Examples--Dynamic Interactional Model
p. 395
Index
p. 401
Table of Contents provided by Syndetics. All Rights Reserved.