Note: Supplemental materials are not guaranteed with Rental or Used book purchases.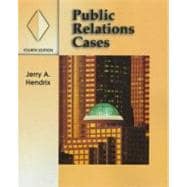 Questions About This Book?
What version or edition is this?
This is the edition with a publication date of 8/7/1997.
What is included with this book?
The New copy of this book will include any supplemental materials advertised. Please check the title of the book to determine if it should include any CDs, lab manuals, study guides, etc.
Summary
The Sixth Edition of PUBLIC RELATIONS CASES continues to study examples of public relations by following the author's philosophy that great PR comes from interactive participation among sources and receivers of information. The text walks students through the evaluation of excellent case studies and helps students to why select public relations cases had the effect they did. This text's excellent organization, practical and theoretical coverage of topics, and variety of cases have been its consistent strengths.
Author Biography
Jerry A. Hendrix (Ph.D., Loursiana State University) teaches at the School of Communication, American University in Washington, D.C. He is an accredited member of the Public Relations Society of America.
Table of Contents
Preface
ix
Part I Solving Public Relations Problems
1
(48)

| | |
| --- | --- |
| | Chapter 1 Public Relations in Action |

3
(8)
5
(1)
6
(1)
6
(2)

| | |
| --- | --- |
| | The Overall Plan of This Book |

8
(1)

| | |
| --- | --- |
| | General Public Relations Readings |

9
(2)

| | |
| --- | --- |
| | Chapter 2 A Public Relations Process |

11
(38)
12
(11)
23
(6)
29
(12)
41
(2)
43
(1)
44
(1)

| | |
| --- | --- |
| | Readings on the Public Relations Process |

45
(4)
Part II Reaching Major Audiences
49
(362)

| | |
| --- | --- |
| | Chapter 3 Media Relations |

51
(62)
52
(3)
55
(1)
56
(5)
61
(1)
62
(1)

| | |
| --- | --- |
| | Readings on Media Relations |

63
(2)
65
(48)

| | |
| --- | --- |
| | CASE 3-1 THE CLINTON HEALTH CARE PLAN: WHAT WENT WRONG? |

66
(10)

| | |
| --- | --- |
| | CASE 3-2 MASTERCARD'S SPONSORSHIP OF WORLD CUP USA '94 |

76
(14)

| | |
| --- | --- |
| | CASE 3-3 RURAL FLOOD RELIEF FUND |

90
(7)

| | |
| --- | --- |
| | CASE 3-4 THE COMMEMORATION OF THE FIFTIETH ANNIVERSARY OF D-DAY |

97
(16)

| | |
| --- | --- |
| | Chapter 4 Internal Communications |

113
(57)
114
(1)
114
(1)
115
(1)
116
(2)
118
(1)
118
(2)
120
(21)
121
(9)

| | |
| --- | --- |
| | CASE 4-2 RESHAPING BENEFITS AND THE CORPORATE CULTURE |

130
(11)
141
(1)
141
(1)
142
(1)
143
(1)
143
(1)
144
(1)

| | |
| --- | --- |
| | Readings on Internal Communications |

144
(3)
147
(23)

| | |
| --- | --- |
| | CASE 4-3 THE MEMBER RELATIONS PROGRAM OF THE U.S. CHAMBER OF COMMERCE |

148
(12)

| | |
| --- | --- |
| | CASE 4-4 CREDIBILITY AT STAKE: SAVING A COMMUNICATIONS PROGRAM |

160
(10)

| | |
| --- | --- |
| | Chapter 5 Community Relations |

170
(45)
171
(1)
172
(1)
173
(2)
175
(1)
175
(1)

| | |
| --- | --- |
| | Readings on Community Relations |

176
(1)

| | |
| --- | --- |
| | COMMUNITY RELATIONS CASES |

177
(38)

| | |
| --- | --- |
| | CASE 5-1 DISNEY, TAKE A SECOND LOOK |

178
(13)

| | |
| --- | --- |
| | CASE 5-2 COLORADO SPRINGS AIRPORT OPENING |

191
(9)

| | |
| --- | --- |
| | CASE 5-3 "LIFTING THE VEIL" |

200
(15)

| | |
| --- | --- |
| | Chapter 6 Public Affairs and Government Relations |

215
(44)
216
(2)
218
(1)
219
(7)
226
(1)
227
(1)

| | |
| --- | --- |
| | Readings on Public Affairs |

228
(2)
230
(29)

| | |
| --- | --- |
| | CASE 6-1 NEVER TAKE YOUR EYE OFF THE GOAL: HOW GRASSROOTS ACTIVISM PRESERVED THE FUNDING OF OHIO'S 250 PUBLIC LIBRARY SYSTEMS |

231
(10)

| | |
| --- | --- |
| | CASE 6-2 SPACE STATION: IT'S ABOUT LIFE ON EARTH, 1994 NATIONAL CAMPAIGN |

241
(8)

| | |
| --- | --- |
| | CASE 6-3 BALANCING SCHOOL MEALS WITH GRAINS |

249
(10)

| | |
| --- | --- |
| | Chapter 7 Investor and Financial Relations |

259
(30)
260
(1)
261
(1)
261
(2)
263
(1)
263
(1)

| | |
| --- | --- |
| | Readings on Investor and Financial Relations |

264
(3)
267
(22)

| | |
| --- | --- |
| | CASE 7-1 PROJECT WINGS--IMAGING BACK IN FOCUS |

268
(12)

| | |
| --- | --- |
| | CASE 7-2 ACX TECHNOLOGIES 1992 INVESTOR RELATIONS PROGRAM |

280
(9)

| | |
| --- | --- |
| | Chapter 8 Consumer Relations |

289
(36)
290
(1)
291
(1)
292
(1)
293
(1)
294
(1)

| | |
| --- | --- |
| | Readings on Consumer Relations |

294
(2)
296
(29)

| | |
| --- | --- |
| | CASE 8-1 "KNOW THE DIFFERENCE. HANG UP ON FRAUD" |

297
(10)
307
(9)

| | |
| --- | --- |
| | CASE 8-3 SKIN AWARENESS MONTH |

316
(9)

| | |
| --- | --- |
| | Chapter 9 International Public Relations |

325
(30)
326
(1)
327
(1)
328
(2)
330
(1)
331
(1)

| | |
| --- | --- |
| | Readings on International Public Relations |

331
(3)

| | |
| --- | --- |
| | INTERNATIONAL PUBLIC RELATIONS CASES |

334
(21)

| | |
| --- | --- |
| | CASE 9-1 EXPLORING PORTUGAL: OPPORTUNITIES FOR U.S. BUSINESS |

335
(9)

| | |
| --- | --- |
| | CASE 9-2 COUP OR NO COUP: STRATEGIC PR HELPS BAXTER OVERCOME OBSTACLES TO ESTABLISHING A VIABLE BUSINESS IN RUSSIA |

344
(11)

| | |
| --- | --- |
| | Chapter 10 Relations with Special Publics |

355
(56)
357
(1)
358
(1)
359
(1)
360
(1)
360
(1)

| | |
| --- | --- |
| | Readings on Special Publics |

361
(3)
364
(47)

| | |
| --- | --- |
| | CASE 10-1 THROWING THE "PHONELESS" A LIFELINE: SOUTHWESTERN BELL TELEPHONE PROMOTES DISCOUNT PHONE SERVICE |

365
(12)

| | |
| --- | --- |
| | CASE 10-2 GIVE YOUR KIDS A SHOT OF LOVE |

377
(12)

| | |
| --- | --- |
| | CASE 10-3 WHEN STROKE STRIKES: THE FIRST SIX HOURS |

389
(9)

| | |
| --- | --- |
| | CASE 10-4 CHEM TV: DOW'S ANSWER FOR SPARKING STUDENT INTEREST IN SCIENCE |

398
(13)
Part III Emergency Public Relations
411
(1)

| | |
| --- | --- |
| | Chapter 11 Emergency Public Relations |

413
414
(1)
414
(1)
415
(3)
418
(1)
419
(1)

| | |
| --- | --- |
| | Readings on Emergency Public Relations |

419
(3)

| | |
| --- | --- |
| | EMERGENCY PUBLIC RELATIONS CASES |

422

| | |
| --- | --- |
| | CASE 11-1 POWER OF THE MEDIA HELPS CARE SAVE LIVES |

423
(11)

| | |
| --- | --- |
| | CASE 11-2 PEPSI'S CRISIS RESPONSE: THE SYRINGE SCARE |

434
Appendixes
411
(64)
I Questions for Class Discussion and Case Analysis
447
(3)
II Case Problems and Exercises
450
(15)
III PRSA Code of Professional Standards for the Practice of Public Relations
465
(10)
Index
475