Note: Supplemental materials are not guaranteed with Rental or Used book purchases.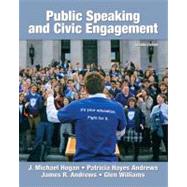 Questions About This Book?
What version or edition is this?
This is the 2nd edition with a publication date of 6/25/2010.
What is included with this book?
The Used copy of this book is not guaranteed to include any supplemental materials. Typically, only the book itself is included.
Related Products
Summary
Public Speaking and Civic Engagement, 2/e promotes public speaking as a vehicle for civic engagement by showing students how, in light of recent historic political and economic changes, to participate in the ongoing deliberations facing our society through critical thinking, productive dialogue, sound arguments, and an ethic of advocacy. This text envisions public speaking as a vehicle for participation in the current discussions that are working toward achieving common good. It advocates for being an engaged citizen of democracy by communicating ideas and information that could benefit and improve one's community. By using specific examples -- of current events such as the 2008 Presidential Election and the worst economic downturn to occur since the Great Depression, as well as examples of students, citizens engaged in community affairs, and historic and contemporary public figures -- the book instructs students on how to address substantive issues that impact their communities at local, state, national, and international levels. Public Speaking and Civic Engagement, 2/e teaches through a clear, engaging narrative and uses special features that demonstrate specific ways in which students and citizens can speak. It encourages students to embrace their right to free speech granted and protected by the First Amendment and illustrates the most effective means of utilizing it in today's society.
Table of Contents
Table of Contents:
PART ONE
Public Speaking in a Democratic Society
Chapter 1 Public Speaking and Democratic Citizenship
Public Speaking and Civic Engagement
The Rhetorical Tradition
Communication Challenges of the Twenty-first Century
The Responsible Citizen-Speaker
Chapter 2 The Ethical Public Speaker
The Engaged Citizen
Getting Involved in Politics
The Ethics of Public Speaking
Deliberation and Demagoguery in the Media Age
Chapter 3 Preparing to Speak with Commitment and Confidence
Public Speaking as Civic Engagement
Preparing Yourself to Speak
Speaking with Confidence
Chapter 4 The Listener as Engaged Citizen
The Importance of Effective Listening
Understanding Barriers to Good Listening
Guidelines for Improving Listening
Chapter 5 Diverse Audiences in a Democratic Society
Understanding Diverse Audiences
Identifying Individual Listener Needs and Values
Identifying Communal Needs and Values
Gathering Information for Audience Adaptation
Ongoing Strategies for Audience Adaptation
PART TWO
Developing Your Speech
Chapter 6 Developing Significant Topics
Finding a Suitable Topic
Narrowing the Topic
Ethical Obligations in Selecting a Topic
General Purposes
Crafting a Specific Purpose
Testing Specific Purposes
Constructing a Thesis Statement
Chapter 7 Responsible and Productive Research
A Productive Start
The Creative Enterprise of Building a Speech
Investigating Like a Professional: Utilizing Library Resources
Searching the World Wide Web
Gathering Information through Interviews
Gathering Information through E-mail
Citing Sources of Quoted and Paraphrased Material
Chapter 8 Supporting Your Ideas with Evidence
Supporting Ideas with Evidence
Testing Evidence
Chapter 9 Organizing Your Speech
The Importance of Good Organization
Determining When an Idea Is a Good One
How Patterns of Organization Connect Ideas
Guidelines for Organizing Your Speech
Using Transitions as Connectives
Introducing Your Speech
Concluding Your Speech
Chapter 10 Outlining Your Speech
Types of Outlines
Basic Principles of Outlining
PART THREE
Presenting Your Speech
Chapter 11 Using Language Effectively
Language and Meaning
Using Language That Is Clear and Accurate
Using Language That Is Interesting
Using Language that Is Appropriate to the Situation
Responding Critically to a Speaker's Style
Chapter 12 Delivering Your Speech Effectively
Sounding Good versus Being Sound
Principles of Good Delivery
Speaking Extemporaneously
Alternative Styles of Delivery
Responding to Audience Questions
Chapter 13 Supporting Your Ideas Visually
Functions of Presentational Aids
Encouraging Emotional Involvement
Options for Presentational Aids
Guidelines for Preparing Presentational Aids
Guidelines for Using Presentational Aids
PART FOUR
Types of Public Speaking
Chapter 14 Speaking to Inform
Functions of Informative Speeches
Types of Informative Speeches
Organizing the Informative Speech
How Audiences Learn from Informative Speeches
Chapter 15 Persuasive Speaking in a Democratic Society
The Anatomy of Public Controversy
Questions of Fact, Value, and Policy
Ethical Proof in Persuasive Speaking
Appealing to Audience Emotions
Chapter 16 Arguing Persuasively
Persuasion and Demagoguery in a Free Society
Constructing a Reasonable Argument
The Forms of Reasoning
Fallacies of Reasoning and Evidence
Chapter 17 Speaking on Special Occasions
Ceremonial Speaking in a Free Society
Social Values in Ceremonial Speaking
The Forms of Ceremonial Speech
Style and Delivery in Ceremonial Speaking
Chapter 18 Speaking and Deliberating in Groups
Understanding Public Deliberation
Group Structures That Encourage Dialogue and Deliberation
Factors That Influence Effective Group Deliberation
Group Presentations
Guidelines for Deliberating in Groups