Note: Supplemental materials are not guaranteed with Rental or Used book purchases.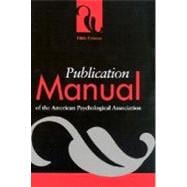 Publication Manual of the American Psychological Association
ISBN13:
9781557988102
by
Related Products
Summary
Style manual for writers, editors, students, educators, and professional across all fields. Provides clear guidance on grammar, the mechanics of writing, and APA style. Includes examples, new guidelines and advice, and more. Previous edition: c1994. Wire-spiral binding, softcover edition also available. Hardcover edition due later.
Table of Contents
| | |
| --- | --- |
| | List of Tables, Table Examples, Figures, and Figure Examples |

xv
Preface
xix
Introduction
xxiii
Organization of the Fifth Edition
xxiv
Specific Style Changes in the Fifth Edition
xxvi
How to Use the Publication Manual
xxvi

| | |
| --- | --- |
| | Content and Organization of a Manuscript |

3
(28)
4
(1)

| | |
| --- | --- |
| | Designing and Reporting Research |

5
(1)
5
(1)

| | |
| --- | --- |
| | Characteristics of Articles |

6
(1)
6
(1)
7
(2)

| | |
| --- | --- |
| | Length, Headings, and Tone |

9
(1)
10
(1)
10
(2)
12
(3)
15
(2)
17
(3)
20
(6)
26
(1)
27
(1)
28
(1)
28
(1)
29
(2)
29
(2)

| | |
| --- | --- |
| | Expressing Ideas and Reducing Bias in Language |

31
(46)
31
(1)

| | |
| --- | --- |
| | Orderly Presentation of Ideas |

32
(2)
34
(1)
34
(2)
36
(4)

| | |
| --- | --- |
| | Strategies to Improve Writing Style |

40
(1)
40
(1)
41
(3)

| | |
| --- | --- |
| | Agreement of Subject and Verb |

44
(3)
47
(3)

| | |
| --- | --- |
| | Misplaced and Dangling Modifiers and Use of Adverbs |

50
(4)

| | |
| --- | --- |
| | Relative Pronouns and Subordinate Conjunctions |

54
(3)
57
(4)
61
(5)

| | |
| --- | --- |
| | Guidelines to Reduce Bias in Language |

61
(1)

| | |
| --- | --- |
| | Guideline 1: Describe at the appropriate level of specificity |

62
(1)

| | |
| --- | --- |
| | Guideline 2: Be sensitive to labels |

63
(2)

| | |
| --- | --- |
| | Guideline 3: Acknowledge participation |

65
(1)
66
(1)
67
(1)

| | |
| --- | --- |
| | Racial and Ethnic Identity |

67
(2)
69
(1)
69
(8)
77
(138)
78
(1)
78
(1)
78
(2)
80
(1)
80
(1)
81
(1)
82
(2)
84
(2)
86
(1)
87
(2)
89
(1)
89
(1)
89
(5)
94
(1)

| | |
| --- | --- |
| | Words Beginning a Sentence |

94
(1)

| | |
| --- | --- |
| | Major Words in Titles and Headings |

95
(1)

| | |
| --- | --- |
| | Proper Nouns and Trade Names |

96
(1)

| | |
| --- | --- |
| | Nouns Followed by Numerals or Letters |

97
(1)
98
(1)

| | |
| --- | --- |
| | Names of Conditions or groups in an Experiment |

99
(1)

| | |
| --- | --- |
| | Names of Factors, Variables, and Effects |

99
(1)
100
(1)
100
(3)
103
(1)
103
(1)

| | |
| --- | --- |
| | Explanation of Abbreviations |

104
(1)

| | |
| --- | --- |
| | Abbreviations Accepted as Words |

105
(1)

| | |
| --- | --- |
| | Abbreviations Used Often in APA Journals |

105
(1)
106
(1)
106
(3)
109
(1)

| | |
| --- | --- |
| | Use of Periods With Abbreviations |

110
(1)
110
(1)

| | |
| --- | --- |
| | Abbreviations Beginning a Sentence |

111
(1)
111
(1)

| | |
| --- | --- |
| | Organizing a Manuscript With Headings |

111
(2)
113
(1)

| | |
| --- | --- |
| | Selecting the Levels of Heading |

114
(1)
115
(2)
117
(1)
117
(1)
118
(1)

| | |
| --- | --- |
| | Double or Single Quotation Marks |

119
(1)

| | |
| --- | --- |
| | Changes From the Source Requiring No Explanation |

119
(1)

| | |
| --- | --- |
| | Changes From the Source Requiring Explanation |

119
(1)
120
(1)

| | |
| --- | --- |
| | Citations Within Quotations |

121
(1)
121
(1)
122
(1)

| | |
| --- | --- |
| | Numbers Expressed in Figures |

122
(3)

| | |
| --- | --- |
| | Numbers Expressed in Words |

125
(2)

| | |
| --- | --- |
| | Combining figures and Words to Express Numbers |

127
(1)
128
(1)
128
(1)
129
(1)
129
(1)
130
(1)
130
(1)
130
(1)
131
(5)
136
(1)

| | |
| --- | --- |
| | Statistical and Mathematical Copy |

136
(1)

| | |
| --- | --- |
| | Selecting the Method of Analysis and Retaining Data |

137
(1)

| | |
| --- | --- |
| | Selecting Effective Presentation |

137
(1)

| | |
| --- | --- |
| | References for Statistics |

137
(1)
138
(1)
138
(1)
139
(6)

| | |
| --- | --- |
| | Spacing, Alignment, and Punctuation |

145
(1)
146
(1)
146
(1)
147
(1)

| | |
| --- | --- |
| | Tabular Versus Textual Presentation |

147
(7)

| | |
| --- | --- |
| | Relation of Tables and Text |

154
(1)
155
(1)
155
(1)
155
(1)
156
(3)
159
(1)

| | |
| --- | --- |
| | Presenting Data in Specific Types of Tables |

160
(10)
170
(3)
173
(1)
174
(1)

| | |
| --- | --- |
| | Tables From Another Source |

174
(1)
175
(1)
176
(1)
176
(1)
177
(1)
177
(10)
187
(1)

| | |
| --- | --- |
| | Overall Size and Proportion |

188
(1)
188
(7)
195
(2)
197
(1)

| | |
| --- | --- |
| | Identifying and Citing Figures |

198
(1)

| | |
| --- | --- |
| | Figure Legends and Captions |

199
(1)
200
(1)
201
(1)
202
(1)
202
(1)
203
(1)
203
(2)
205
(1)

| | |
| --- | --- |
| | Identifying and Citing Appendixes |

205
(1)
206
(1)
206
(1)
206
(1)

| | |
| --- | --- |
| | Reference Citations in Text |

207
(1)
207
(1)

| | |
| --- | --- |
| | One Work by Multiple Authors |

208
(1)
209
(1)

| | |
| --- | --- |
| | Works With No Author (Including Legal Materials) or With an Anonymous Author |

210
(1)

| | |
| --- | --- |
| | Authors With the Same Surname |

211
(1)

| | |
| --- | --- |
| | Two or More Works Within the Same Parentheses |

212
(1)
213
(1)

| | |
| --- | --- |
| | Specific Parts of a Source |

213
(1)
214
(1)

| | |
| --- | --- |
| | Citations in Parenthetical Material |

214
(1)
215
(68)

| | |
| --- | --- |
| | Agreement of Text and Reference List |

215
(1)

| | |
| --- | --- |
| | Construction of an Accurate and Complete Reference List |

216
(1)
216
(3)

| | |
| --- | --- |
| | Order of References in the Reference List |

219
(3)

| | |
| --- | --- |
| | References Included in a Meta-Analysis |

222
(1)

| | |
| --- | --- |
| | Introduction to APA Reference Style |

222
(1)
223
(1)
224
(1)
225
(1)

| | |
| --- | --- |
| | Title of Article or Chapter |

226
(1)

| | |
| --- | --- |
| | Title of Work and Publication Information: Periodicals |

227
(1)

| | |
| --- | --- |
| | Title of Work: Nonperiodicals |

228
(1)

| | |
| --- | --- |
| | Title of Work: Part of a Nonperiodical (Book Chapters) |

229
(1)

| | |
| --- | --- |
| | Publication Information: Nonperiodicals |

230
(1)

| | |
| --- | --- |
| | Retrieval Information: Electronic Sources |

231
(1)

| | |
| --- | --- |
| | Elements and Examples of References in APA Style |

231
(52)
239
(9)

| | |
| --- | --- |
| | Books, Brochures, and Book Chapters |

248
(7)

| | |
| --- | --- |
| | Technical and Research Reports |

255
(4)

| | |
| --- | --- |
| | Proceedings of Meetings and Symposia |

259
(1)

| | |
| --- | --- |
| | Doctoral Dissertations and Master's Theses |

260
(3)

| | |
| --- | --- |
| | Unpublished Work and Publications of Limited Circulation |

263
(1)
264
(2)
266
(2)
268
(15)

| | |
| --- | --- |
| | Manuscript Preparation and Sample Papers to be Submitted for Publication |

283
(38)

| | |
| --- | --- |
| | The Author's Responsibilities |

284
(1)

| | |
| --- | --- |
| | General Instructions for Preparing the Paper Manuscript |

284
(1)
284
(1)
285
(1)
286
(1)
286
(1)

| | |
| --- | --- |
| | Order of the Manuscript Pages |

287
(1)

| | |
| --- | --- |
| | Page Numbers and Manuscript Page Headers |

288
(1)
288
(1)

| | |
| --- | --- |
| | Paragraphs and Indentation |

289
(1)

| | |
| --- | --- |
| | Uppercase and Lowercase Letters |

289
(1)
289
(1)
290
(2)
292
(1)
292
(1)

| | |
| --- | --- |
| | Statistical and Mathematical Copy |

293
(3)

| | |
| --- | --- |
| | Instructions for Typing the Parts of a Manuscript |

296
(1)
296
(2)
298
(1)
298
(1)
299
(1)
299
(1)
300
(1)

| | |
| --- | --- |
| | Tables and Table Titles, Notes, and Rules |

301
(1)

| | |
| --- | --- |
| | Figures and Figure Captions |

302
(1)
302
(1)

| | |
| --- | --- |
| | Special Instructions for Typesetting |

303
(1)
303
(1)
303
(1)
304
(1)

| | |
| --- | --- |
| | Editor Acknowledgment of Manuscript Submission |

305
(1)
305
(16)

| | |
| --- | --- |
| | Sample Paper and Outlines |

305
(16)

| | |
| --- | --- |
| | Material Other Than Journal Articles |

321
(10)

| | |
| --- | --- |
| | These, Dissertations, and Student Papers |

321
(1)
321
(1)
322
(2)

| | |
| --- | --- |
| | Manuscript Preparation Requirements |

324
(3)

| | |
| --- | --- |
| | Converting the Dissertation Into a Journal Article |

326
(1)
327
(1)
328
(1)
328
(3)

| | |
| --- | --- |
| | Material for Oral Presentation |

329
(1)

| | |
| --- | --- |
| | Material Published in Abbreviated Form |

330
(1)

| | |
| --- | --- |
| | Manuscript Acceptance and Production |

331
(14)

| | |
| --- | --- |
| | Transmitting the Accepted Manuscript for Production |

332
(1)

| | |
| --- | --- |
| | Copyright Transfer, Certification of Authorship, Disclosure of Interests, and Permissions |

332
(1)

| | |
| --- | --- |
| | Preparing the Word-Processing File for Editing and Typesetting |

333
(1)
334
(1)

| | |
| --- | --- |
| | Reviewing the Copyedited Manuscript |

335
(1)
335
(1)
336
(1)
336
(1)
336
(3)
339
(2)

| | |
| --- | --- |
| | Returning Proofs and Manuscript |

341
(1)
341
(1)

| | |
| --- | --- |
| | After the Article is Published |

342
(1)
342
(1)
342
(3)

| | |
| --- | --- |
| | Journals Program of the American Psychological Association |

345
(18)

| | |
| --- | --- |
| | Policies Governing the Journals |

345
(1)
346
(1)
346
(1)
347
(1)
347
(1)

| | |
| --- | --- |
| | Ethics of Scientific Publication |

348
(7)

| | |
| --- | --- |
| | Author's Copyright on an Unpublished Manuscript |

355
(1)

| | |
| --- | --- |
| | Copyright and Permission to Reproduce APA Material |

356
(1)

| | |
| --- | --- |
| | Other Copyrighted Material |

356
(1)

| | |
| --- | --- |
| | Editorial Management of Manuscripts |

357
(1)

| | |
| --- | --- |
| | Editorial Responsibilities |

357
(1)

| | |
| --- | --- |
| | Date of Receipt of Manuscripts |

357
(1)

| | |
| --- | --- |
| | Order of Publication of Articles |

358
(1)

| | |
| --- | --- |
| | Procedures in Editorial Review |

358
(3)
361
(1)

| | |
| --- | --- |
| | Evaluation of Manuscripts |

361
(2)
363
(16)

| | |
| --- | --- |
| | History of the Publication Manual |

363
(1)

| | |
| --- | --- |
| | References Cited in This Edition |

364
(4)
368
(11)
Appendix A: Checklist for Manuscript Submission
379
(6)
379
(1)
380
(1)
380
(1)
380
(1)

| | |
| --- | --- |
| | Mathematics and Statistics |

380
(1)
380
(1)
381
(1)
381
(1)
381
(1)
382
(1)

| | |
| --- | --- |
| | Submitting the Manuscript |

382
(1)
382
(3)
Appendix B: Checklist for Transmitting Accepted Manuscripts for Electronic Production
385
(2)

| | |
| --- | --- |
| | Preparing the Electronic File |

385
(2)
Appendix C: Ethical Standards for the Reporting and Publishing of Scientific Information
387
(10)
Appendix D: References to Legal Materials
397
(14)
397
(2)

| | |
| --- | --- |
| | D.02 Text Citations of Legal Materials |

399
(1)

| | |
| --- | --- |
| | D.03 Court Decisions (Bluebook Rule 10) |

399
(4)

| | |
| --- | --- |
| | D.04 Statutes (Bluebook Rule 12) |

403
(2)

| | |
| --- | --- |
| | D.05 Legislative Materials (Bluebook Rule 13) |

405
(3)

| | |
| --- | --- |
| | D.06 Administrative and Executive Materials (Bluebook Rule 14) |

408
(2)
410
(1)
Appendix E: Sample Cover Letter
411
(2)
Index
413