Note: Supplemental materials are not guaranteed with Rental or Used book purchases.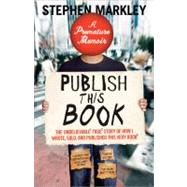 Publish This Book: The Unbelievable True Story of How I Wrote, Sold, and Published This Very Book
ISBN13:
9781402229350
by
Markley, Stephen
Summary
This is called the back cover copy, and you are no doubt familiar with its purpose. It describes what the book is about, so you can decide if you want to read it.1
Table of Contents
The Gist
p. 1
Where to Begin
p. 11
Chicago-Based Freelance Writer
p. 29
The Parts of This Book that Belong in the Toilet
p. 51
Nick Hornby Must Be in This Book
p. 69
Forget This Book
p. 83
Autobiographical Digression #1: Leaving Behind the Skin from Your Knees
p. 99
How to Get Rejected
p. 119
And in the Meantime Life Goes On
p. 135
Chicago Cold
p. 155
And the Good News?
p. 173
The Call
p. 193
Autobiographical Digression #2: Confessions of a Campus Firebrand
p. 219
Whose Opinion Counts
p. 247
Please Don't Fact-Check This Chapter
p. 269
Expansive, Self-Critical, Honest, Jumpy, Surprising, Self-Confident, Cynical, Smart, and Very, Very Funny
p. 299
Wrong-Headed, Condescending Toward the Reader, Self-Involved, and Unintentionally Revealing
p. 311
Never Start a Story with Dialogue
p. 327
The Chapter I Called "Wildheart,"
p. 347
The Footnotes
p. 373
So You Know What Happens with This Book
p. 381
Autobiographical Digression #3: Why We Write
p. 403
This Book, Published
p. 435
Epilogue: The Wrap-Up
p. 451
Acknowledgments
p. 463
About the Author
p. 471
Table of Contents provided by Ingram. All Rights Reserved.
Excerpts
<p><i>Excerpt from Chapter One: The Gist</i></p><p>I had two ways to start this book. In the first, I would tell a completely irrelevant and unnecessary anecdote that would nevertheless say something about what kind of book this would be.<br>Something like:<br><em>One day in college I was sitting in my room, when my roommate Scott burst out of the bathroom, half of his face still covered in shaving cream, and declared, as if he had just figured out time travel, "You know what they need to invent? A machine that lets you shave and take a shit at the same time." I stared at him for a moment, my mind racing as I envisioned all kinds of complicated gizmos (my composite notion included some type of suctioning tubing and a robotic razor arm), before</em><br><em>I realized that what he was describing could be "invented" quite easily by building a sink and mirror facing a toilet. Despite being two members of Miami University's elite honors department, this was the typical level of intellectual discourse in our apartment. Whenever I hear politicians say something trite about how our young people are the future, I think of Scott.</em><br>So that was one option. My second choice would be something stark, bold, and declarative like:<br>"My name is Stephen Markley, and I'm a writer."<br>Obviously, I had trouble deciding which way to go, so here we are nearly half a page later already feeling like this is the beginning of some epic disaster-the Iraq war of book openings.[1] Let me try one last time:<br>My name is Stephen Markley, and I call myself many things-son, brother, friend, Cavs fan, erudite,[2] liberal, incompetent,<br>Buckeye, OSU fan, emotionally distant, Blazers fan, sexually adequate well over 40 percent of the time-but first and foremost, I call myself a writer.<br>I guess that designation depends on how you define a "writer."<br>Hell, plenty of people write-maybe in a daily journal or a blog or perhaps they fiddle with poetry or simply jot down notes and amusing anecdotes. Basically everyone occasionally records something for posterity.[3]<br>Most people, however, do not consider a person who simply writes to be a "writer." No, I am a writer in the sense that I want someone to pay me for my unrelenting genius. I want some poor bastard to plop down between seven and fifteen dollars for my sentences because I've demonstrated the mesmerizing ability to match nouns with verbs and, occasionally, adjectives. If you're reading this, then that poor bastard is likely you, so I thank you for spending money on my humble insights, my analysis of the human condition.[4]</p><p>[1] Too soon? That was probably too soon.<br>[2] I didn't actually know what that word meant when I wrote it. Thank you,<br>Microsoft Word thesaurus tool...<br>[3] I don't want to get too philosophical here, but once you commit a thought to paper it takes on a separate life from the organism it was while living inside your head. While in your head, this thought is like a high school dropout taking bong rips in his parents' basement. Once committed to paper, however, this thought becomes a college graduate with a degree in marketing, a thought who has even begun to date a respectable girl. In other words, this thought now has a future.<br>[4] I apologize in advance for the profanity, violence, pornographic digressions, and for calling you a poor bastard just then. That was definitely out of line.</p>