Note: Supplemental materials are not guaranteed with Rental or Used book purchases.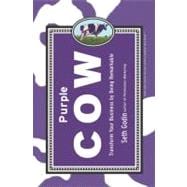 Summary
Godin uses the principle of the Purple Cow to show businesses how to leave behind their boring marketing strategies and stand out from the herd. Risky, edgy, and enlightening, Purple Cow will stand with Malcolm Gladwell's The Tipping Point and Godin's other books as classics of business innovation.
Author Biography
Seth Godin is the worldwide bestselling author of Permission Marketing, Unleashing the Ideavirus, and Survival Is Not Enough. He is a renowned public speaker, has started several successful companies, and is a contributing editor at Fast Company magazine. You can find him at www.sethgodin.com.
Table of Contents
1
(1)
2
(1)

| | |
| --- | --- |
| | Boldfaced Words and Gutsy Assertions |

3
(1)

| | |
| --- | --- |
| | Before, During, and After |

4
(1)

| | |
| --- | --- |
| | The Greatest Thing Since Sliced Bread |

5
(1)

| | |
| --- | --- |
| | Did You Notice the Revolution? |

5
(3)

| | |
| --- | --- |
| | Why You Need the Purple Cow |

8
(5)

| | |
| --- | --- |
| | The Death of the TV-Industrial Complex |

13
(4)
17
(1)
18
(2)
20
(1)

| | |
| --- | --- |
| | Why the Wall Street Journal Annoys Me So Much |

21
(2)

| | |
| --- | --- |
| | Awareness is Not the Point |

23
(1)
24
(1)
25
(2)

| | |
| --- | --- |
| | Case Study: What Should Tide Do? |

27
(1)
28
(3)
31
(2)
33
(2)
35
(3)
38
(1)
39
(2)

| | |
| --- | --- |
| | Not All Customers Are the Same |

41
(1)
42
(2)
44
(1)
45
(6)
51
(2)

| | |
| --- | --- |
| | Case Study: The Aeron Chair |

53
(2)

| | |
| --- | --- |
| | Projections, Profits, and the Purple Cow |

55
(3)

| | |
| --- | --- |
| | Case Study: The Best Baker in the World |

58
(1)

| | |
| --- | --- |
| | Mass Marketers Hate to Measure |

59
(1)
60
(1)

| | |
| --- | --- |
| | Who Wins in the World of the Cow |

61
(1)

| | |
| --- | --- |
| | Case Study: A New Kind of Kiwi |

62
(1)

| | |
| --- | --- |
| | The Benefits of Being the Cow |

63
(2)

| | |
| --- | --- |
| | Case Study: The Italian Butcher |

65
(1)
66
(1)

| | |
| --- | --- |
| | The Opposite of ``Remarkable'' |

67
(1)
68
(2)
70
(2)

| | |
| --- | --- |
| | Seventy-Two Pearl Jam Albums |

72
(2)
74
(1)

| | |
| --- | --- |
| | Sit There, Don't Just Do Something |

75
(2)

| | |
| --- | --- |
| | Case Study: United States Postal Service |

77
(2)
79
(2)

| | |
| --- | --- |
| | Case Study: How Dutch Boy Stirred Up the Paint Business |

81
(2)
83
(2)
85
(2)
87
(2)

| | |
| --- | --- |
| | Case Study: The Haagen-Dazs in Bronxville |

89
(1)

| | |
| --- | --- |
| | Sell What People Are Buying (And Talking About!) |

90
(2)

| | |
| --- | --- |
| | The Problem with Compromise |

92
(1)

| | |
| --- | --- |
| | Case Study: Motorola and Nokia |

93
(1)

| | |
| --- | --- |
| | The Magic Cycle of the Cow |

94
(2)

| | |
| --- | --- |
| | What it Means to Be a Marketer Today |

96
(2)

| | |
| --- | --- |
| | Marketers No Longer: Now We're Designers |

98
(1)
99
(3)

| | |
| --- | --- |
| | Do You Have to Be Outrageous to Be Remarkable? |

102
(1)

| | |
| --- | --- |
| | Case Study: McDonald's France |

103
(1)

| | |
| --- | --- |
| | But What About the Factory? |

104
(2)
106
(2)

| | |
| --- | --- |
| | Case Study: What Should Hallmark.Com Do? |

108
(2)

| | |
| --- | --- |
| | When the Cow Looks for a Job |

110
(2)

| | |
| --- | --- |
| | Case Study: Tracey the Publicist |

112
(1)

| | |
| --- | --- |
| | Case Study: Robyn Waters Gets It |

113
(1)

| | |
| --- | --- |
| | Case Study: So Popular, No One Goes There Anymore |

114
(3)
117
(2)
119
(3)
122
(14)

| | |
| --- | --- |
| | Salt is Not Boring--Eight More Ways to Bring the Cow to Work |

136
(2)
138
(4)
142
(1)
About the Author
143
(1)
More Information
144
(1)
Drink a Purple Cow--For Free!
145