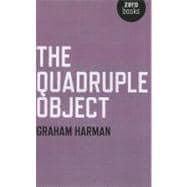 Summary
In this book the metaphysical system of Graham Harman is presented in lucid form, aided by helpful diagrams. In Chapter 1, Harman gives his most forceful critique to date of philosophies that reject objects as a primary reality.
Author Biography
Graham Harman is Associate Provost for Research Administration and a member of the DePartment of Philosophy at the American University in Cairo, Egypt.
Table of Contents
Author's Preface to the English Edition
p. 1
Introduction
p. 5
Undermining and Overmining
p. 7
Sensual Objects
p. 20
Real Objects
p. 35
More on Heidegger
p. 51
Indirect Causation
p. 69
Heidegger's Fourfold
p. 82
The New Fourfold
p. 95
Levels and Psyche
p. 110
Ontography
p. 124
Speculative Realism
p. 136
Table of Contents provided by Ingram. All Rights Reserved.