Note: Supplemental materials are not guaranteed with Rental or Used book purchases.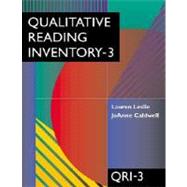 Summary
The vision ofQualitative Reading Inventory, 3e is to provide an effective and valid assessment instrument. It offers enough options that assessment specialists can tailor its use to their needs. A unique feature of the book includes text link to the Internet. This feature enables readers to assign projects on-line, readers in one place can work with others at other places. Look-Backs raises reading level by allowing learners to look back on the questions they missed. The inventory is based on current research in reading and focuses assessment on specific questions regarding word identification, fluency, and comprehension. The book features passages with pictures for early reading levels, simplified directions for usage, and a description of the assessment process with questions to be answered by the examiner, as well as reconstructed methods for assessing prior knowledge.
Author Biography
JoAnne Caldwell is the Director of Teacher Education and Professor of Reading Language Arts at Cardinal Stritch University.
Table of Contents
Preface
vii

| | |
| --- | --- |
| | Introduction to the Qualitative Reading Inventory-3 |

1
(2)

| | |
| --- | --- |
| | Why Another Informal Reading Inventory? A Research Perspective |

3
(11)

| | |
| --- | --- |
| | Early Reading Assessment: A Developmental Perspective |

3
(2)

| | |
| --- | --- |
| | Factors Related to Comprehension |

5
(6)

| | |
| --- | --- |
| | Factors Related to Word Identification |

11
(3)

| | |
| --- | --- |
| | A General Description of the Qualitative Reading Inventory-3 |

14
(6)
14
(1)
14
(6)

| | |
| --- | --- |
| | Information Provided by the Qualitative Reading Inventory-3 |

20
(4)
20
(2)

| | |
| --- | --- |
| | Determining Reader Strengths and Needs |

22
(2)

| | |
| --- | --- |
| | Uses of the Qualitative Reading Inventory-3 The Examiner as a Reflective Decision Maker |

24
(10)
25
(3)

| | |
| --- | --- |
| | The Reading-Assessment Specialist |

28
(6)

| | |
| --- | --- |
| | Administration and Scoring of the Qualitative Reading Inventory-3 Preparation for Testing |

34
(2)

| | |
| --- | --- |
| | Administration and Scoring of the Qualitative Reading Inventory-3 The World Lists |

36
(8)

| | |
| --- | --- |
| | Purposes for Administering the Word Lists |

36
(1)

| | |
| --- | --- |
| | Procedures for Administering the Word Lists |

37
(4)

| | |
| --- | --- |
| | Procedures for Scoring the Word Lists |

41
(3)

| | |
| --- | --- |
| | Administration and Scoring of the Qualitative Reading Inventory-3 Assessment of Prior Knowledge |

44
(7)

| | |
| --- | --- |
| | Assessing Prior Knowledge |

44
(7)

| | |
| --- | --- |
| | Administration and Scoring of the Qualitative Reading Inventory-3 The Passages |

51
(8)

| | |
| --- | --- |
| | Purposes for Administering the Passages |

51
(1)
52
(1)

| | |
| --- | --- |
| | General Procedures for Administering the Passages |

53
(1)
54
(1)

| | |
| --- | --- |
| | How to Find an Instructional Level |

55
(4)

| | |
| --- | --- |
| | Administration and Scoring of the Qualitative Reading Inventory-3 Word Identification in Context: Oral Reading |

59
(10)

| | |
| --- | --- |
| | Recording Oral Reading Miscues |

59
(1)

| | |
| --- | --- |
| | Counting Oral Reading Miscues |

60
(4)

| | |
| --- | --- |
| | Analyzing Oral Reading Miscues: Miscue Analysis |

64
(3)
67
(2)

| | |
| --- | --- |
| | Administration and Scoring of the Qualitative Reading Inventory-3 Comprehension |

69
(7)
70
(3)
73
(1)

| | |
| --- | --- |
| | Criteria for Determining Reading Levels |

74
(2)

| | |
| --- | --- |
| | Administration and Scoring of the Qualitative Reading Inventory-3 Assessing Strategic Reading |

76
(9)
76
(2)
78
(6)

| | |
| --- | --- |
| | Assessing Note-Taking Ability |

84
(1)

| | |
| --- | --- |
| | Assessing Listening Comprehension |

84
(1)

| | |
| --- | --- |
| | Summarizing the Results of the Qualitative Reading Inventory-3 |

85
(7)
85
(7)

| | |
| --- | --- |
| | Examples of Using the Qualitative Reading Inventory-3 |

92
(19)

| | |
| --- | --- |
| | Using the QRI-3 in the Classroom to Estimate Reading Level |

92
(2)

| | |
| --- | --- |
| | Using the QRI-3 for Reading Portfolios |

94
(1)

| | |
| --- | --- |
| | Using the QRI-3 to Design Intervention Instruction |

95
(13)

| | |
| --- | --- |
| | Using the QRI-3 for Indicating Growth |

108
(3)
111
(17)
112
(4)
116
(5)
Pre-primer Level Passages
121
(1)
122
(1)
123
(5)
128