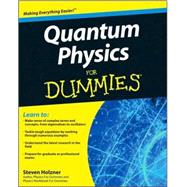 Summary
Quantum Physics For Dummies helps make quantum physics understandable and accessible. From what quantum physics can do for the world to understanding hydrogen atoms, readers will get complete coverage of the subject, along with numerous examples to help them tackle the tough equations. Compatible with classroom text books and courses, Quantum Physics For Dummies lets students study at their own paces and helps them prepare for graduate or professional exams. Coverage includes: The Schrodinger Equation and its Applications The Foundations of Quantum Physics Vector Notation Spin Scattering Theory, Angular Momentum, and more
Author Biography
Steven Holzner taught physics at Cornell University for more than ten years. He also taught at Massachusetts Institute of Technology and has written more than 95 books about programming. Holzner is the author of Differential Equations For Dummies.
Table of Contents
Introduction
Small World, Huh? Essential Quantum Physics
Discoveries and Essential Quantum Physics
Entering the Matrix: Welcome to State Vectors
Bound and Undetermined: Handling Particles in Bound States
Getting Stuck in Energy Wells
Back and Forth with Harmonic Oscillators
Turning to Angular Momentum and Spin
Working with Angular Momentum on the Quantum Level
Getting Dizzy with Spin
Multiple Dimensions: Going 3D with Quantum Physics167
Rectangular Coordinates: Solving Problems in Three Dimensions
Solving Problems in Three Dimensions: Spherical Coordinates
Understanding Hydrogen Atoms
Handling Many Identical Particles
Group Dynamics: Introducing Multiple Particles
Giving Systems a Push: Perturbation Theory
Wham-Blam! Scattering Theory
The Part of Tens
Ten Quantum Physics Tutorials
Ten Quantum Physics Triumphs
Glossary
Index
Table of Contents provided by Publisher. All Rights Reserved.