Note: Supplemental materials are not guaranteed with Rental or Used book purchases.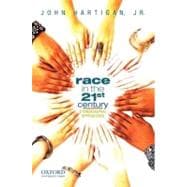 Summary
What is the state of race relations in the U.S.? Are we making progress toward ending racial discrimination and prejudice? What, exactly, does "race" mean? In Race in the 21st Century: Ethnographic Approaches, John Hartigan takes an anthropological look at questions such as these by introducing students to the study of race through qualitative approaches. In the first text to take an explicitly ethnographic approach, Hartigan summarizes and explains the current state of social science knowledge on race in the United States. In the process of surveying this research, Hartigan guides readers to think through basic important questions about race in relation to their own circumstances. Unlike many texts, however, this one focuses not on essential differences between racial or ethnic groups, but rather on the commonalities. The author concentrates on the particular contexts where people actively engage and respond to racial meanings and identities. In this way, he encourages readers to think critically about the meaning of race. Ideal for undergraduate courses in race and ethnicity, the anthropology of race, and cultural/human diversity, Race in the 21st Century seamlessly brings together classic and contemporary studies in one accessible volume. The author is also hosting a companion website (www.raceinthe21stcentury.com) that features useful web links, sample assignments, and reviews of ethnographies not covered in the text.
Author Biography

John Hartigan is Associate Professor of Anthropology at University of Texas at Austin and the Director of the Americo Paredes Center for Cultural Studies. He is the author of Odd Tribes: Towards a Cultural Analysis of White People (Duke University Press, 2005) and Racial Situations: Class Predicaments of Whiteness in Detroit (Prince University Press, 1999).

Table of Contents
Preface
Recognizing Race
Recognizing Racial Identity
The Facts of Racial Inequality
The Changing Role of Racism
The Cultural Domain
Race in Relation to Culture
Cultural Analysis
Ethnographic Examples
Culture, Race, and Ethnography
Fundamental Features of Racial Analysis
Ethnographic perspectives on race
Cultural Dynamics of Race
American Culture and Race
Antiracism and Ethnography
Ethnography of Antiracist Workshops
Another View from Detroit
How to Listen to White Talk
Combining an Attention to Race and Culture
Race and Nature
What is nature?
Totemic Identities
Racial Classification
(Mis)uses of Biology
Race and Disease
Racial Health Disparities
Understanding Genetics: Groups & Populations
Understanding Genetics and Culture: The Controversy
Genes and Culture: A Resolution
Conclusion
Understanding whiteness
Objectifying White People
What is Whiteness
Whiteness and Discourse
Whiteness as a Subject of Study
Studying White People in Everyday Life
Locating Whites in the Social Landscape
Class and Race: Bringing Greater Specificity to Whiteness
Understanding Blackness
Objectifying Black People
What is Blackness
Blackness and Discourse
Blackness as a Subject of Study
Studying Black People in Everyday Life
Locating Blacks in the Social Landscape
Class and Race: Brining Greater Specificity to Blackness
Beyond black and white
Racial Groups?
Ethnicity and Race
Racialization of Latinos and Asian Americans
Ethnographic Perspectives on Latinos
Ethnographic Perspectives on Asian Americans
Ethnography of Race
What do we know about race based on ethnographic research?
Cultural Analysis of Race
Taking it to the field: Analyzing Race in a Cultural Framework
Prompts for Ethnographic Research
Glossary
Bibliography
Index
Table of Contents provided by Publisher. All Rights Reserved.