Note: Supplemental materials are not guaranteed with Rental or Used book purchases.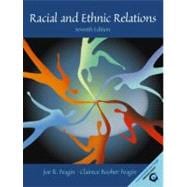 Questions About This Book?
What version or edition is this?
This is the 7th edition with a publication date of 1/1/2008.
What is included with this book?
The Used copy of this book is not guaranteed to include any supplemental materials. Typically, only the book itself is included.
Summary
This book is based on theory-and the most recent 2000 Census data available-to present an informed exploration of the diversity, depth, and significance of racial and ethnic relations in the United States. It is organized by racial-ethnic groups-rather than by issues, and draws heavily on a broad range of research sources that dig deep into the ";what,"; ";why,"; and ";how"; of racial and ethnic oppression and conflict. Fifteen major racial and ethnic groups are examined with regard to their incorporation, economic circumstances, political development, and experience with exploitation. For the numerous scholars, journalists, politicians-and people- concerned with the racial and ethnic issues of discrimination, oppression, and conflict that exist in the U.S.
Table of Contents
Preface
xvii
Part I The Racial and Ethnic Mosaic
1
(48)

| | |
| --- | --- |
| | Basic Concepts in the Study of Racial and Ethnic Relations |

3
(19)

| | |
| --- | --- |
| | Issues of Race and Racism |

4
(4)

| | |
| --- | --- |
| | Racial Groups and Hierarchies |

4
(1)
5
(1)
6
(1)

| | |
| --- | --- |
| | Ancestry and Multiracial Realities |

7
(1)
8
(3)
8
(3)
11
(1)

| | |
| --- | --- |
| | Prejudice and Stereotypes |

11
(3)
14
(7)

| | |
| --- | --- |
| | Distinguishing Dimensions |

14
(1)

| | |
| --- | --- |
| | Research on Prejudice and Discrimination |

15
(1)

| | |
| --- | --- |
| | Defining Institutional and Individual Discrimination |

15
(2)

| | |
| --- | --- |
| | The Sites and Range of Discrimination |

17
(1)

| | |
| --- | --- |
| | Cumulative and Systemic Discrimination |

18
(1)

| | |
| --- | --- |
| | Responding to Discrimination |

18
(1)

| | |
| --- | --- |
| | Does ``Reverse Discrimination'' Exist? |

19
(2)
21
(1)

| | |
| --- | --- |
| | Adaptation and Conflict: Racial and Ethnic Relations in Theoretical Perspective |

22
(27)

| | |
| --- | --- |
| | Racial and Ethnic Hierarchies |

22
(2)
23
(1)

| | |
| --- | --- |
| | Migration and Group Contact |

24
(1)
24
(1)

| | |
| --- | --- |
| | Patterns of Racial and Ethnic Adaptation |

25
(1)
25
(1)

| | |
| --- | --- |
| | Later Adaptation Patterns |

25
(1)
26
(1)

| | |
| --- | --- |
| | Assimilation and Other Order Perspectives |

26
(8)
26
(1)

| | |
| --- | --- |
| | Stages of Assimilation: Milton Gordon |

26
(3)

| | |
| --- | --- |
| | Ethnogenesis and Ethnic Pluralism |

29
(2)

| | |
| --- | --- |
| | Some Problems with Assimilation Theories |

31
(1)
32
(1)

| | |
| --- | --- |
| | Emphasizing Migration: Competition Theory |

32
(2)
34
(13)
34
(1)

| | |
| --- | --- |
| | Early Class Theories of Racial Relations |

34
(1)

| | |
| --- | --- |
| | Internal Colonialism and ``Coloniality'' |

34
(1)

| | |
| --- | --- |
| | A Neo-Marxist Emphasis on Class |

35
(1)

| | |
| --- | --- |
| | Cultural Resistance and Oppositional Culture |

36
(1)

| | |
| --- | --- |
| | Anti-Colonial Nationalism |

37
(1)
38
(1)

| | |
| --- | --- |
| | Criticism of Internal Colonialism Theories |

39
(1)

| | |
| --- | --- |
| | The Split Labor Market View |

39
(1)

| | |
| --- | --- |
| | Middleman Minorities, Ethnic Enclaves, and Segmented Assimilation |

40
(1)

| | |
| --- | --- |
| | Women and Gendered Racism |

41
(1)

| | |
| --- | --- |
| | The State and Racial Formation |

42
(1)

| | |
| --- | --- |
| | Toward a More Comprehensive Theory of Racial Oppression |

43
(3)

| | |
| --- | --- |
| | A Final Note: Dissecting the ``Black-White Binary Paradigm'' |

46
(1)
47
(2)
Part II A Nation of Immigrants: An overview of the Economic and Political Conditions of Selected Racial and Ethnic Groups
49
(306)

| | |
| --- | --- |
| | Immigration, the Economy and Government |

49
(1)

| | |
| --- | --- |
| | Commercial Capitalism and the Slave Society: 1607-7865 |

49
(4)

| | |
| --- | --- |
| | Colonial Society and Slave Labor |

49
(3)

| | |
| --- | --- |
| | Civil War: The Southern Plantation Oligarchy versus Northern Entrepreneurs |

52
(1)

| | |
| --- | --- |
| | Immigrant Laborers in the North |

52
(1)

| | |
| --- | --- |
| | Western and Global Expansion |

52
(1)

| | |
| --- | --- |
| | Industrial Capitalism: 1865-1920 |

53
(2)

| | |
| --- | --- |
| | Industrial Capitalism and Government Expansion Overseas |

53
(1)

| | |
| --- | --- |
| | African Americans: Exclusion from Western Lands |

53
(1)

| | |
| --- | --- |
| | Southern and Eastern European Immigrants |

54
(1)

| | |
| --- | --- |
| | European Immigrants and Black Americans |

54
(1)

| | |
| --- | --- |
| | Advanced Industrial (Multinational) Capitalism: 1910s-2000s |

55
(3)
55
(1)

| | |
| --- | --- |
| | Large Corporations and the U.S. Business Cycle |

55
(1)

| | |
| --- | --- |
| | The Postwar Era: The United States and the World |

55
(1)

| | |
| --- | --- |
| | Government Involvement Overseas and Asian Immigration |

56
(1)

| | |
| --- | --- |
| | Latin American Immigration |

56
(1)

| | |
| --- | --- |
| | Middle Eastern Immigration |

57
(1)
57
(1)
58
(1)

| | |
| --- | --- |
| | English Americans and the Anglo-Protestant Culture |

59
(18)
60
(4)
60
(1)

| | |
| --- | --- |
| | The First Colonial Settlements |

60
(2)
62
(1)

| | |
| --- | --- |
| | Other Protestant Immigrants |

63
(1)

| | |
| --- | --- |
| | The Invention of the ``White Race'' |

63
(1)

| | |
| --- | --- |
| | Nativist Reactions to Later European Immigrants |

64
(3)
64
(1)

| | |
| --- | --- |
| | Nativism and Racism since 1890 |

65
(2)

| | |
| --- | --- |
| | The Dominant Culture and Major U.S. Institutions |

67
(7)
67
(1)

| | |
| --- | --- |
| | Religion and Basic Values |

68
(1)
69
(1)

| | |
| --- | --- |
| | Political and Legal Institutions |

69
(1)
70
(1)
71
(1)

| | |
| --- | --- |
| | Direct Participation in the Economy |

72
(1)
72
(1)

| | |
| --- | --- |
| | English Americans as a Group: Economic and Educational Data |

73
(1)
74
(2)
76
(1)

| | |
| --- | --- |
| | Irish and Italian Americans |

77
(29)
77
(1)

| | |
| --- | --- |
| | Irish Immigration: An Overview |

78
(1)

| | |
| --- | --- |
| | The Eighteenth-Century Migration |

78
(1)
78
(1)
79
(2)
79
(1)
80
(1)
81
(1)
81
(1)

| | |
| --- | --- |
| | Conflict with Other Groups |

82
(1)

| | |
| --- | --- |
| | Politics and Political Institutions |

82
(4)

| | |
| --- | --- |
| | Political Organization in the Cities |

83
(1)
83
(1)

| | |
| --- | --- |
| | National and International Politics |

84
(1)

| | |
| --- | --- |
| | The Only Irish Catholic President |

85
(1)
86
(1)
86
(1)
86
(1)
87
(1)
87
(1)

| | |
| --- | --- |
| | Assimilation Theories and the Irish |

88
(3)

| | |
| --- | --- |
| | Patterns of Structural Assimilation |

89
(1)

| | |
| --- | --- |
| | Is There an Irish American Identity Today? |

89
(1)
90
(1)
91
(1)
91
(1)
91
(1)
92
(2)

| | |
| --- | --- |
| | Stereotypes of Inferiority in Intelligence |

92
(1)
93
(1)

| | |
| --- | --- |
| | Stereotypes and Discrimination |

94
(1)
94
(1)
95
(1)

| | |
| --- | --- |
| | Conflict with African Americans |

95
(1)
95
(2)
96
(1)

| | |
| --- | --- |
| | State and National Politics |

96
(1)
97
(3)

| | |
| --- | --- |
| | Early Poverty and Discrimination |

98
(1)
98
(1)
99
(1)
99
(1)
100
(1)
100
(1)

| | |
| --- | --- |
| | Assimilation or Ethnogenesis? |

101
(2)
101
(1)
102
(1)

| | |
| --- | --- |
| | A Note on Ethnic Diversity among White Americans |

103
(1)
104
(2)
106
(24)
107
(1)

| | |
| --- | --- |
| | From 1500 to World War II |

107
(1)

| | |
| --- | --- |
| | World War II to the Present |

108
(1)

| | |
| --- | --- |
| | Prejudice and Stereotypes |

108
(2)
110
(4)

| | |
| --- | --- |
| | Organized Anti-Semitism and Hate Crimes |

110
(1)

| | |
| --- | --- |
| | Religious Discrimination and Conflict |

111
(1)

| | |
| --- | --- |
| | Jewish Americans Fight Back |

112
(1)
112
(2)
114
(2)

| | |
| --- | --- |
| | Jewish Americans and Political Parties |

114
(1)

| | |
| --- | --- |
| | Unions and Community Organizations |

115
(1)
116
(3)

| | |
| --- | --- |
| | Establishing an Economic Niche: A ``Middleman Minority''? |

117
(1)

| | |
| --- | --- |
| | From the Depression to 1950 |

117
(1)
118
(1)

| | |
| --- | --- |
| | Occupational Mobility: Achievements and Problems |

118
(1)
119
(2)

| | |
| --- | --- |
| | Discriminatory Quotas for Jewish Students |

120
(1)

| | |
| --- | --- |
| | Affirmative Action Programs |

120
(1)

| | |
| --- | --- |
| | Continuing Achievements in Education |

120
(1)
121
(2)

| | |
| --- | --- |
| | Trends in Religious Practice and Identity |

122
(1)
122
(1)

| | |
| --- | --- |
| | Assimilation or Pluralism? |

123
(6)
123
(2)
125
(1)

| | |
| --- | --- |
| | Recent Immigrants: Strong Jewish Identity |

126
(1)

| | |
| --- | --- |
| | Contemporary Jewish Identity and the Future of the Jewish American Community |

127
(1)

| | |
| --- | --- |
| | Accepting and Challenging White Privilege |

128
(1)
129
(1)
130
(29)

| | |
| --- | --- |
| | Conquest by Europeans and European Americans |

131
(5)
132
(1)

| | |
| --- | --- |
| | Geographical Location and Relocation |

133
(1)
133
(1)

| | |
| --- | --- |
| | Treaties, Reservations, and Genocide |

133
(1)
134
(1)

| | |
| --- | --- |
| | White Massacres of Native Americans |

135
(1)

| | |
| --- | --- |
| | Racist Images and Stereotypes |

136
(2)
138
(4)

| | |
| --- | --- |
| | Native American Cultures and Societies: Before European Influence |

138
(1)

| | |
| --- | --- |
| | The Politics of the European Invasion |

138
(1)

| | |
| --- | --- |
| | From the Dawes Act to the New Deal |

139
(1)

| | |
| --- | --- |
| | More Fluctuations in Federal Policies |

139
(2)

| | |
| --- | --- |
| | Growing Pressures for Political Participation |

141
(1)
142
(4)

| | |
| --- | --- |
| | Confrontation with the Federal Government |

142
(1)

| | |
| --- | --- |
| | The Case of Leonard Peltier |

142
(1)

| | |
| --- | --- |
| | Anti-Indian Racism and Sports Mascots |

143
(1)

| | |
| --- | --- |
| | Recent Gains and Continuing Protests |

144
(1)

| | |
| --- | --- |
| | Honoring Treaties: Fishing Rights and Land Claims |

144
(2)

| | |
| --- | --- |
| | Fighting for Fairness: Suing the Department of Agriculture |

146
(1)

| | |
| --- | --- |
| | Activism and Self Determination |

146
(1)
146
(5)
147
(1)

| | |
| --- | --- |
| | Land, Minerals, and Industrial Development |

147
(1)

| | |
| --- | --- |
| | Persisting Economic Problems |

148
(1)

| | |
| --- | --- |
| | Recent Economic Developments |

149
(2)
151
(1)
152
(1)

| | |
| --- | --- |
| | Revitalization Movements as Protest |

153
(1)
153
(1)

| | |
| --- | --- |
| | Assimilation and Colonialism |

153
(4)

| | |
| --- | --- |
| | Assimilation Perspectives |

154
(1)

| | |
| --- | --- |
| | Power-Conflict Perspectives |

155
(2)
157
(2)
159
(37)

| | |
| --- | --- |
| | Forced Migration and Slavery |

160
(3)

| | |
| --- | --- |
| | The European Trade in Human Beings |

160
(1)

| | |
| --- | --- |
| | The Lives of Africans under Slavery |

161
(1)
162
(1)
163
(1)

| | |
| --- | --- |
| | Racist Ideologies and Stereotypes |

163
(4)

| | |
| --- | --- |
| | Seeing African Americans as Inferior: White Stereotypes |

163
(1)

| | |
| --- | --- |
| | The Pseudoscience of ``Intelligence'' Testing |

164
(1)

| | |
| --- | --- |
| | Contemporary Anti-Black Prejudices and Stereotypes |

165
(2)
167
(3)
167
(1)

| | |
| --- | --- |
| | Black Protest against Oppression |

168
(2)
170
(8)

| | |
| --- | --- |
| | White Enrichment, Black Losses |

170
(1)
171
(1)

| | |
| --- | --- |
| | Economic Changes since the 1940s |

172
(1)

| | |
| --- | --- |
| | Persisting Discrimination: A Business Example |

172
(1)

| | |
| --- | --- |
| | Discrimination in Corporations and the Military |

173
(2)

| | |
| --- | --- |
| | Government Action and Inaction on Discrimination |

175
(1)

| | |
| --- | --- |
| | Unemployment, Income, and Poverty |

176
(1)

| | |
| --- | --- |
| | Is There a Distinctive African American ``Underclass''? |

177
(1)
178
(1)
178
(7)

| | |
| --- | --- |
| | From Reconstruction to the 1920s |

178
(1)

| | |
| --- | --- |
| | The Limits of Black Progress: Political Discrimination |

179
(1)
180
(1)

| | |
| --- | --- |
| | The Republican Party's Appeal to White Voters |

181
(1)

| | |
| --- | --- |
| | African American Organization and Protest |

181
(2)
183
(2)
185
(3)

| | |
| --- | --- |
| | The Desegregation Struggle |

185
(1)

| | |
| --- | --- |
| | The Current Public School Situation |

186
(2)

| | |
| --- | --- |
| | College Attendance and College Experiences |

188
(1)
188
(2)
190
(3)

| | |
| --- | --- |
| | Economic and Educational Situations |

191
(1)

| | |
| --- | --- |
| | Racial History and Racial Discrimination |

191
(2)

| | |
| --- | --- |
| | Assimilation for African Americans? |

193
(1)
193
(1)

| | |
| --- | --- |
| | Power-Conflict Perspectives: The Continuing Significance of Racism |

193
(1)
194
(2)
196
(36)

| | |
| --- | --- |
| | The Conquest Period, 1500-1853 |

197
(1)

| | |
| --- | --- |
| | The Texas Revolt: Myths and Reality |

197
(1)

| | |
| --- | --- |
| | California and New Mexico |

198
(1)

| | |
| --- | --- |
| | Past and Present Immigration |

198
(5)

| | |
| --- | --- |
| | Braceros and Undocumented Workers: Encouraging Immigration |

199
(1)

| | |
| --- | --- |
| | Migration and U.S. Involvement in Latin America |

200
(1)

| | |
| --- | --- |
| | The 1986 Immigration Act and Undocumented Immigrants |

201
(1)
202
(1)

| | |
| --- | --- |
| | Stereotypes and Related Images |

203
(4)
203
(1)

| | |
| --- | --- |
| | Contemporary Stereotypes and Prejudice |

203
(1)

| | |
| --- | --- |
| | Views of Immigration and Immigrants |

204
(1)

| | |
| --- | --- |
| | Negative Images in the Mass Media |

205
(1)
206
(1)

| | |
| --- | --- |
| | A Racialized Identity: The Contemporary Situation |

206
(1)
207
(1)
207
(1)
207
(1)
207
(1)
208
(6)

| | |
| --- | --- |
| | Stratification and Discrimination in the Workplace |

208
(2)

| | |
| --- | --- |
| | Continuing Language Discrimination |

210
(1)

| | |
| --- | --- |
| | Unemployment, Poverty, and Income |

211
(1)

| | |
| --- | --- |
| | Problems of Economic Adaptation |

212
(1)

| | |
| --- | --- |
| | Is There a Latino ``Underclass''? |

213
(1)

| | |
| --- | --- |
| | Immigrant Workers and Housing Discrimination |

214
(1)
214
(7)

| | |
| --- | --- |
| | Growing Political Representation |

215
(1)

| | |
| --- | --- |
| | Support for the Democratic Party |

216
(1)

| | |
| --- | --- |
| | The Courts and the Police |

216
(1)

| | |
| --- | --- |
| | The Chicano Political Movement |

217
(1)

| | |
| --- | --- |
| | Other Organizations and Protest |

217
(1)

| | |
| --- | --- |
| | Unions for Low-Wage Workers |

218
(2)

| | |
| --- | --- |
| | Other Recent Challenges and Conflicts: Latinos and African Americans |

220
(1)
221
(3)

| | |
| --- | --- |
| | Recurring Educational Problems |

221
(1)

| | |
| --- | --- |
| | Current Educational Issues: Segregation and Bilingualism |

221
(1)

| | |
| --- | --- |
| | Educational Achievement and Continuing Problems |

222
(2)
224
(1)

| | |
| --- | --- |
| | Assimilation or Colonialism? |

225
(5)

| | |
| --- | --- |
| | The Limits of Assimilation |

226
(2)

| | |
| --- | --- |
| | Applying a Power-Conflict Perspective |

228
(2)
230
(1)
230
(2)

| | |
| --- | --- |
| | Puerto Rican and Cuban Americans |

232
(33)
233
(1)

| | |
| --- | --- |
| | From Spanish to U.S. Rule |

233
(1)

| | |
| --- | --- |
| | Migration to the Mainland |

234
(1)
234
(1)

| | |
| --- | --- |
| | Joined by Other Latinos: Diversity in the New York Area |

235
(1)

| | |
| --- | --- |
| | Prejudice and Stereotypes |

235
(3)

| | |
| --- | --- |
| | Criminalizing Puerto Ricans |

236
(1)
236
(1)

| | |
| --- | --- |
| | Color Coding and White Prejudices |

237
(1)

| | |
| --- | --- |
| | Economic and Related Conditions: The Mainland |

238
(3)

| | |
| --- | --- |
| | Occupation and Unemployment |

238
(1)

| | |
| --- | --- |
| | Employment Discrimination |

239
(1)
239
(1)
240
(1)
240
(1)
241
(2)

| | |
| --- | --- |
| | Barriers to Social and Economic Mobility |

242
(1)
242
(1)

| | |
| --- | --- |
| | Official English Policies and Spanish Speakers |

243
(1)
243
(1)

| | |
| --- | --- |
| | Local and State Government |

243
(1)

| | |
| --- | --- |
| | Politics and Recent Intergroup Conflict |

244
(1)
244
(3)
245
(1)
246
(1)
247
(1)

| | |
| --- | --- |
| | Assimilation or Colonialism? |

247
(3)
247
(2)

| | |
| --- | --- |
| | Power-Conflict Perspectives |

249
(1)
250
(1)
250
(4)

| | |
| --- | --- |
| | Early Immigration: 1868-1959 |

250
(1)

| | |
| --- | --- |
| | Recent Immigration: 1959 to the Present |

251
(1)
252
(2)
254
(1)

| | |
| --- | --- |
| | Tensions between Cuban Americans and African Americans |

254
(1)

| | |
| --- | --- |
| | Racial Division among Cuban Americans |

255
(1)

| | |
| --- | --- |
| | Stereotypes and Discrimination |

255
(1)
256
(2)
258
(2)

| | |
| --- | --- |
| | Assimilation or Colonialism? |

260
(3)
260
(2)

| | |
| --- | --- |
| | A Power-Conflict Perspective? |

262
(1)
263
(2)
265
(24)

| | |
| --- | --- |
| | Introduction: Japanese Americans |

266
(1)
266
(2)

| | |
| --- | --- |
| | Serial and Chain Migration |

266
(1)
267
(1)
267
(1)

| | |
| --- | --- |
| | More Racist Agitation and Restrictions |

268
(1)
268
(3)
269
(1)

| | |
| --- | --- |
| | Recent Distortions, Stereotypes, and Omissions |

270
(1)

| | |
| --- | --- |
| | Repression and Violent Attacks |

271
(2)

| | |
| --- | --- |
| | The Ugly Specter of U.S. Concentration Camps |

271
(2)

| | |
| --- | --- |
| | Why the Camps Were Created |

273
(1)
273
(1)
273
(3)

| | |
| --- | --- |
| | Compensation Pressures and Political Progress |

273
(1)
274
(1)

| | |
| --- | --- |
| | Politics, Stereotyping, and Competition with Japan |

275
(1)

| | |
| --- | --- |
| | Protest Organizations and Group Pride |

276
(1)
276
(3)

| | |
| --- | --- |
| | Finding an Economic Niche |

276
(1)
277
(1)

| | |
| --- | --- |
| | Occupational Mobility, Income, and Persisting Employment Barriers |

278
(1)
279
(1)

| | |
| --- | --- |
| | Racism and Early Segregation |

279
(1)
279
(1)
280
(1)

| | |
| --- | --- |
| | Assimilation Perspectives |

281
(6)
284
(1)

| | |
| --- | --- |
| | Criticizing the ``Model Minority'' Stereotype |

285
(2)
287
(2)

| | |
| --- | --- |
| | Chinese, Filipino, Korean, Vietnamese, and Asian-Indian Americans |

289
(34)
290
(4)
291
(1)
291
(1)
292
(1)
293
(1)
293
(1)

| | |
| --- | --- |
| | Asian Women as Immigrants |

294
(1)
294
(2)

| | |
| --- | --- |
| | Specific Images of Asian Americans |

294
(1)

| | |
| --- | --- |
| | Stereotyping in the Media and Popular Entertainment |

295
(1)

| | |
| --- | --- |
| | Discrimination and Conflict |

296
(5)

| | |
| --- | --- |
| | Hate Crimes and Other Ethnoviolence |

296
(1)
297
(1)
298
(1)
299
(1)
300
(1)
300
(1)

| | |
| --- | --- |
| | Organizing and Activism in the Political Arena |

301
(7)

| | |
| --- | --- |
| | Pan-Asian Organizations and Coalitions |

302
(2)
304
(1)
305
(1)
306
(1)
307
(1)
307
(1)
308
(6)
309
(2)
311
(1)
312
(1)
313
(1)
313
(1)
314
(2)

| | |
| --- | --- |
| | High Achievement amid Persisting Problems |

314
(1)
315
(1)

| | |
| --- | --- |
| | Controversy in Higher Education |

316
(1)

| | |
| --- | --- |
| | Full Assimilation for Asian Americans? |

316
(5)
316
(3)

| | |
| --- | --- |
| | Some Questions from a Power-Conflict Perspective |

319
(2)
321
(2)
323
(17)
324
(1)
324
(1)
325
(1)

| | |
| --- | --- |
| | Stereotyping and Prejudice |

325
(2)

| | |
| --- | --- |
| | Classified as an ``Inferior Race'' |

325
(1)

| | |
| --- | --- |
| | Recent Stereotyping and U.S. Politics |

326
(1)
326
(1)

| | |
| --- | --- |
| | Stereotypes and Arab American Women |

327
(1)

| | |
| --- | --- |
| | Oppression, Discrimination, and Conflict |

327
(4)
327
(1)

| | |
| --- | --- |
| | Current Patterns of Discrimination |

328
(1)

| | |
| --- | --- |
| | International Politics and Discrimination |

328
(1)

| | |
| --- | --- |
| | The Impact of the Attacks on the World Trade Center and the Pentagon: 2001 and After |

329
(1)

| | |
| --- | --- |
| | Taking Action against Discrimination |

330
(1)

| | |
| --- | --- |
| | Local Conflict and Cooperation with Other Groups |

330
(1)

| | |
| --- | --- |
| | Politics and Political Emergence |

331
(2)

| | |
| --- | --- |
| | Gradual Increase in Political Activity |

331
(1)

| | |
| --- | --- |
| | Recent Political Involvement |

331
(1)

| | |
| --- | --- |
| | Politics and Discrimination |

332
(1)

| | |
| --- | --- |
| | International Politics and Linkages |

332
(1)
333
(1)
334
(1)
335
(1)

| | |
| --- | --- |
| | Adaptation and Assimilation Issues |

336
(3)
336
(1)

| | |
| --- | --- |
| | Contemporary Assimilation Issues and Patterns |

337
(1)

| | |
| --- | --- |
| | Assimilation and Generational Conflicts |

337
(1)

| | |
| --- | --- |
| | Creating a Hybrid Culture |

338
(1)

| | |
| --- | --- |
| | Some Power-Conflict Issues: Racial and Ethnic Identities in the Face of Hostility |

338
(1)
339
(1)

| | |
| --- | --- |
| | The Future of Racial and Ethnic Relations in the United States |

340
(15)
341
(5)

| | |
| --- | --- |
| | The Melting Pot: Early Images of Immigrant Incorporation |

346
(1)

| | |
| --- | --- |
| | Multicultural and Multiracial Democracy Issues |

346
(3)

| | |
| --- | --- |
| | Equality and a Pluralistic Democracy |

349
(4)
349
(1)

| | |
| --- | --- |
| | Racial Discrimination: The Present Day |

350
(3)

| | |
| --- | --- |
| | Conclusion: An Increasingly Balkanized Nation? |

353
(2)
Part III Global Relations
355
(18)

| | |
| --- | --- |
| | Colonialism and Post-Colonialism: The Global Expansion of Racism |

356
(17)
357
(1)

| | |
| --- | --- |
| | The History and Legacy of Colonialism |

357
(2)

| | |
| --- | --- |
| | To Whom Does Southern Africa Belong? |

359
(4)

| | |
| --- | --- |
| | Formation of the State and Apartheid |

360
(1)
361
(2)

| | |
| --- | --- |
| | The Future of South Africa |

363
(1)

| | |
| --- | --- |
| | Brazil: The Legacy of Slavery and the Illusion of Equality |

363
(4)
364
(2)
366
(1)

| | |
| --- | --- |
| | Colonialism and Colonizer in France: The Violence of Exclusion |

367
(3)

| | |
| --- | --- |
| | The Character of French Colonialism |

367
(1)
368
(2)

| | |
| --- | --- |
| | The Future of Colonialism and Post-Colonialism |

370
(1)
371
(2)
Glossary
373
(4)
Notes
377
(59)
Photo Credits
436
(1)
Index
437
Excerpts
OVER THE PAST FEW DECADES, NUMEROUS SCHOLARS, JOURNALISTS, AND POLITICIANS have argued that there is a "declining significance of race" or an "end to racism" in the United States. They have written or spoken optimistically about the decrease in discrimination and the improving character of racial and ethnic relations in this country. Over the same period of time, however, the scholarly journals and mass media have been filled with accounts of violent hate crimes targeting people of color, accounts of the violent views and actions of white supremacist groups, discussions of many lawsuits over racial discrimination in employment and public accommodations, studies showing widespread housing discrimination, descriptions of community rebellions against local police brutality incidents, and controversies over affirmative action and other anti-discrimination programs. In recent years, we have also seen intense debates about the character and impact of the recent immigrants to the United States, many of whom are immigrants of color from Latin American or Asian countries. As we move into the new millennium, there is much scholarly and public discussion and argument about racial and ethnic discrimination, oppression, and conflict. Contrary to what some scholars and journalists assert, this debate reflects the underlying social, economic, and political realities in the United States. Today, many Americans are well aware, or are becoming aware, of the continuing significance of "race," racism, and ethnicity, not only in this country but also in other countries--from the Republic of South Africa to Northern Ireland, the former Yugoslavia, the former Soviet Union, and the Middle East. Racial and ethnic oppression and conflict are extraordinarily important in the modern world and have the potential to tear apart any country, including highly industrialized countries. One result of the reinvigorated interest in racial and ethnic issues in many areas of the United States is the creation of college and university courses that focus on racial and ethnic divisions, cultural diversity, and multicultural or multiracial issues. We have revised this seventh edition ofRacial and Ethnic Relationswith this growing interest in U.S. racial and ethnic heritages, developments, conflicts, and coalitions in mind. This textbook is designed for sociology courses, other social science courses, and education courses variously titled Racial and Ethnic Relations, Race Relations, Minority Groups, and Minority Relations, and also for various other courses on cultural diversity, multiculturalism, and racial and ethnic groups offered in college, university, business, and governmental settings. One purpose of this book is to provide readers with access to the important literature on racial and ethnic groups in the United States and, to a lesser extent, in certain other countries around the globe. We have drawn on a broad array of sources, including articles, books, and other data analyses by sociologists, political scientists, social psychologists, anthropologists, historians, economists, investigative journalists, and legal scholars. We have limited space, so we have not been able to deal with all the important racial and ethnic groups in the United States. Instead, we have focused on a modest number of major racial and ethnic groups, generally preferring to accent depth rather than breadth in the analyses. In recent decades, social science analyses have begun to dig deeper into the "what," "why," and "how" of racial and ethnic oppression and conflict. We draw heavily on this ever-growing research. The introduction to Part I looks briefly at the origins of the racial and ethnic mosaic that is the United States. It serves as an introduction to Chapters 1 and 2, which discuss major concepts and theories in the study of racial and ethnic relations. The introduction to Part II sketches the political and economic history of th