Note: Supplemental materials are not guaranteed with Rental or Used book purchases.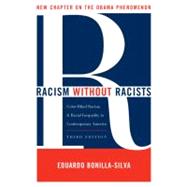 Racism Without Racists: Color-blind Racism and the Persistence of Racial Inequality in America
by
Bonilla-Silva, Eduardo
Rowman & Littlefield Pub Inc
Summary
This edition includes a chapter examining the Obama mysterythe election of a black President even though racial progress has stagnated in the country since the 1980s. Bonilla-Silva argues that this development is not a breakthrough in race relations, but a continuation of racial trends in the last 40 years including the sedimentation of color-blind racism as the dominant ideology in the nation.
Author Biography
Eduardo Bonilla-Silva is a professor of sociology at Duke University.
Table of Contents
Acknowledgments
p. ix
Preface to the Third Edition of Racism without Racists
p. xiii
The Strange Enigma of Race in Contemporary America
p. 1
The Central Frames of Color-Blind Racism
p. 25
The Style of Color Blindness: How to Talk Nasty about Minorities without Sounding Racist
p. 53
"I Didn't Get That Job Because of a Black Man": Color-Blind Racism's Racial Stories
p. 75
Peeking Inside the (White) House of Color Blindness: The Significance of Whites' Segregation
p. 103
Are All Whites Refined Archie Bunkers? An Examination of White Racial Progressives
p. 131
Are Blacks Color Blind, Too?
p. 151
E Pluribus Unum or the Same Old Perfume in a New Bottie? On the Future of Racial Stratification in the United States
p. 177
Will Racism Disappear in Obamerical? The Sweet (but Deadly) Enchantment of Color Blindness in Black Face
p. 207
Conclusion: "The (Color-Blind) Emperor Has No Clothes": Exposing the Whiteness of Color Blindness
p. 261
Bibliography
p. 277
Index
p. 289
About the Author
p. 301
Table of Contents provided by Ingram. All Rights Reserved.