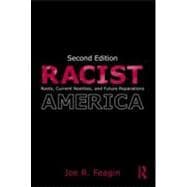 Racist America : Roots, Current Realities and Future Reparations Remaking America with Anti-Racist Strategies
by
Feagin
;
Joe R.
Summary
This second edition of Joe Feagin'¬"s Racist Americais extensively revised and thoroughly updated, with a special eye toward racism issues cropping up constantly in the Barack Obama era. This tenth anniversary edition incorporates many dozens of new research studies on U.S. racial issues that significantly extend and update the first edition's major chapters. It accents exciting new and provocative concepts, especially the white racial frame and systemic racism. The author has also added readable, perceptive discussions of numerous studies in new research areas such as environmental racism, race and health, and antiracist strategies, as well as in all other research areas covered in the first edition. He has thoroughly edited and polished the book to make it much more readable for undergraduates, including eliminating repetitive materials, simplifying endnotes, adding headings and more cross-referencing, and adding a glossary and many new and interesting examples, anecdotes, and narratives about contemporary racism, including at the opening of all chapters.
Table of Contents
Preface
p. ix
Systemic Racism: A comprehensive Perspective
p. 1
Slavery Unwilling to Die: the Historical Development of Systemic Racism
p. 31
The White Racial Frame: A Social Force
p. 59
Contemporary Racial Framing: White Americans
p. 97
Racial Oppression today: Everyday Practice
p. 135
White Privileges and Black Burdens: Still Systemic Racism
p. 189
Systemic Racism: Other Americans of Color
p. 221
Antiracist Strategies and Solutions: Past, Present, and Future
p. 259
Notes
p. 313
Index
p. 355
Table of Contents provided by Ingram. All Rights Reserved.