Note: Supplemental materials are not guaranteed with Rental or Used book purchases.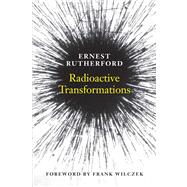 Summary
Radioactive Transformationsdescribes Ernest Rutherford's Nobel Prizewinning investigations into the mysteries of radioactive matter. In this historic work, Rutherford outlines the scientific investigations that led to and coincided with his own researchincluding the work of Wilhelm Rntgen, J. J. Thomson, and Marie Curieand explains in detail the experiments that provided a glimpse at special relativity, quantum mechanics, and other concepts that would shape modern physics. This new edition features a comprehensive introduction by Nobel Laureate Frank Wilczek which engagingly explains how Rutherford's early research led to a better understanding of topics as diverse as the workings of the atom's nucleus, the age of our planet, and the fusion in stars.
Author Biography
Ernest Rutherford, famous for his discoveries in nuclear physics, received the Nobel Prize in Chemistry in 1908 for his research on radioactive substances. Frank Wilczek shared the 2004 Nobel Prize in Physics for his work on the theory of quantum chromodynamics. He is the Herman Feshbach Professor of Physics at the Massachusetts Institute of Technology and the author of three books, including The Lightness of Being: Mass, Ether, and the Unification of Forces.