Note: Supplemental materials are not guaranteed with Rental or Used book purchases.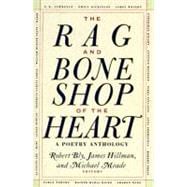 Rag and Bone Shop of the Heart : A Poetry Anthology
ISBN13:
9780060924201
by
Robert, Bly
HarperCollins Publications
Questions About This Book?
What version or edition is this?
This is the Reprint edition with a publication date of 3/26/2010.
What is included with this book?
The New copy of this book will include any supplemental materials advertised. Please check the title of the book to determine if it should include any CDs, lab manuals, study guides, etc.
Summary
Three central leaders of the men's movement present a rich and insightful collection of poems that will appeal to both men and women--more than 300 powerful and profound works from Yeats, D.H. Lawrence, Emily Dickinson, Wadsworth, Blake, and many others.
Table of Contents
Foreword
xix
ONE APPROACH TO WILDNESS
1
(30)
6
(1)
7
(1)
8
(1)
9
(1)

| | |
| --- | --- |
| | Much Madness is divinest Sense |

10
(1)

| | |
| --- | --- |
| | from Notebook of a Return to the Native Land |

11
(1)
12
(1)
13
(1)
14
(1)
15
(2)
17
(1)
18
(1)

| | |
| --- | --- |
| | The Wild Man Comes to the Monastery |

19
(1)

| | |
| --- | --- |
| | from Song of a Man Who Has Come Through |

20
(1)

| | |
| --- | --- |
| | Knowing Nothing Shuts the Iron Gates |

21
(1)
22
(1)
23
(2)
25
(2)
27
(1)
28
(2)
30
(1)
TWO FATHERS' PRAYERS FOR SONS AND DAUGHTERS
31
(32)

| | |
| --- | --- |
| | With Kit, Age 7, at the Beach |

37
(1)
38
(1)
39
(2)
41
(1)
42
(1)
43
(1)
44
(2)

| | |
| --- | --- |
| | Men and Birth: The Unexplainable |

46
(1)
47
(2)
49
(1)
50
(1)

| | |
| --- | --- |
| | from a Prayer for My Daughter |

51
(2)

| | |
| --- | --- |
| | A Flower Given to My Daughter |

53
(1)

| | |
| --- | --- |
| | An Ark for Lawrence Durrell |

54
(1)
55
(2)
57
(1)

| | |
| --- | --- |
| | For My Son, Noah, Ten Years Old |

58
(1)

| | |
| --- | --- |
| | After Making Love We Hear Footsteps |

59
(1)

| | |
| --- | --- |
| | Sometimes a Man Stands Up During Supper |

60
(1)

| | |
| --- | --- |
| | A Story That Could Be True |

61
(2)
THREE WAR
63
(30)
68
(1)
69
(1)
70
(2)
72
(1)
73
(1)
74
(1)

| | |
| --- | --- |
| | Ode for the American Dead in Asia |

75
(2)
77
(3)

| | |
| --- | --- |
| | To President Bush at the Start of the Gulf War |

80
(1)
81
(2)

| | |
| --- | --- |
| | from The Homeric Hymn to Ares |

83
(1)
84
(1)
85
(2)
87
(1)

| | |
| --- | --- |
| | Do Not Weep, Maiden, for War Is Kind |

88
(1)
89
(1)

| | |
| --- | --- |
| | ``Keeping Their World Large'' |

90
(2)

| | |
| --- | --- |
| | Passing an Orchard by Train |

92
(1)
FOUR I KNOW THE EARTH, AND I AM SAD
93
(24)

| | |
| --- | --- |
| | The Wind, One Brilliant Day |

99
(1)
100
(1)

| | |
| --- | --- |
| | The Negro Speaks of Rivers |

101
(1)
102
(1)

| | |
| --- | --- |
| | Melancholy Inside Families |

103
(2)
105
(2)
107
(1)

| | |
| --- | --- |
| | I Felt a Funeral, in my Brain |

108
(1)
109
(1)
110
(1)
111
(1)

| | |
| --- | --- |
| | Snowbanks North of the House |

112
(1)
113
(1)
114
(1)

| | |
| --- | --- |
| | I Am Going to Speak of Hope |

115
(1)

| | |
| --- | --- |
| | And What If After so Many Words |

116
(1)
FIVE THE HOUSE OF FATHERS AND TITANS
117
(36)

| | |
| --- | --- |
| | For, Brother, What Are We? |

123
(1)

| | |
| --- | --- |
| | from Democracy in America |

124
(1)
125
(2)
127
(1)
128
(1)
129
(1)
130
(1)
131
(1)
132
(2)
134
(1)
135
(1)
136
(2)
138
(1)

| | |
| --- | --- |
| | Only When My Heart Freezes |

139
(2)
141
(1)

| | |
| --- | --- |
| | My Father Went to Funerals |

142
(1)
143
(2)
145
(1)
146
(2)

| | |
| --- | --- |
| | from Memories of My Father |

148
(1)
149
(2)

| | |
| --- | --- |
| | The Irish Cliffs of Mother |

151
(2)
SIX LANGUAGE: SPEAKING WELL AND SPEAKING OUT
153
(40)
160
(1)
161
(1)
162
(1)
163
(1)
164
(1)
165
(1)

| | |
| --- | --- |
| | Poetry Is a Destructive Force |

166
(1)

| | |
| --- | --- |
| | In My Craft or Sullen Art |

167
(1)
168
(2)
170
(1)
171
(3)
174
(2)
176
(1)
177
(2)
179
(2)
181
(1)
182
(1)
183
(1)
184
(1)
185
(1)
186
(1)
187
(1)
188
(1)
189
(1)

| | |
| --- | --- |
| | from The Man with the Blue Guitar |

190
(2)

| | |
| --- | --- |
| | from Autobiography of Charles Darwin |

192
(1)
SEVEN MAKING A HOLE IN DENIAL
193
(34)
200
(1)
201
(2)

| | |
| --- | --- |
| | ``Next to of Course God America I |

203
(1)
204
(1)

| | |
| --- | --- |
| | Twenty-First. Night. Monday |

205
(1)
206
(2)
208
(1)
209
(1)
210
(1)

| | |
| --- | --- |
| | A Poem Some People Will Have to Understand |

211
(2)

| | |
| --- | --- |
| | Animals Are Passing from Our Lives |

213
(1)
214
(1)
215
(1)
216
(1)
217
(1)

| | |
| --- | --- |
| | Sunday at the State Hospital |

218
(1)
219
(1)
220
(1)

| | |
| --- | --- |
| | Crazy Jane Talks with the Bishop |

221
(1)
222
(1)

| | |
| --- | --- |
| | Have You Anything to Say in Your Defense? |

223
(2)
225
(2)
EIGHT LOVING THE COMMUNITY AND WORK
227
(32)

| | |
| --- | --- |
| | A Ritual to Read to Each Other |

233
(1)
234
(1)
235
(1)

| | |
| --- | --- |
| | Just as the Winged Energy of Delight |

236
(1)
237
(2)
239
(2)

| | |
| --- | --- |
| | Why Log Drivers Rise Earlier Than Students of Zen |

241
(1)
242
(1)
243
(3)
246
(1)
247
(1)
248
(1)

| | |
| --- | --- |
| | What Happened During the Ice Storm |

249
(2)

| | |
| --- | --- |
| | The Flying Eagles of Troop 62 |

251
(2)
253
(1)
254
(2)
256
(1)
257
(2)
NINE THE NAIVE MALE
259
(24)
264
(1)
265
(1)
266
(1)
267
(1)
268
(1)

| | |
| --- | --- |
| | When the Father Is Absent |

269
(1)
270
(1)
271
(1)

| | |
| --- | --- |
| | The Good Deeds of the Moon |

272
(2)
274
(1)
275
(1)
276
(1)
277
(1)

| | |
| --- | --- |
| | Peer Gynt Tells His Mother About His Newest Adventure |

278
(3)

| | |
| --- | --- |
| | The Hopeful Spiritual Athlete |

281
(1)
282
(1)
TEN THE SECOND LAYER: ANGER, HATRED, OUTRAGE
283
(74)
289
(1)
290
(1)

| | |
| --- | --- |
| | Indeed Indeed, I Cannot Tell |

291
(1)

| | |
| --- | --- |
| | I Stand Here, Do You Understand |

292
(1)
293
(1)

| | |
| --- | --- |
| | Ribh Considers Christian Love Insufficient |

294
(1)
295
(1)
296
(1)

| | |
| --- | --- |
| | The Anger That Breaks the man Into Children |

297
(1)
298
(2)
300
(1)

| | |
| --- | --- |
| | The Song of the Black Bear |

301
(1)
302
(1)
303
(1)

| | |
| --- | --- |
| | Mine enemy is growing old |

304
(1)
305
(2)
307
(2)
309
(1)
310
(1)
311
(8)
ELEVEN EARTHLY LOVE
319
(1)
320
(1)
321
(1)
322
(1)
323
(1)
324
(1)
325
(1)
326
(1)
327
(1)

| | |
| --- | --- |
| | Gentleman Without Company |

328
(2)
330
(2)
332
(1)
333
(1)
334
(2)
336
(1)

| | |
| --- | --- |
| | I Wrung My Hands Under My Dark Veil |

337
(1)

| | |
| --- | --- |
| | To Women, as Far as I'm Concerned |

338
(1)
339
(1)

| | |
| --- | --- |
| | Ballad of the Despairing Husband |

340
(2)

| | |
| --- | --- |
| | All That is Lovely In Men |

342
(1)
343
(1)
344
(1)
345
(1)
346
(1)

| | |
| --- | --- |
| | The River-Merchant's Wife: A Letter |

347
(2)

| | |
| --- | --- |
| | ``We Must Die Because We Have Known Them'' |

349
(1)
350
(1)

| | |
| --- | --- |
| | And If He Had Been Wrong for Me |

351
(1)

| | |
| --- | --- |
| | Listening to the Koln Concert |

352
(1)

| | |
| --- | --- |
| | Once I Passed Through a Populous City |

353
(1)
354
(1)
355
(2)
TWELVE THE CULTIVATED HEART
357
(26)

| | |
| --- | --- |
| | The Song of Wandering Aengus |

363
(1)

| | |
| --- | --- |
| | New Love and the Gentle Heart |

364
(1)
365
(1)

| | |
| --- | --- |
| | from Moral Proverbs and Folk Songs |

366
(1)
367
(1)
368
(1)

| | |
| --- | --- |
| | To Be a Slave of Intensity |

369
(1)
370
(1)

| | |
| --- | --- |
| | Someone Digging in the Ground |

371
(1)
372
(2)
374
(2)
376
(1)
377
(2)
379
(1)
380
(1)
381
(1)
382
(1)
THIRTEEN MOTHER AND GREAT MOTHER
383
(32)
388
(1)
389
(1)
390
(2)

| | |
| --- | --- |
| | from My Mother Would Be a Falconress |

392
(2)
394
(2)
396
(1)
397
(1)
398
(1)

| | |
| --- | --- |
| | The Last Words of My English Grandmother |

399
(2)

| | |
| --- | --- |
| | I Am Asking You to Come Back Home |

401
(1)
402
(1)

| | |
| --- | --- |
| | To Juan at the Winter Solstice |

403
(2)
405
(1)

| | |
| --- | --- |
| | What I Heard at the Discount Department Store |

406
(2)
408
(1)
409
(1)
410
(2)
412
(1)
413
(2)
FOURTEEN THE SPINDRIFT GAZE TOWARD PARADISE
415
(56)

| | |
| --- | --- |
| | Conversation in the Mountains |

420
(1)

| | |
| --- | --- |
| | I Think Continually of Those |

421
(1)
422
(1)
423
(1)
424
(1)
425
(2)
427
(1)
428
(1)
429
(1)

| | |
| --- | --- |
| | The Scattered Congregation |

430
(1)
431
(1)
432
(1)
433
(1)
434
(1)
435
(1)
436
(1)
437
(1)
438
(1)
439
(1)

| | |
| --- | --- |
| | Wild Nights---Wild Nights! |

440
(1)

| | |
| --- | --- |
| | Safe in their Alabaster Chambers |

441
(1)
442
(2)
444
(8)
FIFTEEN ZANINESS
452
(1)
453
(1)
454
(1)
455
(1)
456
(1)
457
(1)
458
(1)
459
(2)

| | |
| --- | --- |
| | from A Thousand Chinese Dinners |

461
(1)

| | |
| --- | --- |
| | Welcome Back, Mr. Knight: Love of My Life |

462
(2)

| | |
| --- | --- |
| | Freud Talks of the Primal Meal |

464
(2)
466
(1)
467
(2)
469
(1)
470
(1)
SIXTEEN LOVING THE WORLD ANYWAY
471
(38)

| | |
| --- | --- |
| | The World Is Too Much with Us |

476
(1)
477
(1)
478
(1)

| | |
| --- | --- |
| | The Perfume / of Flowers! |

479
(1)
480
(1)
481
(3)
484
(1)

| | |
| --- | --- |
| | The Bread of This World; Praises III |

485
(1)
486
(3)
489
(2)
491
(2)
493
(1)
494
(1)
495
(1)

| | |
| --- | --- |
| | Sometimes I Go About Pitying Myself |

496
(1)
497
(1)
498
(1)
499
(1)
500
(1)
501
(2)
503
(2)

| | |
| --- | --- |
| | from A Dialogue of Self and Soul |

505
(2)
507
(2)
Index of Poets
509
(4)
Index of First Lines
513
(6)
Copyright Acknowledgments
519