Note: Supplemental materials are not guaranteed with Rental or Used book purchases.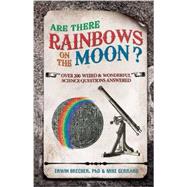 Are There Rainbows on the Moon? : Over 200 Bizarre, Weird and Wonderful Puzzles with Science
by
Unknown
Summary
More than 200 fascinating science puzzles perfect for astounding friends, impressing party guests, and annoying relatives A book for the curious, this engaging read takes a slightly different look at puzzle questionsevery one is based exclusively on real world science. Using scientific principles, it teaches how the moon causes tides, how one can walk on a tightrope, why a golf ball has dimples, whether you can cool a whole room by leaving the refrigerator door open, and what makes glue stick. The answers to these and many more puzzles, queries, and curios are found inside the pages of this volume of educational fun.
Author Biography
Erwin Brecher has written 22 books, including How Do You Walk on Fire?, Lateral Thinking Posers, and Lateral Thinking Puzzles. He is a member of Mensa. Mike Gerrard is an award-winning travel author who has written Colors of Paris, Greece, and Top 10 Paris, among others. They previously collaborated on How Do You Get an Egg Into a Bottle?