Note: Supplemental materials are not guaranteed with Rental or Used book purchases.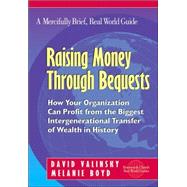 Raising Money Through Bequests: How Your Organization Can Benefit from the Biggest Intergenerational Transfer of Wealth in History
ISBN13:
9781889102290
by
Valinsky, David
;
Boyd, Melanie
Summary
Never in history has there been more money on the table for your organization than right now.Members of the ?Greatest Generation? are in their 80s and 90s, and as they pass away they?re collectively leaving billions of dollars to charitable organizations throughout the United States.And their preferred vehicle for giving this money is the simple bequest ? ?I give and bequeath to?.?If at this very moment you?re not marketing your bequest program with G force, you?re missing perhaps the greatest opportunity in the history of fundraising.To borrow a phrase from a ?Greatest Generation? song, ?Now is the hour.? Raising Money through Bequests lays out step by step how to establish a bequest program, how to work within your organization to strengthen and sustain it, how to market the program to the correct audiences, and exactly what to do when responses start to come in.Further, authors David Valinsky and Melanie Boyd supply plenty of sample materials you can quickly adapt. There?s a brochure you can use to introduce your program, a case for support that explains to prospective donors the merits of leaving a bequest, and a tasteful letter and folder that welcomes bequest donors to the Bequest Society and describes its various features and benefits.Additionally, you?ll find sample bequest language to offer your donors, a sample agenda for a special gathering to introduce your bequest program, and even a list of possible names for your bequest society.Raising Money through Bequests is a timely and refreshingly uncomplicated book that can have a prodigious impact on your organization?s financial security.
Author Biography
David Valinsky David has enjoyed a varied career in the nonprofit world, spanning more than 20 years in management positions with Jewish Community Centers, hospitals and health systems. One of his most meaningful experiences was serving as an adjunct consultant for US AID in Croatia on behalf of the Franciscan Sisters of the Poor Foundation. Development, marketing, relationship building and creativity have always been primary elements of these experiences.Since forming David Valinsky Associates (DVA) in 1998, he and his team have continued to work with hospitals, social service agencies, religious groups, legal foundations and arts organizations on capital and endowments campaigns, planned giving, and strategic development planning.David has degrees from the University of Pittsburgh and the University of Wisconsin-Milwaukee and has earned the Chartered Advisor in Philanthropy¬ (CAP¬) professional designation from the American College.He and his wife, Lorrie Rosenberg Valinsky, an audiologist, live in Bexley, Ohio. They have one daughter, Alexandra, who is currently a student at Northwestern University. David can be reached at www.davidvalinksi.com.Melanie Boyd Melanie shares the same circuitous route to her chosen field shared by many of her colleagues. Following eight years as a college instructor of composition, public speaking, and literature, she took her first development position at a community corrections agency. After many years in the profession, she still wakes up with a smile, secure in the knowledge that she'll face a variety of challenges and opportunities working alongside dedicated development professionals, tireless volunteers, and incredible donors. Melanie holds degrees from Ohio University and the The Ohio State University. She currently lives in Columbus, Ohio with Farley, the best dog in the world.