Note: Supplemental materials are not guaranteed with Rental or Used book purchases.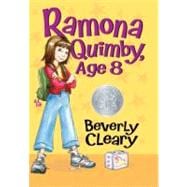 Ramona Quimby, Age 8: Age Eight
ISBN13:
9780688004774
by
Cleary, Beverly
HarperCollins Publications
Questions About This Book?
What version or edition is this?
This is the edition with a publication date of 10/12/2009.
What is included with this book?
The New copy of this book will include any supplemental materials advertised. Please check the title of the book to determine if it should include any CDs, lab manuals, study guides, etc.
Summary
Ramona Quimby, one of the most loved characters in children's fiction, has now reached third grade. At school, she acquires a new teacher, Mrs. Whaley, who addresses the class as "you guys." At home, she helps the family "squeak by" as her father returns to college to become an art teacher.All the Quimbys have their ups and downs, but none feels them more intensely than Ramona. Her low point is undoubtedly reached the day she throws up in class and Mrs. Whaley instructs the children to hold their noses and file into the hall. But three days later Ramona recovers her verve sufficiently to give a book report in the style of a T.V. commercial, bringing down the house with her final ad-lib line of "I can't believe I read the whole thing!"Writing with humor and compassion, Beverly Cleary continues her chronicle of a child's growth and lovingly reaffirms the durability of the memorable Quimby family. They may not be nice all the time, but they stick together through good times and bad.
Excerpts
Ramona Quimby, Age 8
Chapter One
The First Day of School
Ramona Quimby hoped her parents would forget to give her a little talking-to. She did not want anything to spoil this exciting day.
"Ha-ha, I get to ride the bus to school all by myself," Ramona bragged to her big sister, Beatrice, at breakfast. Her stomach felt quivery with excitement at the day ahead, a day that would begin with a bus ride just the right length to make her feel a long way from home but not long enough--she hoped--to make her feel carsick. Ramona was going to ride the bus, because changes had been made in the schools in the Quimbys' part of the city during the summer. Glenwood, the girls' old school, had become an intermediate school, which meant Ramona had to go to Cedarhurst Primary School.
"Ha-ha yourself." Beezus was too excited to be annoyed with her little sister. "Today I start high school."
"Junior high school," corrected Ramona, who was not going to let her sister get away with acting older than she really was. "Rosemont junior High School is not the same as high school, and besides you have to walk."
Ramona had reached the age of demanding accuracy from everyone, even herself. All summer, whenever a grown-up asked what grade she was in, she felt as if she were fibbing when she answered, "third," because she bad not actually started the third grade. Still, she could not say she was in the second grade since she had finished that grade last June. Grown-ups did not understand that summers were free from grades.
"Ha-ha to both of you," said Mr. Quimby, as he carried his breakfast dishes into the kitchen. "You're not the only ones going to school today." Yesterday had been his last day working at the check-out counter of the Shop-Rite Market. Today he was returning to college to become what he called "a real, live school teacher." He was also going to work one day a week in the frozen-food warehouse of the chain of Shop-Rite Markets to help the family "squeak by,"as the grown-ups put it, until he finished his schooling.
"Ha-ha to all of you if you don't hurry up," said Mrs. Quimby, as she swished suds in the dishpan. She stood back from the sink so she would not spatter the white uniform she wore in the doctor's office where she worked as a receptionist.
"Daddy, will you have to do homework?" Ramona wiped off her milk moustache and gathered up her dishes.
"That's right." Mr. Quimby flicked a dish towel at Ramona as she passed him. She giggled and dodged, happy because he was happy.
Never again would he stand all day at a cash register, ringing up groceries for a long line of people who were always in a hurry.
Ramona slid her plate into the dishwater. "And will Mother have to sign your progress reports?"
Mrs. Quimby laughed. "I hope so."
Beezuswas last to bring her dishes into the kitchen. "Daddy, what do you have to study to learn to be a teacher?" she asked.
Ramona had been wondering the same thing. Her father knew how to read and do arithmetic. He also knew about Oregon pioneers and about two pints making one quart.
Mr. Quimby wiped a plate and stacked it in the cupboard. "I'm taking an art course, because I want to teach art. And I'll study child development.
Ramona interrupted. "What's child development?"
"How kids grow," answered her father.
Why does anyone have to go to school to study a thing like that? wondered Ramona. All her life she had been told that the way to grow was to eat good food, usually food she did not like, and get plenty of sleep, usually when she had more interesting things to do than go to bed.
Mrs. Quimby hung up the dishcloth, scooped up Picky-picky, the Quimbys' old yellow cat, and dropped him at the top of the basement steps. "Scat, all of you," she said, "or you'll be late for school."
After the family's rush to brush teeth, Mr. Quimby said to his daughters, "Hold out your hands," and into each waiting pair he dropped a new pink eraser. "Just for luck," he said, "not because I expect you to make mistakes."
"Thank you,"said the girls. Even a small present was appreciated, because presents of any kind had been scarce while the family tried to save money so Mr. Quimby could return to school. Ramona, who liked to draw as much as her father, especially treasured the new eraser, smooth, pearly pink, smelling softly of rubber, and just right for erasing pencil lines.
Mrs. Quimby handed each member of her family a lunch, two in paper bags and one in a lunch box for Ramona. "Now, Ramona--" she began.
Ramona sighed. Here it was, that little talking-to she always dreaded.
"Please remember , said her mother, "you really must be nice to Willa Jean."
Ramona made a face. I try, but it's awfully hard."
Being nice to Willa Jean was the part of Ramona's life that was not changing, the part she wished would change. Every day after school she had to go to her friend Howie Kemp's house, where her parents paid Howie's grandmother to look after her until one of them could come for her. Both of Howie's parents, too, went off to work each day.
Ramona Quimby, Age 8
. Copyright © by Beverly Cleary. Reprinted by permission of HarperCollins Publishers, Inc. All rights reserved. Available now wherever books are sold.
---

Excerpted from Ramona Quimby, Age 8 by Beverly Cleary
All rights reserved by the original copyright owners. Excerpts are provided for display purposes only and may not be reproduced, reprinted or distributed without the written permission of the publisher.