Note: Supplemental materials are not guaranteed with Rental or Used book purchases.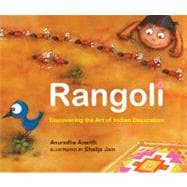 Summary
Every morning Ajji's village is decorated with rangolis. Dots, lines, flower designs, on the ground on the wall, everywhere. Food for ants and fun for birds, dogs and children. This delightful book makes a wonderful introduction to the art of rangoli.
Excerpts
At my Ajji's house in the village, I opened my eyes one morning and saw a big . . . rangoli!It was made of rice flour and sugar."Food for the ants," said my Ajji."You do a good thing first thing in the morning, an also make your home look beautiful," she said.Soon I saw rangolis everywhere in the village.On floors swept with cow-dung.On the red tiles of courtyards.On the walls of mud homes.Around lamps at doorways.In front of temples.Even on flower-seller Gangamamma's saree.Where will I do a rangoli at our flat in the city?"Don't worry," said Ajji."I'll teach you a simple small rangoli . . .to fit just outside your door!"