Note: Supplemental materials are not guaranteed with Rental or Used book purchases.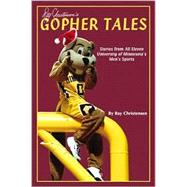 Ray Christenson's Gopher Tales: Stories from All Eleven University of Minnesota's Men's Sports
ISBN13:
9781582614694
by
Christensen, Ray
Summary
Join Ray as he reveals who was trapped in an elevator a block from the arena, whose idea it was to use a "ball" made of welltaped toilet paper for basketball practice, and which wrestler went on to win the Nobel Prize. Ray Christensen's Gopher Tales captures the excitement, humor and character of the Golden Gopher tradition. Book jacket.
Author Biography
Ray Christensen was active in radio broadcasting for 55 years. Before retiring in March of 2001, he did the play-by-play of University of Minnesota football for 50 consecutive seasons (510 games) and Gopher basketball for 45 consecutive seasons (1,309 games). Among his many awards are the University of Minnesota Alumni Service Award, the Men's Athletics Hall of Fame Award and the Chris Schenkel Award (placing him in the College Football Hall of Fame).
Table of Contents
Preface
xi
1
(2)
3
(1)
4
(1)
4
(3)
7
(1)
8
(1)

| | |
| --- | --- |
| | Gophers... Golden Gophers |

8
(1)
9
(1)
10
(1)

| | |
| --- | --- |
| | Franck, Smith and the Heisman |

10
(2)
12
(1)

| | |
| --- | --- |
| | Memorial Stadium, the Inside Story |

12
(2)
14
(1)

| | |
| --- | --- |
| | Let's Hear It for the Gophers! |

14
(1)
15
(1)
16
(1)
17
(1)
17
(1)
18
(1)

| | |
| --- | --- |
| | The ``1'' and ``2'' Return |

19
(1)

| | |
| --- | --- |
| | Minnesota and Iowa-the Biggest Game |

19
(2)
21
(1)
21
(1)
22
(1)

| | |
| --- | --- |
| | The Outland Award-Brown and Bell-Back to Back |

23
(2)
25
(1)
25
(1)
26
(1)
27
(1)
28
(1)
28
(1)
29
(1)
30
(1)
30
(3)
33
(1)
33
(1)
34
(1)
34
(1)

| | |
| --- | --- |
| | Holtz to Gutekunst-A Quick Handoff |

35
(2)
37
(1)

| | |
| --- | --- |
| | My Only Coaching Assignment |

37
(1)
38
(1)

| | |
| --- | --- |
| | Lohmiller's Other 1986 Heroics |

38
(1)

| | |
| --- | --- |
| | The Silence of the Wolverines |

39
(2)
41
(1)
41
(1)

| | |
| --- | --- |
| | From the Field to the Booth |

42
(2)
44
(1)

| | |
| --- | --- |
| | The Upholsterer from Brooklyn |

45
(1)
46
(1)
46
(1)
47
(1)
48
(1)
48
(2)
50
(1)
50
(2)
52
(1)
53
(1)

| | |
| --- | --- |
| | My Top Twenty-two in Football |

54
(2)
56
(1)
57
(1)

| | |
| --- | --- |
| | The Field Goal and the Fans |

58
(1)
58
(1)
59
(2)
61
(1)

| | |
| --- | --- |
| | The Jacket from South Korea |

61
(1)
62
(3)
65
(3)

| | |
| --- | --- |
| | ``The Use of Intoxicating Liquor---'' |

68
(1)
69
(1)

| | |
| --- | --- |
| | ``I Hate the Twin Cities'' |

70
(1)
70
(1)
71
(1)
72
(1)
72
(2)

| | |
| --- | --- |
| | Necessity Is the Mother of Invention |

74
(1)
74
(1)
75
(1)
75
(1)

| | |
| --- | --- |
| | The Best Opposing Team, the Best Opposing Player |

76
(1)
76
(1)
77
(1)

| | |
| --- | --- |
| | The Ups and Downs of Play-by-Play |

78
(1)
79
(1)
80
(1)
81
(1)

| | |
| --- | --- |
| | It's Sunday. Who's In Charge? |

82
(1)
82
(1)

| | |
| --- | --- |
| | Favorite ``Away'' Broadcast Locations |

83
(1)

| | |
| --- | --- |
| | From Just Short to All the Way |

84
(1)
85
(1)
86
(2)
88
(1)
88
(1)
89
(1)

| | |
| --- | --- |
| | My Favorite Basketball Pass |

90
(1)
90
(3)
93
(2)
95
(1)
96
(1)

| | |
| --- | --- |
| | Georgia On His Mind... Again |

97
(1)

| | |
| --- | --- |
| | My Top Ten (Eleven) in Basketball |

98
(2)
100
(1)
101
(1)

| | |
| --- | --- |
| | An Unexpected Recognition |

101
(1)
102
(1)

| | |
| --- | --- |
| | A Sad Ending... a Promising Beginning |

103
(1)
104
(1)

| | |
| --- | --- |
| | Out of Circulation--Into Tradition |

104
(2)

| | |
| --- | --- |
| | Wrestling With World Hunger |

106
(1)
107
(1)
108
(1)
108
(2)
110
(1)

| | |
| --- | --- |
| | Lesnar and Oklahoma State |

110
(1)
111
(2)
113
(1)
114
(1)
115
(1)
116
(1)
117
(1)
118
(2)
120
(1)
120
(2)
122
(1)
122
(1)

| | |
| --- | --- |
| | The Prelude to ``Miracle On Ice'' |

123
(2)
125
(1)
126
(2)

| | |
| --- | --- |
| | Putting the ``O'' into ``D'' |

128
(1)
128
(1)
129
(1)
130
(1)
131
(1)
132
(1)
133
(1)

| | |
| --- | --- |
| | From Alaska to Colorado to Minnesota |

133
(1)
134
(2)

| | |
| --- | --- |
| | Harris and Nielsen---Opposite Approaches |

136
(1)
137
(1)
137
(2)
139
(1)
140
(1)
140
(2)
142
(1)
143
(2)

| | |
| --- | --- |
| | Three Extra-Inning Games in Omaha |

145
(1)
145
(2)

| | |
| --- | --- |
| | The Little Guy Wanted to Be Here |

147
(1)
148
(1)
149
(1)
150
(1)
151
(1)
151
(1)
152
(1)
153
(2)

| | |
| --- | --- |
| | How to Follow a Tough Act to Follow |

155
(3)
158
(2)
160
(2)
162
(1)
162
(2)
164
(1)

| | |
| --- | --- |
| | The Sprint and Butterfly Masters |

165
(1)
166
(2)
168
(1)
168
(1)
169
(1)
170
(1)
170
(2)
172
(2)
174
(1)
175
(1)
175
(1)
176
(1)

| | |
| --- | --- |
| | The First 21st Century All-American |

177
(1)

| | |
| --- | --- |
| | Fred's ``Most Satisfying'' List |

178
(2)

| | |
| --- | --- |
| | Track and Field and Cross-Country |

180
(1)

| | |
| --- | --- |
| | A National Title with Two Unexpected Contributions |

181
(1)
181
(1)

| | |
| --- | --- |
| | The Nation's Largest Cross-Country Invitational |

182
(1)

| | |
| --- | --- |
| | Twig's Most Prominent Native Son |

183
(2)

| | |
| --- | --- |
| | Going Cross-Country? Double Your Miles |

185
(1)
185
(3)

| | |
| --- | --- |
| | A Home-Grown Four by Four |

188
(1)

| | |
| --- | --- |
| | Memorial Stadium---the Track, the Field, the Man |

188
(1)
189
(2)
191
(3)
194
(1)
195
(2)
197
(1)
197
(1)

| | |
| --- | --- |
| | 2000-2001---Lasting Memories |

198
(1)
199
(1)
Index
200