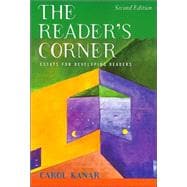 Questions About This Book?
What version or edition is this?
This is the 2nd edition with a publication date of 4/14/2004.
What is included with this book?
The New copy of this book will include any supplemental materials advertised. Please check the title of the book to determine if it should include any CDs, lab manuals, study guides, etc.
Related Products
Summary
For upper-level developmental courses, this reader features 50 compelling selections reflecting a broad mix of sources, including magazines, newspapers, books, the Associated Press and the work of authors such as Christy Haubegger, Dave Barry, Caroline Huang and William Raspberry. After the introductory chapter on the reading process and essential reading skills, students focus on selections of varying lengths. Longer readings allow students to apply new skills and strategies to material similar to what they will encounter in other college courses. The Instructor's Resource Manual features exercises that instructors can use to reinforce each of the five essential reading skills taught in the textbook, as well as a test bank with a pool of questions that can be used to create quizzes or exams. A chapter entitled America at Work helps students learn more about joining the workforce after college, including different career choices and the importance of effective business communication. The first chapter outlines the reading process and five essential reading strategies: how to find the main idea of a selection, identify supporting details, determine the author's purpose, establish the organizational pattern, and make inferences. All reading selections are followed by questions that require students to apply each of these five reading strategies.
Table of Contents
Preface
xiii
Starting Points
1
(28)

| | |
| --- | --- |
| | PART ONE Americans in Transition |

29
(7)

| | |
| --- | --- |
| | ``Vietnamese: A Lifetime Commitment'' |

36
(6)

| | |
| --- | --- |
| | ``Quran Lesson: Exalt Moms, Dads'' |

42
(5)

| | |
| --- | --- |
| | ``What's in a Name? Character, Identity, Ethnicity'' |

47
(9)
56
(6)
62
(7)
69
(6)

| | |
| --- | --- |
| | ``Beyond the Gender Myths'' |

75
(8)
83
(7)

| | |
| --- | --- |
| | ``Prejudice and Stereotypes'' |

90
(11)

| | |
| --- | --- |
| | PART TWO Rumblings in the Culture |

| | |
| --- | --- |
| | ``The Ritual of Fast Food'' |

101
(7)

| | |
| --- | --- |
| | ``Children Want Parents' Attention'' |

108
(7)

| | |
| --- | --- |
| | ``Killings Show Moral Void That Psychology Cannot Fill'' |

115
(7)

| | |
| --- | --- |
| | ``Why Do Students at U.S. Military-Base Schools Excel?'' |

122
(7)

| | |
| --- | --- |
| | ``Seeking Spirituality in a Time of Tragedy'' |

129
(7)

| | |
| --- | --- |
| | ``I'm Afraid to Look, Afraid to Turn Away'' |

136
(6)

| | |
| --- | --- |
| | ``Cell Phones Destroy Solitude of Wilderness'' |

142
(6)

| | |
| --- | --- |
| | ``The Power of the Pill'' |

148
(7)

| | |
| --- | --- |
| | ``The War on Tobacco: Where There's Smoke, There's Money'' |

155
(6)

| | |
| --- | --- |
| | ``Participating in Groups'' |

161
(12)

| | |
| --- | --- |
| | PART THREE Against All Odds |

173
(6)
179
(7)

| | |
| --- | --- |
| | ``How I Quit Smoking, If I Really Did'' |

186
(5)

| | |
| --- | --- |
| | ``Navigating My Eerie Landscape Alone'' |

191
(6)
197
(8)

| | |
| --- | --- |
| | ``Longevity and Livability'' |

205
(6)
211
(7)

| | |
| --- | --- |
| | ``Scholars and Descendants'' |

218
(9)
227
(6)

| | |
| --- | --- |
| | ``The Postwar Booms: Babies, Business, and Bigness'' |

233
(12)

| | |
| --- | --- |
| | ``My Long-Distance Life'' |

245
(6)

| | |
| --- | --- |
| | ``Creating a New Form of Inequality'' |

251
(9)

| | |
| --- | --- |
| | ``Have Today's Schools Failed Male Students?'' |

260
(7)

| | |
| --- | --- |
| | ``Correspondence/Black & Middle Class: Both a Victim of Racial Profiling---and a Practitioner'' |

267
(7)

| | |
| --- | --- |
| | ``A $300 Solution to Organ-Donation Dilemma?'' |

274
(6)

| | |
| --- | --- |
| | ``Some Dying Patients Need Help'' |

280
(5)

| | |
| --- | --- |
| | ``Suicide Issue Diverts Us from the Real Problems'' |

285
(5)

| | |
| --- | --- |
| | ``In Opposition to the Death Penalty'' |

290
(6)

| | |
| --- | --- |
| | ``In Defense of the Death Penalty'' |

296
(6)

| | |
| --- | --- |
| | ``Divorce and Its Effects on Children'' |

302
(13)

| | |
| --- | --- |
| | PART FIVE America at Work |

| | |
| --- | --- |
| | ``A Year of African Life Opened My Eyes'' |

315
(6)

| | |
| --- | --- |
| | ``White-Collar Man in a Blue-Collar World'' |

321
(6)

| | |
| --- | --- |
| | ``You're a What? Research Chef'' |

327
(7)

| | |
| --- | --- |
| | ``E-Learning as Easy as ABC'' |

334
(7)

| | |
| --- | --- |
| | ``Foul Language Could Be a Curse on Your Career'' |

341
(6)

| | |
| --- | --- |
| | ``Until Dust Do Us Part'' |

347
(5)

| | |
| --- | --- |
| | ``Doing Nothing Is Something'' |

352
(6)

| | |
| --- | --- |
| | ``Pounding the Virtual Pavement'' |

358
(11)

| | |
| --- | --- |
| | ``Barriers to Communication'' |

369
(11)

| | |
| --- | --- |
| | ``Career-Related Decisions in Personal Finance'' |

380