Note: Supplemental materials are not guaranteed with Rental or Used book purchases.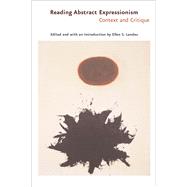 Questions About This Book?
What version or edition is this?
This is the edition with a publication date of 5/11/2005.
What is included with this book?
The New copy of this book will include any supplemental materials advertised. Please check the title of the book to determine if it should include any CDs, lab manuals, study guides, etc.
Summary
Abstract Expressionism is arguably the most important art movement in postwar America. Many of its creators and critics became celebrities, participating in heated public debates that were published in newspapers, magazines, and exhibition catalogues. This up-to-date anthology is the first comprehensive collection of key critical writings about Abstract Expressionism from its inception in the 1940s to the present day. Ellen G. Landau's masterful introduction presents and analyzes the major arguments and crucial points of view that have surrounded the movement decade by decade. She then offers a selection of readings, also organized by decade, including influential statements by such artists as Mark Rothko, Robert Motherwell, Jackson Pollock, and Barnett Newman as well as the commentary of diverse critics. Offering new insights into the development of Abstract Expressionism, this rich anthology also demonstrates the ongoing impact of this revolutionary and controversial movement. Reading Abstract Expressionismis essential for the library of any curator, scholar, or student of twentieth-century art.
Author Biography
Ellen G. Landau is Andrew W. Mellon Professor of the Humanities, Department of Art History and Art, Case Western University. Her previous books include Jackson Pollock and Lee Krasner: A Catalogue Raisonné.

Table of Contents
Preface
ix
Introduction Abstract Expressionism: Changing Methodologies for Interpreting Meaning
1
(124)
The 1940's: Mythologizing the Movement

| | |
| --- | --- |
| | Arshile Gorky, Excerpt from Letter to His Sister Vartoosh, 1942 |

125
(1)

| | |
| --- | --- |
| | Adolph Gottlieb and Mark Rothko, Excerpt from "Art in New York," 1943 |

125
(4)

| | |
| --- | --- |
| | Robert Motherwell, Excerpts from "The Modern Painter's World," 1944 |

129
(3)

| | |
| --- | --- |
| | Jackson Pollock, "A Questionnaire," 1944 |

132
(1)

| | |
| --- | --- |
| | Norman Lewis, "Thesis, 1946" |

133
(2)

| | |
| --- | --- |
| | Jackson Pollock, Application for a Guggenheim Fellowship, 1947 |

135
(1)

| | |
| --- | --- |
| | Barnett Newman, "The Ideographic Picture," 1947 |

135
(2)

| | |
| --- | --- |
| | Barnett Newman, "The Sublime Is Now," 1948 |

137
(2)

| | |
| --- | --- |
| | Jackson Pollock, "My Painting," 1947-1948 |

139
(1)

| | |
| --- | --- |
| | Mark Rothko, "The Romantics Were Prompted," 1947-1948 |

140
(2)

| | |
| --- | --- |
| | John Graham, Excerpts from System and Dialectics of Art, 1937 |

142
(4)

| | |
| --- | --- |
| | Edward Alden Jewell, Excerpt from "The Realm of Art: A New Platform; 'Globalism' Pops into View," 1943 |

146
(4)

| | |
| --- | --- |
| | Maude Riley, Excerpt from "Whither Goes Abstract and Surrealist Art?" |

150
(2)

| | |
| --- | --- |
| | Howard Putzel, "A Problem for Critics," 1945 |

152
(1)

| | |
| --- | --- |
| | Robert Motherwell and Harold Rosenberg, "Editorial Preface," 1947-1948 |

153
(1)

| | |
| --- | --- |
| | Samuel M. Kootz and Harold Rosenberg, The Intrasubjectives, 1949 |

154
(5)
The 1950's: Establishing Authority

| | |
| --- | --- |
| | Robert Goodnough, ed., Excerpts from Artists' Sessions at Studio 35, 1950 |

159
(6)

| | |
| --- | --- |
| | Elaine de Kooning, "David Smith Makes a Sculpture," 1951 |

165
(6)

| | |
| --- | --- |
| | Clyfford Still, "Statement," 1952 |

171
(1)

| | |
| --- | --- |
| | Thomas B. Hess, "de Kooning Paints a Picture," 1953 |

172
(8)

| | |
| --- | --- |
| | Louise Bourgeois, "Artist's Statement," 1954 |

180
(1)

| | |
| --- | --- |
| | Allan Kaprow, "The Legacy of Jackson Pollock," 1958 |

181
(7)

| | |
| --- | --- |
| | Martica Sawin, "In the Galleries: Franz Kline," 1958 |

188
(1)

| | |
| --- | --- |
| | Harold Rosenberg, "The American Action Painters," 1952 |

189
(9)

| | |
| --- | --- |
| | Clement Greenberg, "'American-Type' Painting," 1955 |

198
(17)

| | |
| --- | --- |
| | Meyer Schapiro, Excerpt from "The Liberating Quality of Avant-Garde Art," 1957 |

215
(5)

| | |
| --- | --- |
| | International Reaction to Alfred H. Barr Jr., "The New American Painting" |

220
(9)

| | |
| --- | --- |
| | Mercedes Molleda, Revista ( Barcelona) , 1958 |

220
(1)

| | |
| --- | --- |
| | L.D.H., La Libre Belgique (Brussels), 1958 |

221
(1)

| | |
| --- | --- |
| | Unsigned, Le Phare (Brussels), 1958 |

221
(1)

| | |
| --- | --- |
| | Will Grohmann, Der Tagesspiegel (Berlin), 1958 |

222
The 1960's: Consolidating the Canon

| | |
| --- | --- |
| | P.G. Pavia, "The Unwanted Title: Abstract Expressionism," 1960 |

229
(7)

| | |
| --- | --- |
| | Louise Elliott Rago, "We Interview Lee Krasner," 1960 |

236
(3)

| | |
| --- | --- |
| | Robert Rosenblum, "The Abstract Sublime," 1961 |

239
(6)

| | |
| --- | --- |
| | H.H. Arnason, Excerpt from American Abstract Expressionists and Imagists, 1961 |

245
(5)

| | |
| --- | --- |
| | Lawrence Alloway, "The Biomorphic '40's," 1965 |

250
(6)

| | |
| --- | --- |
| | Michael Fried, "Jackson Pollock," 1965 |

256
(7)

| | |
| --- | --- |
| | Sidney Simon, "Concerning the Beginnings of the New York School, 1939-1943: An Interview with Peter Busa and Matta, Conducted in Minneapolis in December 1966," 1967 |

263
(13)

| | |
| --- | --- |
| | Sidney Simon, "Concerning the Beginnings of the New York School, 1939-1943: An Interview with Robert Motherwell Conducted in New York in January 1967," 1967 |

276
(17)
The 1970's: Emerging Contexts and Closer Readings

| | |
| --- | --- |
| | Judith Wolfe, "Jungian Aspects of Jackson Pollock's Imagery," 1972 |

293
(20)

| | |
| --- | --- |
| | Lawrence Alloway, "Residual Sign Systems in Abstract Expressionism," 1973 |

313
(11)

| | |
| --- | --- |
| | Robert C. Hobbs, "Robert Motherwell's Elegies to the Spanish Republic," 1976 (revised 2004) |

324
(14)

| | |
| --- | --- |
| | David Shapiro and Cecile Shapiro, Excerpt from "Abstract Expressionism: The Politics of Apolitical Painting," Part 3, 1977 |

338
(8)

| | |
| --- | --- |
| | Melvin P. Lader, "Graham, Gorky, de Kooning and the 'Ingres Revival' in America" 1978 |

346
(15)

| | |
| --- | --- |
| | Donald B. Kuspit, "Symbolic Pregnance in Mark Rothko and Clyfford Still," 1978 |

361
(22)
The 1980's: Reading New Significations

| | |
| --- | --- |
| | Serge Guilbaut, "The New Adventures of the Avant-Garde in America: Greenberg, Pollock, or from Trotskyism to the New Liberalism of the 'Vital Center,'" 1980 |

383
(16)

| | |
| --- | --- |
| | Evan R. Firestone, "James Joyce and the First Generation New York School," 1982 |

399
(16)

| | |
| --- | --- |
| | A. Deirdre Robson, "The Market for Abstract Expressionism: The Time Lag Between Critical and Commercial Acceptance," 1985 |

415
(7)

| | |
| --- | --- |
| | W. Jackson Rushing, "The Impact of Nietzsche and Northwest Coast Indian Art on Barnett Newman's Idea of Redemption in the Abstract Sublime," 1988 |

422
(20)

| | |
| --- | --- |
| | Ann Gibson, "The Rhetoric of Abstract Expressionism," 1989 |

442
(47)
The 1990's: Reldelfining Abstract Expressionism

| | |
| --- | --- |
| | Stephen Polcari, "Martha Graham and Abstract Expressionism," 1990 |

489
(21)

| | |
| --- | --- |
| | David Craven, "Introduction," "Abstract Expressionism and Afro-American Marginalisation," and "Dissent During the McCarthy Period," 1991 |

510
(17)

| | |
| --- | --- |
| | Michael Leja, "Modern Man Discourse and the New York School," 1993 |

527
(8)

| | |
| --- | --- |
| | T.J. Clark, "In Defense of Abstract Expressionism," 1999 |

535
(25)

| | |
| --- | --- |
| | Lisa Saltzman, "Reconsidering the Stain: On Gender, Identity, and New York School Painting," 1998 |

560
(20)

| | |
| --- | --- |
| | David Anfam, "Of the Earth, the Damned, and of the Recreated': Aspects of Clyfford Still's Earlier Work," 1993 |

580
(14)

| | |
| --- | --- |
| | Richard Shiff, Excerpt from "Water and Lipstick: De Kooning in Transition," 1994 |

594
(21)

| | |
| --- | --- |
| | Matthew Baigell, "Barnett Newman's Stripe Paintings and Kabbalah: A Jewish Take," 1994 |

615
(10)

| | |
| --- | --- |
| | Joan M. Marter, "Arcadian Nightmares: The Evolution of David Smith and Dorothy Dehner's Work at Bolton Landing," 1995 (revised 2002) |

625
(20)

| | |
| --- | --- |
| | Rosalind E. Krauss, "The Crisis of the Easel Picture," 1999 |

645
(20)
Selected Bibliography
665
(42)
Index
707