Note: Supplemental materials are not guaranteed with Rental or Used book purchases.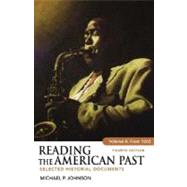 Reading the American Past, Volume II: From 1865 : Selected Historical Documents
ISBN13:
9780312459680
by
Johnson, Michael P.
Questions About This Book?
Why should I rent this book?
Renting is easy, fast, and cheap! Renting from eCampus.com can save you hundreds of dollars compared to the cost of new or used books each semester. At the end of the semester, simply ship the book back to us with a free UPS shipping label! No need to worry about selling it back.
How do rental returns work?
Returning books is as easy as possible. As your rental due date approaches, we will email you several courtesy reminders. When you are ready to return, you can print a free UPS shipping label from our website at any time. Then, just return the book to your UPS driver or any staffed UPS location. You can even use the same box we shipped it in!
What version or edition is this?
This is the 4th edition with a publication date of 1/4/2008.
What is included with this book?
The Used copy of this book is not guaranteed to include any supplemental materials. Typically, only the book itself is included.
The Rental copy of this book is not guaranteed to include any supplemental materials. You may receive a brand new copy, but typically, only the book itself.
Summary
This two-volume primary-source collection provides a diverse selection of voices from the nation's past while emphasizing the important social, political, and economic themes of a U.S. history survey course. Thirty-one new documents (one per chapter) present history from the perspective of notable leaders and ordinary people alike, focusing particular attention on the West, gender, ethnicity, and America in a global context. A revised introduction offers clear and helpful guidance on how to read and analyze primary documents. Edited by one of the authors of The American Promise and designed to complement the textbook, Reading the American Past features over 150 documents, each accompanied by a headnote and questions for discussion. Chapter headnotes and comparative questions further encourage students' understanding of the sources.
Author Biography
MICHAEL P. JOHNSON (Ph.D., Stanford University) is a professor of history at the Johns Hopkins University. He has written or edited six books, including No Chariot Let Down: Charleston's Free People of Color on the Eve of the Civil War (1984) and The American Promise.
Table of Contents
Preface for Instructors
p. iii
Introduction for Students
p. viii
Reconstruction, 1863-1877
p. 1
Carl Schurz Reports on the Condition of the Defeated South
p. 1
Report on the Condition of the South, 1865
Black Codes Enacted in the South
p. 5
Mississippi Black Code, November 1865
Former Slaves Seek to Reunite Their Families
p. 9
Advertisements from the Christian Recorder, 1865-1870
A Black Convention in Alabama
p. 14
Address of the Colored Convention to the People of Alabama, 1867
Klan Violence against Blacks
p. 18
Elias Hill, Testimony before Congressional Committee Investigating the Ku Klux Klan, 1871
Comparative Questions
p. 21
The Contested West, 1870-1900
p. 22
Pun Chi Appeals to Congress in Behalf of Chinese Immigrants in California
p. 22
A Remonstrance from the Chinese in California, ca. 1870
Swedish Immigrants on the Kansas Prairie
p. 26
Ida Lindgren, Letters, 1870-1874
Texas Rangers on the Mexican Border
p. 30
N. A. Jennings, A Texas Ranger, 1875
In-mut-too-yah-lat-lat Describes White Encroachment
p. 33
Chief Joseph, Speech to a White Audience, 1879
A Plea to "Citizenize" Indians
p. 37
Richard Pratt, "Kill the Indian ... and save the man," 1892
Comparative Questions
p. 40
Business and Politics in the Gilded Age, 1870-1895
p. 41
Jay Gould on Capital and Labor
p. 41
Testimony before the U.S. Senate, 1883
William Graham Sumner on Social Obligations
p. 45
What Social Classes Owe to Each Other, 1883
Henry Demarest Lloyd Attacks Monopolies
p. 48
Wealth against Commonwealth, 1894
Andrew Carnegie Explains the Gospel of Wealth
p. 52
Wealth, 1889
Henry George Explains Why Poverty Is a Crime
p. 55
An Analysis of the Crime of Poverty, 1885
Comparative Questions
p. 59
The City and its Workers, 1870-1900
p. 60
A Textile Worker Explains the Labor Market
p. 60
Thomas O'Donnell, Testimony before a U.S. Senate Committee, 1885
Domestic Servants on Household Work
p. 64
Interviews with Journalist Helen Campbell, 1880s
Jacob Riis Describes Abandoned Babies in New York City's Slums
p. 67
Waifs of New York City's Slums, 1890
Labor Contractors and Italian Immigrants
p. 71
S. Merlino, Italian Immigrants and Their Enslavement, 1893
George Washington Plunkitt Explains Politics
p. 75
William L. Riordon, Plunkitt of Tammany Hall, 1905
Comparative Questions
p. 78
Dissent, Depression, and War, 1890-1900
p. 79
Addressing the Crisis in Rural America
p. 79
Populist Party Platform, July 4, 1892
White Supremacy in Wilmington, North Carolina
p. 84
Gunner Jesse Blake, Narrative of the Wilmington "Rebellion" of 1898
Pinkertons Defeated at Homestead
p. 88
Pinkerton Guard Testimony, 1893
Conflicting Views about Labor Unions
p. 91
N. F. Thompson, Testimony before the Industrial Commission on the Relations and Conditions of Capital and Labor, 1900
Samuel Gompers, Letter to the American Federationist, 1894
Emilio Aguinaldo Criticizes American Imperialism in the Philippines
p. 97
Case against the United States, 1899
Comparative Questions
p. 101
Progressivism from the Grass Roots to the White House, 1890-1916
p. 102
Jane Addams on Settlement Houses
p. 102
The Subjective Necessity for Social Settlements, 1892
A Sociologist Studies Working-Class Saloons in Chicago
p. 106
Royal Melendy, Ethical Substitutes for the Saloon, 1900
John D. Rockefeller Jr. Explains "The Best Thing for Us All"
p. 110
Speech to Colorado Fuel and Iron Officials and Employee Representatives, October 2, 1915
Mother Jones on the Futility of Class Harmony
p. 113
Letter to Mrs. Potter Palmer, January 12, 1907
Booker T. Washington on Racial Accommodation
p. 115
The Atlanta Exposition Address, 1895
W. E. B. Du Bois on Racial Equality
p. 118
Booker T. Washington and Others, 1903
Comparative Questions
p. 121
World War I: The Progressive Crusade at Home and Abroad, 1914-1920
p. 123
President Woodrow Wilson Asks Congress for a Declaration of War
p. 123
Speech to Congress, April 2, 1917
Eugene V. Debs Attacks Capitalist Warmongers
p. 127
Speech Delivered in Canton, Ohio, June 16, 1918
A Doughboy's Letter from the Front
p. 130
Anonymous Soldier, Letter to Elmer J. Sutters, 1918
Attorney General A. Mitchell Palmer Defends America from Communists
p. 133
The Case against the "Reds," 1920
An African American Responds to the Chicago Race Riot
p. 138
Stanley B. Norvell, Letter to Victor F. Lawson, 1919
Comparative Questions
p. 142
From New Era to Great Depression, 1920-1932
p. 144
President Calvin Coolidge on Government and Business
p. 144
Address before the New York Chamber of Commerce, November 19, 1925
Reinhold Niebuhr on Christianity in Detroit
p. 148
Diary Entries, 1925-1928
The Ku Klux Klan Defends Americanism
p. 151
Hiram W. Evans, The Klan's Fight for Americanism, 1926
Mothers Seek Freedom from Unwanted Pregnancies
p. 155
Margaret Sanger, Motherhood in Bondage, 1928
Marcus Garvey Explains the Goals of the Universal Negro Improvement Association
p. 158
The Negro's Greatest Enemy, 1923
Comparative Questions
p. 162
The New Deal Experiment, 1932-1939
p. 164
Franklin D. Roosevelt Proposes an Activist Government
p. 164
Speech to the Commonwealth Club, San Francisco, 1932
Working People's Letters to New Dealers
p. 169
Letter to Frances Perkins, January 27, 1935
Letter to Frances Perkins, March 29, 1935
Letter to Franklin D. Roosevelt, November 23, 1936
Letter to Frances Perkins, July 27, 1937
Letter to Franklin D. Roosevelt, November 27, 1939
Huey Long Proposes Redistribution of Wealth
p. 174
Speech to Members of the Share Our Wealth Society, 1935
A Mexican American Farmworker Describes the Importance of Sticking Together
p. 177
Jose Flores, Interview, Farm Security Administration Migrant Labor Camp, El Rio, California, 1941
Conservatives Criticize the New Deal
p. 181
Herbert Hoover, Anti-New Deal Campaign Speech, 1936
Minnie Hardin, Letter to Eleanor Roosevelt, December 14, 1937
Comparative Questions
p. 185
The United States and the Second World War, 1939-1945
p. 187
President Franklin D. Roosevelt Requests Declaration of War on Japan
p. 187
Speech to Congress, December 8, 1941
A Japanese American War Hero Recalls Pearl Harbor
p. 189
Grant Hirabayashi, Oral History, 1999
The Holocaust: A Journalist Reports on Nazi Massacres of Jews
p. 192
Varian Fry, The Massacre of the Jews, December 21, 1942
Soldiers Send Messages Home
p. 197
Sergeant Irving Strobing, Radio Address from Corregidor, Philippines, May 5 or 6, 1942
John Conroy, Letter, December 24, 1942
Allen Spach, Letter, February 1943
James McMahon, Letter, March 10, 1944
David Mark Olds, Letter, July 12, 1945
The War between the Sexes
p. 204
Willard Waller, The Coming War on Women, 1945
Comparative Questions
p. 208
Cold War Politics in the Truman Years, 1945-1953
p. 209
General Marshall Summarizes the Lessons of World War II
p. 209
For the Common Defense, 1945
George F. Kennan Outlines Containment
p. 214
The Long Telegram, February 22, 1946
Cold War Blueprint
p. 218
NSC-68: U.S. Objectives and Programs for National Security, 1950
Senator Joseph McCarthy Hunts Communists
p. 222
Speech Delivered in Wheeling, West Virginia, February 9, 1950
A South Korean Soldier Remembers the Korean War
p. 225
Hong An, Interview, 1997
Comparative Questions
p. 229
The Politics and Culture of Abundance, 1952-1960
p. 230
Edith M. Stern Attacks the Domestic Bondage of Women
p. 230
Women Are Household Slaves, 1949
Vance Packard Analyzes the Age of Affluence
p. 235
The Status Seekers, 1959
Rosa Parks Says "No": A Memoir
p. 239
My Story, 1992
Civil Defense in the Nuclear Shadow
p. 243
North Dakota Civil Defense Agency, How You Will Survive, 1960
President Dwight D. Eisenhower Warns about the Military-Industrial Complex
p. 247
Farewell Address, January 1961
Comparative Questions
p. 250
Reform, Rebellion, and Reaction, 1960-1974
p. 251
President Lyndon B. Johnson Describes the Great Society
p. 251
Address at the University of Michigan, May 22, 1964
New Left Students Seek Democratic Social Change
p. 254
Students for a Democratic Society, The Port Huron Statement, 1962
Martin Luther King Jr. Explains Nonviolent Resistance
p. 259
Letter from Birmingham City Jail, 1963
Black Power
p. 264
Chicago Student Non-Violent Coordinating Committee Leaflet, 1967
Equal Rights for Women
p. 268
National Organization for Women, Statement of Purpose, October 29, 1966
Comparative Questions
p. 272
Vietnam and the Limits of Power, 1961-1975
p. 273
President Kennedy Explains Why We Are in Vietnam
p. 273
Bobbie Lou Pendergrass, Letter to President John F. Kennedy, February 18, 1963
President John F. Kennedy, Letter to Bobbie Lou Pendergrass, March 6, 1963
A Secret Government Assessment of the Vietnam War
p. 276
Robert S. McNamara, Actions Recommended for Vietnam, October 14, 1966
Military Discipline in an Unpopular War
p. 281
Robert D. Heinl Jr., The Collapse of the Armed Forces, June 7, 1971
An American Soldier in Vietnam
p. 285
Arthur E. Woodley Jr., Oral History of a Special Forces Ranger
A Vietcong Guerrilla Describes Tunnel Warfare
p. 290
Tran Thi Gung, Interview, ca. 1998
Comparative Questions
p. 293
America Moves to the Right, 1969-1989
p. 294
George Wallace Campaigns for President
p. 294
American Independent Party Platform, 1968
The Watergate Tapes: Nixon, Dean, and Haldeman Discuss the Cancer within the Presidency
p. 299
Transcript from Tape-Recorded Meeting, March 21, 1973
Roe v. Wade and Abortion Rights
p. 306
Supreme Court Decision, 1973
President Ronald Reagan Defends American Morality
p. 310
Address to the National Association of American Evangelicals, 1983
A Vietnamese Immigrant on the West Coast
p. 315
Anonymous Man, Oral History, 1983
Comparative Questions
p. 318
The End of the Cold War and the Challenges of Globalization, Since 1989
p. 319
Supreme Court Dissents from Deciding 2000 Presidential Election
p. 319
Supreme Court Dissents in George W. Bush v. Albert Gore Jr., December 12, 2000
President George W. Bush Receives CIA Warning about Al Qaeda and Addresses Congress after 9/11 Terrorist Attacks
p. 324
President's Daily Brief, Bin Laden Determined to Strike in the U.S., August 6, 2001
President George W. Bush, Address to a Joint Session of Congress and the American People, September 20, 2001
National Security of the United States Requires Preemptive War
p. 329
The National Security Strategy of the United States, September 2002
A Captured 9/11 Terrorist Confesses
p. 334
Khalid Sheikh Muhammad, Confession, 2007
A Christian Leader Argues That Evangelical Christianity Has Been Hijacked
p. 337
Tony Campolo, Interview, 2004
Comparative Questions
p. 341
Table of Contents provided by Ingram. All Rights Reserved.