Note: Supplemental materials are not guaranteed with Rental or Used book purchases.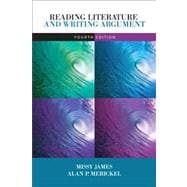 Questions About This Book?
What version or edition is this?
This is the 4th edition with a publication date of 1/21/2010.
What is included with this book?
The Used copy of this book is not guaranteed to include any supplemental materials. Typically, only the book itself is included.
Customer Reviews
Wonderful Literature..!
March 23, 2011
by





This book was in great condition and easy to understand, it contains a lot of data about critical literature and writing a perfect argument with giving many examples about that. It helped me a lot in my work and I think it will help college students too.

Flag Review
---
Reading Literature and Writing Argument

:
stars based on
1
user reviews.
Summary
This anthology combines the content of literature and argument texts into one easy to use book. Reading Literature and Writing Argumentprovides readers with multi-genre reading experiences designed to immerse them in critical and creative thinking as they address problems and issues from multiple perspectives. This book prompts readers to see language as a way to create meaning in their lives and to see themselves as writers with a purpose and an audience. A new Chapter 3, "Talking Voice and Writing Argument," addresses the challenges of finding oners"s voice in academic writing. "Global Perspectives Research and Writing Topics" now appear at the end of the four literature chapters, to offer a broader context for approaching literary works. For anyone wanting to write compellling and thoughtful arguments.
Table of Contents
PART I RHETORIC 1
1 The Literature and Argument Connection
Practicing Critical Inquiry and Expanding Thinking 2
Academic Argument and Critical Inquiry 3
Reading to Expand Thinking 5
from "Cathedral" 6
Raymond Carver, from "Cathedral" 00
"For deLawd" 6
Lucille Clifton, "For deLawd" 00
Activities 8
Marge Piercy, "To Be of Use" 8
Jane Martin, "Rodeo" 9
2 Examining Thinking and Analyzing Argument 12
Examining Thinking 13
from Romeo and Juliet 14
William Shakespeare, from Romeo and Juliet 00
from The Crucible 16
Arthur Miller, from The Crucible 00
Logical Fallacies 18
Activities 19
Analyzing Argument 21
Claims 21
Randy Horick, "Truer to the Game" 21
Kenneth Rexroth, "Cold before Dawn" 23
Ezra Pound, "In a Station of the Metro" 24
William Blake, "London" 24
Evidence 25
Assumptions 26
Audience Appeal and Tone: Pathos, Logos, Ethos 27
Pathos 28
Martín Espada, "Federico's Ghost" 28
Logos 30
William Shakespeare, "Sonnet 18" 30
Ethos 31
William Shakespeare, "Sonnet 130" 31
Jamaica Kincaid, "Girl" 32
Activities 33
Robert Hayden, "Those Winter Sundays" 34
Wilfred Owen, "Dulce Et Decorum Est" 35
Robert Crumb, "A Short History of America" 37
Paul Madonna, "All Over Coffee" 38
3 Talking Voice and Writing Arguments 38
Voice and Writing in College 39
Activities 40
Basic Tasks for Writing Arguments 41
Personal Perspective Arguments 41
Shawn Mullin, "Yes, the Future Looks Bright, but the Moment
Is Hell" 41
Daphne Beckham, "Perspective on Men" 43
Research-Based Arguments 45
Meredith Newman Blanco, "Who Are the Real Victims of
Alcoholism?" 45
Lisa Colletti, "Super-Size It!" 49
Activities 54
4 Strategies for Writing Academic Arguments 56
Clarifying a Subject, Purpose, and Audience 57
Basic Tools for Designing Your Argument 57
The Heart of an Argument Is Its Claim: Claims of Fact, Value, and Policy–
Which Type of Claim Is Best for Your Argument? 58
The Body of an Argument Is Its Evidence 59
Appeals to Ethos, Logos, Pathos 59
Rhetorical Context 60
Counterarguments: Concessions and Refutations 60
Strategy Questions for Organizing Your Argument Essay 60
Argument Outline 61
Annotated Student Essay 62
Rogerian Argument: Creative Problem Solving 66
Activity 67
Rogerian Argument Organizational Plan 67
Annotated Student Essay 68
Sample Student Collaboration Writing Project 72
The Final Product 74
Working with Sources 79
Using Electronic Sources 80
Avoiding Plagiarism when Note-Taking 80
Documentation Systems 81
The Preliminary Bibliography 81
The Annotated Bibliography 82
Creating a Draft 85
Writing a Thesis/Claim Statement 85
Activity 85
From Claim to Outline to Draft 86
Incorporating Sources 86
Paraphrasing and Summarizing 86
Direct Quotations 87
In-Text Parenthetical Citations 88
Print Sources 88
Electronic Sources 89
The Works Cited Page 89
Activity:Try It Yourself—Finding Ideas and Planning an Academic
Argument 91
PART II ANTHOLOGY 93
5 Individuality and Community 94
Fiction 98
Kate Chopin, "Désirée's Baby" 98
Stephen Crane,"The Bride Comes to Yellow Sky" 102
Louise Erdrich, "The Red Convertible" 111
Laura Hendrie, "Corsage" 118
Edward P. Jones, "The Store" 130
Randall Kenan, "The Foundations of the Earth" 149
Maile Meloy, "Ranch Girl" 162
Ernesto Quinon~ez, from Bodega Dreams 167
Poetry 173
Sherman Alexie, "The Reservation Cab Driver" 173
Michael Cleary, "Burning Dreams on the Sun" 174
Countee Cullen, "Incident" 175
Emily Dickinson, "Much madness is divinest sense" 176
T. S. Eliot, "The Love Song of J. Alfred Prufrock" 176
Jack Gilbert, "Trying to Sleep" 181
Judy Grahn, "Ella, in a square apron, along Highway 80" 182
Etheridge Knight, "Hard Rock Returns to Prison from the Hospital for the
Criminal Insane" 183
Don Marquis, "the lesson of the moth" 184
Claude McKay, "Outcast" 186
Dwight Okita, "In Response to Executive Order 9066" 187
Mary Oliver, "Wild Geese" 188
Edwin Arlington Robinson, "Richard Cory" 189
Muriel Rukeyser, "The Lost Romans" 190
Cathy Song, "Lost Sister" 191
Gary Soto, "Mexicans Begin Jogging" 193
Wallace Stevens, "Disillusionment at Ten O'Clock" 194
Alma Luz Villanueva, "Crazy Courage" 195
Walt Whitman, "I Saw in Louisiana a Live-Oak
Growing" 196
Drama 198
Los Vendidos 198
Nonfiction 208
Sherman Alexie, "Superman and Me" 208
John Hope Franklin, "The Train from Hate" 211
Martin Luther King, Jr., "Letter from Birmingham Jail" 212
Plato, from Crito 225
Richard Rodriguez, "The Chinese in All of Us" 230
Fred Setterberg, "The Usual Story" 236
Jonathan Swift, "A Modest Proposal" 238
Henry David Thoreau, "Civil Disobedience" 245
Chapter Activities and Topics for Writing Arguments 260
Global Perspectives Research/Writing Topics 261
Collaboration Activity: Creating a Rogerian Argument 262
Making Connections 263
6 Nature and Place 265
Fiction 269
Rick Bass, "Antlers" 269
James Fenimore Cooper, "The Slaughter of the Pigeons," 277
Pam Houston, "A Blizzard under Blue Sky" 283
Ursula K. Le Guin, "May's Lion" 288
Jack London, "To Build a Fire" 294
Leslie Marmon Silko, "The Man to Send Rain Clouds" 305
Eudora Welty, "A Worn Path" 309
Virginia Woolf, "Kew Gardens" 316
Poetry 321
Lucille Clifton, "For deLawd" 321
James Dickey, "Deer among Cattle" 323
Carolyn Forché, "Dulcimer Maker" 323
Robert Frost, "A Young Birch" 324
Linda Hogan, "Heartland" 325
Galway Kinnell, "Saint Francis and the Sow" 326
Denise Levertov, "The Victors" 327
Rainer Maria Rilke, "The Panther" 328
Theodore Roethke, "Meditation at Oyster River" 329
Pattiann Rogers, "Rolling Naked in the Morning Dew" 331
Carl Sandburg, "Chicago" 333
Anne Sexton, "The Fury of Flowers and Worms" 335
Gary Snyder, "The Call of the Wild" 336
William Stafford, "Traveling through the Dark" 338
Walt Whitman, "from Song of Myself " 339
Walt Whitman, "from Song of Myself " 340
William Wordsworth, "To My Sister" 341
James Wright, "A Blessing" 342
Nonfiction 344
Edward Abbey, "Eco-Defense" 344
Rachel Carson, "The Obligation to Endure" 346
Annie Dillard, "fromThe Present," in Pilgrim at Tinker
Creek 351
Ralph Waldo Emerson, from Nature 353
Jane Goodall, "A Plea for the Chimpanzees" 358
Aldous Huxley, "Time and the Machine," 364
Verlyn Klinkenborg, "At the Edge of the Visible" 366
Aldo Leopold, "Thinking Like a Mountain" 367
N. Scott Momaday, from The Way to Rainy Mountain 370
Janisse Ray, "Forest Beloved," from Ecology of a Cracker Childhood 375
Henry David Thoreau, "Solitude," 378
Chapter Activities and Topics for Writing Arguments 384
Global Perspectives Research/Writing Topics 386
Collaboration Activity: Creating a Rogerian Argument 387
Making Connections 388
7 Family and Identity 390
Fiction 394
Kate Chopin, "The Storm" 394
Lydia Davis, "Break It Down" 398
Ernest Hemingway, "Hills Like White Elephants" 403
Fae Myenne Ng, "A Red Sweater" 407
Grace Paley, "A Conversation with My Father" 414
John Updike, "Separating" 418
Alice Walker, "Everyday Use" 426
Poetry 434
Anne Bradstreet, "To My Dear and Loving Husband" 434
Gwendolyn Brooks, "The Mother" 435
Gwendolyn Brooks, "Ulysses" 437
Michael Cleary, "Boss's Son" 438
Gregory Corso, "Marriage" 440
Nikki Giovanni, "Mothers" 443
Thomas Hardy, "The Ruined Maid" 445
Seamus Heaney, "Digging" 446
Peter Meinke, "Advice to My Son" 447
Naomi Shihab Nye, "Arabic Coffee" 448
Sharon Olds, "I Go Back to May, 1937" 449
Mary Oliver, "The Black Walnut Tree" 451
Dudley Randall, "Ballad of Birmingham" 452
Adrienne Rich, "Aunt Jennifer's Tigers" 453
Adrienne Rich, "Delta" 454
Anne Sexton, "Cinderella" 454
Gary Snyder, "Not Leaving the House" 457
Mark Strand, "The Continuous Life" 458
Margaret Walker, "Lineage" 460
Richard Wilbur, "The Writer" 461
Drama 463
Harvey Fierstein, On Tidy Endings 463
Nonfiction 481
Sullivan Ballou, "Major Sullivan Ballou's Last Letter to His Wife" 481
Robin D. G. Kelley, "The People in Me" 483
Peter D. Kramer, "Divorce and Our National Values" 486
Pauli Murray, "The Inheritance of Values" 489
Scott Russell Sanders, "The Men We Carry in Our Minds" 493
Chapter Activities and Topics for Writing Arguments 498
Global Perspectives Research/Writing Topics 500
Collaboration Activity: Creating a Rogerian Argument 501
Making Connections 502
8 Power and Responsibility 503
Fiction 507
Toni Cade Bambara, "The Lesson" 507
Raymond Carver, "Cathedral" 513
Nadine Gordimer, "Terminal" 524
Nathaniel Hawthorne, "The Birth-Mark" 527
Tim O'Brien, "The Things They Carried" 539
Brady Udall, "He Becomes Deeply and Famously Drunk" 552
Ed Vega, "Spanish Roulette" 570
Poetry 579
Gwendolyn Brooks, "The Boy Died in My Alley" 579
Martín Espada, "Bully" 580
Carolyn Forché, "The Colonel" 581
Robert Frost, "Mending Wall" 583
Langston Hughes, "Democracy" 584
Langston Hughes, "Theme for English B" 585
Claude McKay, "America" 587
James Merrill, "Casual Wear" 588
Edna St. Vincent Millay, "Apostrophe to Man" 588
John Milton, "When I Consider How My Light Is Spent" 589
Naomi Shihab Nye, "Famous" 590
Sharon Olds, "The Promise" 591
Linda Pastan, "Ethics" 592
Public Enemy, "Fight the Power" 593
Walt Whitman, "Beat! Beat! Drums!" 595
Nonfiction 597
Francis Bacon, "Of Revenge" 597
Cochise, "[I am alone]" 598
John Crawford, "Lies" from "The Last True Story I'll Ever Tell" 600
Alex Epstein and Yaron Brook, "The Evil of Animal 'Rights'" 604
Allan Gurganus, "Captive Audience" 605
John F. Kennedy, "Inaugural Address, January 20, 1961" 609
Abraham Lincoln,"Second Inaugural Address, March 4, 1865" 611
George Orwell, "A Hanging" 613
Katherine Anne Porter, "To Dr.William Ross" 617
Tom Regan, "Religion and Animal Rights" 619
Frank Schaeffer and John Schaeffer, "My Son the Marine?" from
Keeping Faith: A Father Son Story about Love and the U.S. Marine
Corps 629
Suzanne Winckler, "A Savage Life" 632
Richard Wright, from Black Boy 634
Chapter Activities and Topics for Writing Arguments 639
Global Perspectives Research/Writing Topics 641
Collaboration Activity: Creating a Rogerian Argument 642
Making Connections 643
Glossary 645
Authors' Biographical Notes 651
Text Credits 000
Author/Title Index 000
Subject Index 000