Note: Supplemental materials are not guaranteed with Rental or Used book purchases.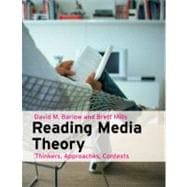 Summary
Reading Media Theorywill assist you in developing close-reading and analytical skills, and is the only text that acts both as a reader and (crucially) a 'how to read' handbook for media theory. Core theory coverage and readings for media studies help to encourage the student to familiarise themselves with the material so that they are more fully prepared for critically evaluating it. Carefully constructed progressive pedagogical apparatus is used to educate the student, step-by step, in critical reading so that they can progressively improve upon their skills. Annotations regarding context, content, structure and writing style are used to enliven and apply the theory whilst making it more memorable for future reference. Opening chapters: 'What is theory?' and 'What is reading?' bring alive the importance of both as key parts of media scholarship. The text is split into four sections: Reading theory, Key thinkers and schools, Approaches, and Media Theory in context; this allows the student to develop their skills gradually whilst exploring theory and putting it into context Pre-reading: substantial Introductory sections set each text and its author in context and show the relevance of the reading to contemporary culture. Post-reading: Reflection sections summarise each reading's key points and suggests further areas for the student to explore and think about, thus encouraging wider reading and independent study
Table of Contents
Introduction
Reading Theory
What is Theory?
What is Reading?
Key Thinkers and Schools of Thought
Liberal press theory
Reading: Mill, J. S. (1997 [1859]) `Of the Liberty of Thought and Discussion'
Chicago school
Reading: Park, R. E. (1967) `The Natural History of the Newspaper'
Walter Lippmann
Reading: Lippmann, W. (1965) `News, Truth and a Conclusion'
F. R. Leavis
Reading: Leavis, F. R. (1930) Mass Civilisation and Minority Culture
Marxism
Reading: Miliband, R. (1973) The State in Capitalist Society: The Analysis of the Western System of Power
Frankfurt school
Reading: Horkheimer, M. and Adorno, T. W. (2002 [1944]) Dialectic of Enlightenment: Philosophical Fragments
Harold Lasswell
Reading: Lasswell, H. D. (1948) `The Structure and Function of Communication in Society'
Columbia school
Reading: Lazarsfeld, P. F. and Merton, R. K. (1948) `Mass Communication, Popular Taste and Organized Social Action'
C. Wright Mills
Reading: Mills, C. W. (1956) `The Mass Society'
Toronto school
Reading: Innis, H. A. (1951) The Bias of Communication
Birmingham Centre for Contemporary Cultural Studies
Reading: Hall, S. (1980c) `Encoding Decoding'
Approaches to Media Theory
Political economy
Reading: Herman
Public sphere
Reading: Habermas, J. (1974 [1964]) `The Public Sphere: An Encyclopedia Article'
The effects tradition
Reading: Gauntlett, D. (2005) `Ten Things Wrong with the Media `Effects Model'
Structuralism
Reading: Todorov, T. (1990 [1978]) Genres in Discourse
Cultural theory
Reading: Williams, R. (1961) The Long Revolution
Feminist media theory
Reading: van Zoonen, L. (1994) Feminist Media Studies
Postmodernism
Reading: Baudrillard, J. (1994 [1981]) `The Implosion of Meaning in the Media'
The information society
Reading: Webster, F. (2002) Theories of the Information Society
Media Theory in Context
Production
Reading: Hesmondhalgh, D. (2007) The Cultural Industries
Texts
Reading: Barthes, R. (1977 [1967]) `The Death of the Author'
Audiences
Reading: Ang, I. (1991) `
Audience-as-Market and Audience-as-Public'
Bibliography
Table of Contents provided by Publisher. All Rights Reserved.