Note: Supplemental materials are not guaranteed with Rental or Used book purchases.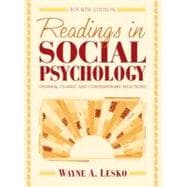 Readings in Social Psychology : General, Classic, and Contemporary Selections
ISBN13:
9780205287208
by
Lesko, Wayne A.
Summary
This collection of readings provides students with the maximum exposure to the various sources of information available in the field of social psychology. Each of this text's fourteen chapters begins with an introduction and contains three articles: one popular, one classic, and one contemporary. Each individual article is preceded by a brief introduction and followed by a set of Critical Thinking Questions, which ask the student to carefully examine some part of the article presented, to speculate about generalizations and implications of the research, and in some cases, to suggest new studies based on the information in the article. Classic articles are followed by Additional Related Readings which invite students to examine more contemporary articles on the same topic. Organized to correspond with the sequence and coverage of Baron and Byrne's Social Psychology, Ninth Edition, this reader is also designed to work with a broad range of courses and texts.
Table of Contents
The Field of Social Psychology
Folk Wisdom: Was Your Grandmother Right?
Human Use of Human Subjects: The Problem of Deception in Social Psychological Experiments
"Thats Completely Obvious...and Important": Lay Judgments of Social Psychological Findings
Social Perception
The New-Boy Network: What do Job Interviews Really Tell Us?
The Warm-Cold Variable in First Impressions of Persons
Detecting Deceit Via Analysis of Verbal and Noverbal Behavior
Social Cognition
Some Systematic Biases of Everyday Judgment
Cognitive, Social, and Physiological Determinants of Emotional State
"I Knew We Would Win": Hindsight Bias for Favorable and Unfavorable Team Decision Outcomes
Attitudes
Don''t Even Think about It!
Cognitive Consequences of Forced Compliance
Do Attitudes Affect Memory? Tests of the Congeniality Hypothesis
Social Identity: Self and Gender
The Many Me''s of the Self-Monitor
The Measurement of Psychological Androgyny
Adolescents Use of Tobacco, Health Locus of Control, and Self-Monitoring
Prejudice and Discrimination
Where Bias Begins: The Truth About Stereotypes
Attitudes vs Actions
An Attribution-value Model of Prejudice: Anti-fat Attitudes in Six Nations
Interpersonal Attraction
The Biology of Beauty
What Is Beautiful Is Good
Physical and Psychological Correlates of Appearance Orientation
Close Relationships: Friendship, Love, and Sexuality
Will Your Marriage Last?
"Playing Hard to Get"
Perception of Physical Attractiveness Throughout Loving Relationships
Social Influence
The Education of a Torturer
Behavioral Study of Obedience
Doing What the Mob Do: Priming Effects on Conformity
Prosocial Behavior
Why Dont Moral People Act Morally? Motivational Considerations
"From Jerusalem to Jericho": A Study of Situational and Dispositional Variables in Helping Behavior
The Way to Console May Depend on the Goal: Experimental Studies of Social Support
Aggression
Bad Girls
Transmission of Aggression through Imitation of Aggressive ModelsAlbert BanduraBandura, AlbertDorothea RossRoss, Dorothea
Heat and Violence
Groups and Individual Behavior
Groupthink
The Effect of Threat upon Interpersonal Bargaining
Testing the Groupthink Model: Effects of Promotional Leadership and Conformity Predisposition
Applying Social Psychology: Law and Business
Juries and Justice: Is the System Obsolete?
Beautiful but Dangerous: Effects of Offender Attractiveness and Nature of the Crime on Juridic Judgment
Aversive Racism and Selection Decisions: 1989 and 1999
Applying Social Psychology: Health and Environment
Research to the Heart of the Matter
Territorial Defense and the Good Neighbor
Satisfaction in a Dormitory Building: The Effects of Floor Height on the Perception of Room Size and Crowding
Author Index
Subject Index
Table of Contents provided by Publisher. All Rights Reserved.