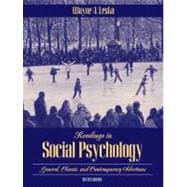 Readings in Social Psychology : General, Classic, and Contemporary Selections
by
Lesko, Wayne A.
Questions About This Book?
What version or edition is this?
This is the 6th edition with a publication date of 1/1/2006.
What is included with this book?
The Used copy of this book is not guaranteed to include any supplemental materials. Typically, only the book itself is included.
Summary
This collection of readings gives students exposure to a wide variety of perspectives in the field of social psychology. Each of the fifteen chapters begins with an introduction and is followed by three articles: one general (popular), one classic, and one contemporary. The articles are followed by critical questions designed to facilitate comprehension and encourage discussion. The use of both popular readings and research articles provides students with a broad range of views and theories within the discipline of social psychology. The topical organization of the collection directly parallels Baron/Byrne/Bramscombe's Social Psychology, Eleventh Edition. However, Readings in Social Psychology can be used with any social psychology textbook, or as a stand-alone reader in courses that do not use full textbooks.
Table of Contents
Preface
ix
A Note to the Reader
xiii

| | |
| --- | --- |
| | The Field of Social Psychology |

1
(30)

| | |
| --- | --- |
| | Folk Wisdom: Was Your Grandmother Right? |

2
(7)

| | |
| --- | --- |
| | Human Use of Human Subjects: The Problem of Deception in Social Psychological Experiments |

9
(11)

| | |
| --- | --- |
| | Lessons Learned from a Lifetime of Applied Social Psychology Research |

20
(11)
31
(33)

| | |
| --- | --- |
| | The Once-Over: Can You Trust First Impressions? |

32
(5)

| | |
| --- | --- |
| | The Warm-Cold Variable in First Impressions of Persons |

37
(6)

| | |
| --- | --- |
| | Detecting True Lies: Police Officers' Ability to Detect Suspects' Lies |

43
(21)
64
(43)

| | |
| --- | --- |
| | Some Systematic Biases of Everyday Judgment |

65
(7)

| | |
| --- | --- |
| | Cognitive, Social, and Physiological Determinants of Emotional State |

72
(19)

| | |
| --- | --- |
| | The Fundamental Attribution Error in Detecting Deception: The Boy-Who-Cried-Wolf Effect |

91
(16)
107
(29)

| | |
| --- | --- |
| | Don't Even Think about It! |

108
(7)

| | |
| --- | --- |
| | Cognitive Consequences of Forced Compliance |

115
(9)

| | |
| --- | --- |
| | I'm a Hypocrite, but So Is Everyone Else: Group Support and the Reduction of Cognitive Dissonance |

124
(12)
136
(27)

| | |
| --- | --- |
| | The Many Me's of the Self-Monitor |

137
(7)

| | |
| --- | --- |
| | The Measurement of Psychological Androgyny |

144
(9)

| | |
| --- | --- |
| | Understanding Sexual Aggression in Male College Students: The Role of Self-Monitoring and Pluralistic Ignorance |

153
(10)

| | |
| --- | --- |
| | Prejudice and Discrimination |

163
(25)
164
(5)
169
(8)

| | |
| --- | --- |
| | Christian Orthodoxy, Religious Fundamentalism, and Right-Wing Authoritarianism as Predictors of Implicit Racial Prejudice |

177
(11)
188
(21)
189
(5)

| | |
| --- | --- |
| | What Is Beautiful Is Good |

194
(7)

| | |
| --- | --- |
| | ``If Only I Were Thin Like Her, Maybe I Could Be Happy Like Her'': The Self-Implications of Associating a Thin Female Ideal with Life Success |

201
(8)
209
(27)
210
(5)

| | |
| --- | --- |
| | ``Playing Hard to Get'': Understanding an Elusive Phenomenon |

215
(10)

| | |
| --- | --- |
| | Romantic Behaviors of University Students: A Cross-Cultural and Gender Analysis in Puerto Rico and the United States |

225
(11)
236
(33)
237
(8)

| | |
| --- | --- |
| | Behavioral Study of Obedience |

245
(10)

| | |
| --- | --- |
| | Pluralistic Ignorance and College Student Perceptions of Gender-Specific Alcohol Norms |

255
(14)
269
(24)

| | |
| --- | --- |
| | Why Don't Moral People Act Morally? Motivational Considerations |

270
(5)

| | |
| --- | --- |
| | ``From Jerusalem to Jericho'': A Study of Situational and Dispositional Variables in Helping Behavior |

275
(11)

| | |
| --- | --- |
| | The Effect of Smiling on Helping Behavior: Smiling and Good Samaritan Behavior |

286
(7)
293
(29)
294
(5)

| | |
| --- | --- |
| | Transmission of Aggression through Imitation of Aggressive Models |

299
(11)

| | |
| --- | --- |
| | Types of Media Violence and Degree of Acceptance in Under-18s |

310
(12)
322
(27)
323
(5)

| | |
| --- | --- |
| | The Effect of Threat upon Interpersonal Bargaining |

328
(12)

| | |
| --- | --- |
| | Group Decision Fiascoes Continue: Space Shuttle Challenger and a Revised Groupthink Framework |

340
(9)
349
(34)

| | |
| --- | --- |
| | The New-Boy Network: What Do Job Interviews Really Tell Us? |

350
(8)

| | |
| --- | --- |
| | One More Time: How Do You Motivate Employees? |

358
(12)

| | |
| --- | --- |
| | Relationship between Emotional Intelligence and Transformational Leadership Style: A Gender Comparison |

370
(13)
383
(25)

| | |
| --- | --- |
| | Illusory Causation in the Courtroom |

384
(6)

| | |
| --- | --- |
| | Beautiful but Dangerous: Effects of Offender Attractiveness and Nature of the Crime on Juridic Judgment |

390
(6)

| | |
| --- | --- |
| | Effects of Defendant Age on Severity of Punishment for Different Crimes |

396
(12)
408
(23)

| | |
| --- | --- |
| | Research to the Heart of the Matter |

409
(4)

| | |
| --- | --- |
| | The Social Readjustment Rating Scale |

413
(7)

| | |
| --- | --- |
| | Have There Been Lasting Effects Associated with the September 11, 2001, Terrorist Attacks among Inner-City Parents and Children? |

420
(11)
Author Index
431
(4)
Subject Index
435