Note: Supplemental materials are not guaranteed with Rental or Used book purchases.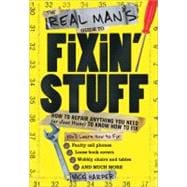 The Real Man's Guide to Fixin' Stuff: How to Repair Anything You Need (Or Just Want) to Know How to Fix
ISBN13:
9781402230028
by
Harper, Nick
Summary
Real men know how to fix stuff...or at least, when something around the house breaks, it gets handed to the nearest guy to fix it. So if you don't know a light socket from a socket wrench, what do you do? The Real Man's Guide to Fixin'Stuff is the ultimate guide for guys on how to fix all those ordinary things that break every day and no one seems to do know what to do with. No longer will there be anything you own that you'll think isn't worth fixing or that it's cheaper to buy a new one. You'll be able to fix anything, such as: Remote controls Book covers Your lady's heel or purse And much more Fun and functional, you'll be amazed how many things you can fix with a few simple tools and materials, and a bit of patience.
Excerpts
<p>Keeping Up Appearances<br>Image is everything, they say, which means it's not socially acceptable to turn up at work or a social gathering in a pair of shoes with the heel hanging off or wearing a tiny sweater that shrunk in the wash and now restricts your breathing. Nor is it the right thing to venture out in frayed, ripped, or moth-eaten clothing, nor tights with runs, nor a shirt or blouse splattered with blood and ketchup stains. No, no, no. <br>We don't make the rules, but rules are rules and we must all abide by them. So, with your sartorial standing in mind, and to guarantee you make the right impression, we kick off with essential tips on keeping up appearances...</p><p><strong>How to... Fix a Hole in Your Shoe</strong><br>If your shoe is letting in water and you squelch with every step, you probably have a hole in the sole that needs patching up. Here you have two options, depending on the type of hole you have.<br><strong>Option 1. </strong>If it's a hole you could shove your finger through, your best bet is to cut a length of duct tape to size and smooth it out across the hole on both the inside and outside of the shoe. Duct tape is waterproof, of course, which helps keep the water out, plus additional layers can be added if you need to build up the sole. This will provide a temporary fix until you can get home and re-sole the shoe, which is what it needs (details on the following page).<br><strong>Option 2. </strong>If the sole leaks, but there is no obvious hole to speak of, it's more likely that a crack or cracks in the sole are allowing water in. This again is due to shoddy workmanship at the factory, or the fact you've worn the shoes into the ground. Either way, the cracks can easily be fixed. First, invest in a tube of super-strength, waterproof glue or cement, then gently push and pull the shoe's sole until signs of a crack appear. When you find the crack(s), work a good splodge of glue into it, wipe away any excess, and hold the shoe firm until the glue has set. Your shoe should now be waterproof once more.</p><p><strong>How to... Re-sole Shoes</strong><br>This requires proper concentration because you'll be whipping off a defective sole with a knife and replacing it with a new piece you bought earlier. You should only attempt this if the sole has ground right down. So, when you have a replacement sole in the appropriate size and style, available from all good shoe shops, you're ready for what is a fairly simple three-step procedure.<br><strong>Step 1. </strong>Make sure the sole of the shoe is free from any mud or debris and is bone dry, then take a utility (or carpet) knife and <strong>very carefully </strong>cut away the defective sole, either all the way if it's a trainer-type affair, or right up to the heel if it's a more formal affair. When the sole is finally removed, sand the surface of the shoe to remove any old glue, giving it a nice rough finish, then sand the surface of the replacement sole. This should help them adhere more easily when you come to put the new sole on.<br><strong>Step 2. </strong>Unless the new sole is self-adhesive, you'll need to slather a good spread of shoe cement on both the shoe and the new sole. Line the two parts up neatly and push them firmly together. Once the two parts have started to stick, put the shoe on and gently stand in it for a while to encourage a tighter seal.</p><p><strong>Step 3. </strong>Unless the new sole was an exact match for the shoe, you will probably have a little overhang that will need to be carefully trimmed away with your utility knife, then filed or sanded to a clean finish. Repeat the above on the other shoe, if required, and if you also need to re-heel the shoes then read on.</p><p><strong>Minor Repairs</strong><br>If the sole has merely come loose and can be stuck back into place, pull the sole gently until you're able to squeeze a good splodge of shoe cement into the gap. Push the two parts together, wipe away any excess that leaks out, then apply weight to the shoe to encourage the cement to bond tightly. Let the cement bond fully before using the shoe again. </p>