Note: Supplemental materials are not guaranteed with Rental or Used book purchases.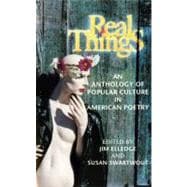 Real Things : An Anthology of Popular Culture in American Poetry
ISBN13:
9780253212290
by
Elledge, Jim
Summary
"What a great premise for an anthology! And it succeeds, both in its celebration of our crazy culture and its fascinating analysis, through the poems, of popular myths that have stood the test of time." -- KliattIn the past few decades, poetry about and around popular culture has become a very hip contemporary art form. Real Things is a collection of over 150 poems by more than 130 poets who themselves represent the cultural diversity of the United States. With subjects ranging from the influence of Mickey Mouse on child-raising to the relationship of Barbie to sex in America, from the societal effects of the movie Psycho to our fascination with dirty politics and Ralph Kramden, the poems in this anthology question and celebrate the attitudes that our society shares.
Author Biography
Among JIM ELLEDGE's ten books are four collections of his poetry, most recently Into the Arms of the Universe which won the 1995 Stonewall competition for gay and lesbian poets; four volumes of literary criticism; and Sweet Nothings: An Anthology of Rock and Roll in American Poetry, also published by Indiana University Press. Professor of English at Illinois State University, he teaches in that department's creative writing program and is director/editor of Thorngate Road, a press.Susan Swartwout is Assistant Professor of English at Southeast Missouri State University where she teaches creative writing and literature. She also serves on the editorial staff of The Cape Rock and advises the student literary magazine, Journey. Her two collections of poetry are entitled Freaks and Uncommon Ground, and she has poems published in literary journals such as Nebraska Review, The Cape Rock, Mississippi Review, Negative Capability, and Spoon River Poetry Review.
Table of Contents
Introduction
xv
1
(2)

| | |
| --- | --- |
| | Mid-Year Report: For Haruko |

3
(4)
7
(1)
8
(1)

| | |
| --- | --- |
| | The Shower Scene in Psycho |

9
(9)

| | |
| --- | --- |
| | No, Superman Was Not the Only One |

18
(1)
19
(1)
20
(1)
21
(1)

| | |
| --- | --- |
| | Famous Women---Claudette Colbert |

22
(2)
24
(1)

| | |
| --- | --- |
| | The Gypsy Teaches Her Grandchild Wolfen Ways |

25
(2)
27
(1)

| | |
| --- | --- |
| | The Bride of Frankenstein |

28
(3)
31
(3)

| | |
| --- | --- |
| | Kong Breaks a Leg at the William Morris Agency |

34
(1)

| | |
| --- | --- |
| | Francis Ford Coppola and Anthropologist Interpreter Teaching Gartewienna Tribesmen to Sing ``Light My Fire,'' Philippine Jungle, 1978 |

35
(1)

| | |
| --- | --- |
| | Suzie Wong Doesn't Live Here |

36
(2)

| | |
| --- | --- |
| | Suzy Wong's Been Dead a Long Time |

38
(2)
40
(2)

| | |
| --- | --- |
| | Scene from the Movie Giant |

42
(2)
44
(3)

| | |
| --- | --- |
| | Mom Did Marilyn, Dad Did Fred |

47
(1)

| | |
| --- | --- |
| | The Death of Marilyn Monroe |

48
(1)

| | |
| --- | --- |
| | [I have come to claim/Marilyn Monroe's body] |

49
(2)
51
(2)
53
(1)
54
(1)

| | |
| --- | --- |
| | from ``Some Adventures of John Kennedy, Jr.'' |

55
(2)

| | |
| --- | --- |
| | The Man I Love and I Have a Typical Evening the Night Richard M. Nixon Dies |

57
(2)

| | |
| --- | --- |
| | The End of the Reagan Era |

59
(1)
60
(1)
61
(6)
67
(1)
68
(1)
69
(2)

| | |
| --- | --- |
| | The Difference Between Pepsi and Coke |

71
(1)
72
(2)
74
(2)
76
(2)
78
(2)
80
(2)
82
(1)
83
(2)
85
(2)
87
(2)

| | |
| --- | --- |
| | After Reading Mickey in the Night Kitchen for the Third Time Before Bed |

89
(2)
91
(2)

| | |
| --- | --- |
| | A Personal History of Hands |

93
(2)

| | |
| --- | --- |
| | The True Story of Snow White |

95
(1)
96
(2)
98
(1)
99
(2)

| | |
| --- | --- |
| | Peter Pan in North America |

101
(2)

| | |
| --- | --- |
| | Self Portrait as Nancy Drew, Girl Sleuth |

103
(1)

| | |
| --- | --- |
| | Rumpelstiltskin Convention |

104
(2)
106
(3)
109
(2)

| | |
| --- | --- |
| | The Day They Eulogized Mahalia |

111
(2)
113
(3)
116
(3)
119
(1)

| | |
| --- | --- |
| | We Encounter Nat King Cole as We Invent the Future |

120
(2)
122
(1)
123
(4)
127
(2)

| | |
| --- | --- |
| | Dizzy Girls in the Sixties |

129
(2)
131
(2)

| | |
| --- | --- |
| | The First Rock and Roll Song of 1970 |

133
(2)

| | |
| --- | --- |
| | ``It's Only Rock and Roll but I Like It'': The Fall of Saigon, 1975 |

135
(1)
136
(2)
138
(2)

| | |
| --- | --- |
| | Teaching Poetry at Votech High, Santa Fe, the Week John Lennon Was Shot |

140
(10)
150
(2)

| | |
| --- | --- |
| | The Birth of Rhythm and Blues |

152
(4)
156
(2)
158
(2)

| | |
| --- | --- |
| | Homage to Elvis, Homage to the Fathers |

160
(2)
162
(2)

| | |
| --- | --- |
| | Come Back, Elvis, Come Back to Holyoke |

164
(1)
165
(1)

| | |
| --- | --- |
| | from Ephemera Today on ``All My Children'' |

166
(6)

| | |
| --- | --- |
| | In the Days of Rin-Tin-Tin |

172
(1)
173
(2)

| | |
| --- | --- |
| | When I Think About America Sometimes (I Think of Ralph Kramden) |

175
(6)
181
(2)
183
(2)
185
(2)
187
(2)
189
(2)
191
(2)
193
(4)
197
(2)
199
(2)
201
(2)
203
(3)

| | |
| --- | --- |
| | A Supermarket in California |

206
(2)
208
(2)

| | |
| --- | --- |
| | The Man I Love and I Shop at Jewel |

210
(2)
212
(1)
213
(2)
215
(2)
217
(2)
219
(2)
221
(1)
222
(1)
223
(2)
225
(2)
227
(1)
228
(2)

| | |
| --- | --- |
| | My Son Shows Me a Photograph of Michael Jordan Performing a Slam Dunk |

230
(2)
232
(1)
233
(5)
238
(1)
239
(3)
242
(1)
243
(3)

| | |
| --- | --- |
| | A Story Often Told in Bars: The Reader's Digest Version |

246
(1)
247
(2)

| | |
| --- | --- |
| | The Dancing Sunshine Lounge |

249
(1)

| | |
| --- | --- |
| | Dreaming at the Rexall Drug |

250
(2)
252
(1)

| | |
| --- | --- |
| | On the Bearing of Waitresses |

253
(2)
255
(2)
257
(2)

| | |
| --- | --- |
| | Vanna White's Bread Pudding |

259
(2)
261
(1)
262
(2)

| | |
| --- | --- |
| | Arrowhead Christian Center and No-Smoking Luncheonette |

264
(2)
266
(2)
268
(1)
269
(2)
271
(4)
275
(2)
277
(2)
279
(3)
282
(2)

| | |
| --- | --- |
| | The Lady in the Pink Mustang |

284
(2)
286
(2)

| | |
| --- | --- |
| | Take Good Care of Yourself |

288
(2)
290
(2)
292
(1)
293
(2)
295
(2)
297
(1)
298
(2)

| | |
| --- | --- |
| | Transient Hotel Sky at the Hour of Sleep |

300
(3)

| | |
| --- | --- |
| | Tattoo #47, ``Happy Dragon'' |

303
(2)
305
(2)

| | |
| --- | --- |
| | In a U-Haul North of Damascus |

307
(3)

| | |
| --- | --- |
| | The Man She Called Honey, and Married |

310
(2)
312
(1)
313
(1)
314
(3)
Author Index
317
(2)
Title Index
319
(3)
First Line Index
322
(4)
Acknowledgments
326