Note: Supplemental materials are not guaranteed with Rental or Used book purchases.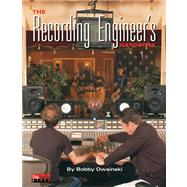 Questions About This Book?
What version or edition is this?
This is the 1st edition with a publication date of 11/1/2004.
What is included with this book?
The New copy of this book will include any supplemental materials advertised. Please check the title of the book to determine if it should include any CDs, lab manuals, study guides, etc.
Summary
Working as a recording engineer presents challenges from every direction of your project. From using microphones to deciding on EQ settings, choosing outboard gear to understanding how, when and why to process your signal, the seemingly never-ending choices can be very confusing. Professional Audio's bestselling author Bobby Owsinski (The Mixing Engineer's Handbook, The Mastering Engineer's Handbook) takes you into the tracking process for all manner of instruments and vocals-- providing you with the knowledge and skill to make sense of the many choices you have in any given project. From acoustic to electronic instruments, mic placement to EQ settings, everything you need to know to capture professionally recorded audio tracks is in this guide.
Table of Contents
Preface
Meet the Engineers
xi
With These Special Non-Engineer Guests
xiii

| | |
| --- | --- |
| | PART ONE---Tracking in Stereo |

1
(24)

| | |
| --- | --- |
| | How and Why Microphones Work |

1
(1)
2
(1)
3
(3)
6
(4)
8
(1)

| | |
| --- | --- |
| | Condenser Operational Hints |

9
(1)
10
(1)

| | |
| --- | --- |
| | Microphone Specifications |

10
(2)
10
(1)
11
(1)
12
(1)
12
(1)

| | |
| --- | --- |
| | Polar Patterns (Directional Response) |

12
(4)
13
(1)
14
(1)
14
(1)
15
(1)
15
(1)
16
(5)
16
(1)
16
(1)
17
(1)
18
(2)
20
(1)
20
(1)
21
(4)
21
(1)
22
(1)
23
(2)
25
(20)
25
(2)

| | |
| --- | --- |
| | RCA 77 Unidirectional Ribbons |

27
(1)
28
(1)
28
(1)
29
(1)
30
(1)
31
(1)
32
(1)
33
(1)
34
(1)

| | |
| --- | --- |
| | AKG C-12/Telefunken ELA M250/251 |

35
(1)
36
(1)
37
(2)
39
(1)
40
(1)
40
(1)
41
(1)
42
(1)
42
(1)
43
(1)
44
(1)
44
(1)

| | |
| --- | --- |
| | Basic Recording Equipment |

45
(14)

| | |
| --- | --- |
| | The Microphone Preamplifier |

45
(1)
45
(1)
46
(2)
47
(1)
47
(1)
48
(1)
48
(3)
48
(1)
49
(1)
49
(1)
49
(1)
50
(1)
50
(1)
50
(1)
51
(1)
51
(1)
52
(2)

| | |
| --- | --- |
| | Advantages of Direct Injection |

52
(1)
52
(1)
53
(1)
53
(1)
54
(1)
54
(1)
55
(1)

| | |
| --- | --- |
| | Vintage Compressor/Limiters |

55
(4)
55
(1)
56
(1)
56
(1)
56
(3)
59
(12)
59
(12)
60
(1)
60
(1)
61
(1)
62
(1)
63
(1)
64
(1)
65
(1)
66
(1)
67
(4)

| | |
| --- | --- |
| | Basic Multichannel Tracking |

71
(12)
71
(1)

| | |
| --- | --- |
| | The Secret of Getting Good Sounds |

72
(2)
74
(4)
76
(1)
77
(1)
78
(5)
79
(1)

| | |
| --- | --- |
| | Checking Phase by Listening |

80
(1)

| | |
| --- | --- |
| | Checking Phase with an Ocilloscope |

81
(1)

| | |
| --- | --- |
| | Checking Phase with a Phase Meter |

82
(1)

| | |
| --- | --- |
| | Preparing the Drum Kit for Recording |

83
(12)

| | |
| --- | --- |
| | Interview with ``The Drum Doctor'' Ross Garfield |

83
(9)
92
(3)

| | |
| --- | --- |
| | Individual Instrument Miking Techniques |

95
(96)
95
(2)
97
(1)
97
(1)
98
(1)
99
(2)
101
(2)
103
(1)
104
(1)
104
(3)
107
(1)
107
(1)
108
(1)
109
(1)
110
(1)
111
(6)
112
(1)
113
(1)
114
(3)
117
(1)
117
(6)
123
(1)
124
(7)
131
(1)
132
(2)
134
(4)
138
(6)
144
(3)
147
(1)
148
(1)
148
(1)
149
(1)
150
(1)
151
(4)
154
(1)
155
(1)
156
(8)
164
(1)
165
(1)
166
(1)
167
(3)
170
(3)
173
(2)
175
(1)
176
(2)
178
(1)
179
(1)
180
(5)

| | |
| --- | --- |
| | To Eliminate Pops and Breath Blasts |

183
(2)

| | |
| --- | --- |
| | Vocals---The Hanging Microphone |

185
(1)

| | |
| --- | --- |
| | Vocals---Background Vocals |

185
(4)
189
(1)
190
(1)
191
(24)

| | |
| --- | --- |
| | Al Schmitt on Preparing for the Session |

191
(2)

| | |
| --- | --- |
| | Headphones and the Cue Mix |

193
(3)

| | |
| --- | --- |
| | Tips for Great Headphone Mixes |

194
(1)

| | |
| --- | --- |
| | Tricks for Loud Headphones |

195
(1)
196
(1)
196
(4)

| | |
| --- | --- |
| | Making the Click Cut Through the Mix |

197
(1)
197
(2)
199
(1)

| | |
| --- | --- |
| | Getting the Most From a Vocalist |

200
(1)
201
(5)

| | |
| --- | --- |
| | Where to Place the Players |

202
(2)
204
(2)

| | |
| --- | --- |
| | Fletcher on Recording Without Headphones |

206
(2)
208
(3)

| | |
| --- | --- |
| | Al Schmitt on the Attributes of a Great Assistant Engineer |

211
(4)

| | |
| --- | --- |
| | PART TWO---Tracking in Surround |

| | |
| --- | --- |
| | Surround Microphone Techniques |

215
(6)
215
(3)
215
(1)
216
(1)
217
(1)
217
(1)

| | |
| --- | --- |
| | Drum Surround Multi-Miking |

218
(3)

| | |
| --- | --- |
| | Multi-Mic Method Number 1 |

218
(1)

| | |
| --- | --- |
| | Multi-Mic Method Number 2 |

219
(1)

| | |
| --- | --- |
| | Multi-Mic Method Number 3 |

219
(1)
220
(1)
221
(10)

| | |
| --- | --- |
| | The Gsms Holophone Surround Microphone System |

221
(1)
222
(2)

| | |
| --- | --- |
| | The Soundfield MK V Microphone and 451 5.1 Decoder |

224
(2)
225
(1)

| | |
| --- | --- |
| | The Soundfield 451 5.1 Decoder |

226
(1)

| | |
| --- | --- |
| | The STL/Brauner Atmos 5.1 Microphone System |

226
(5)

| | |
| --- | --- |
| | PART THREE---The Interviews |

231
(122)
231
(12)
243
(13)
256
(8)
264
(8)
272
(8)
280
(9)
289
(6)
295
(8)
303
(14)
317
(4)
321
(8)
329
(9)
338
(8)
346
(7)
Glossary
353
(11)
Index
364